Topic: Ramage/Endearing by Bourjois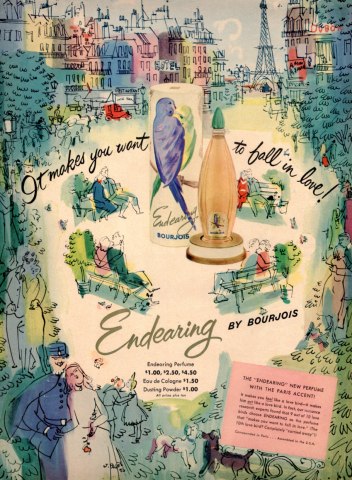 Thanks to our own Sarah Crowder's inquiry into leather chypre fragrances, I became aware of this fragrance. Although I've never been the biggest fan of Bourjois' fragrances, a hyacinth-laden leather chypre signed by Henri Robert was too good to resist.
It was discovered that the oft-maligned Vermont Country Store had begun stocking massive 7.1 oz spray bottles of Ramage Eau de Cologne for a mere $29 USD. However, there aren't any reviews. Sarah offered me a sample, which I gladly accepted. Not being able to resist temptation and curiosity, I purchased the bottle from the Vermont Country Store.
The bottle arrived, delightfully in the original packaging, complete with Bourjois logo. This is not a copy; this is new old stock. Perhaps, as the La Collection de Lancome fragrances were, an aborted project by the company. However they did it, the Vermont Country Store obtained what I assume to be the entirety of a limited run.
Best of all, the fragrance is right.
The sample I received smelled a lot like many other vintage chypre fragrances; crepe de chine and Rumeur came to mind. However, the new bottle contains fresh, crisp, bright top notes that are shocking in context. This is a time capsule.
Although I can't really find notes listed, this is what I get from Ramage (new version):
A bright, aldehydic lemon (like the one in Moustache) beams the loving aroma of hyacinth, lily of the valley, petitgrain, bergamot, and the unmistakable starchy aroma of orris to the nose immediately. It's a bit in dish liquid territory, I must admit, but that's really what aldehydic lemon always does to me. After a few minutes, the citrus begins to tone down, revealing a bright, starched bouquet. Orris and hyacinth dominate, but it is dry, soapy, bitter, and retains an aldehydic sparkle. Like all chypre fragrances, the drydown is a chameleon. Leather is a nuance, while the crisp orris, bitter hyacinth, and smooth jasmine being to depress into the very dry base of musk, moss, and amber. Longevity is great, but it wears delightfully close to the skin, prompting you to really bathe in it, which is really okay because, well, it's a huge ass bottle for 30 bucks.
I strongly recommend this to anyone who wouldn't be afraid to wear something extremely old-fashioned and loves Diorling, Moustache, the soapy side of No.19, Crepe de Chine, or the starchy orris in YSL's Y, or anyone who is attracted to the idea of buying what is more or less a time capsule in liquid form.
Last edited by lovingthealien (2014-03-21 19:16:19)