Let's face it, never before in the history of fragrance have consumers had so many options when it comes to choosing scents. And throughout the years a number of brands have allowed us to sample before purchasing, mix and match scents, consult with perfumers for bespoke perfumes and even develop our own fragrances by selecting notes and purposes. We addicts can pretty much have whatever we want these days, any way we want it.
So when a friend of mine recently alerted me to the new personalized perfume service, Waft.com, a company that works in partnership with International Flavors & Fragrances (IFF), the fragrance junkie in me grew very curious. I reached out to the folks at Waft to get more info. They were kind enough to allow me to test drive the process and share my experiences with Fragrantica readers. Let's start with a video about the company:
A MESSAGE FROM WAFT FOUNDER,
VALERIE BOFFY
Welcome to Waft. It's time to think differently about your perfume. It's time to explore the possibility of your very own customized fragrance – your unique personal calling card. What if your 
 fragrance could complement your every mood, setting or desire throughout the day?
What if you could then combine your personalised fragrances through layering to create infinite additional moods and settings? You could dial it up for a seductive effect, tone it down for quiet contemplative moments or find the perfect combination for everything in between.
I am excited to share my passion crafting perfume from the highest quality sustainable ingredients with you. I hope that this olfactory journey, where you will discover and craft your own custom fragrance, brings a smile to your face. Our goal? To bring back the craft of personally commissioned perfume and make it available to you.
To replace the cacophony of brands, imagery and slick advertising of today's perfume industry with a single, simple message – the ultimate fragrance is that which is truly yours.
Explore, create and enjoy.
Valerie xo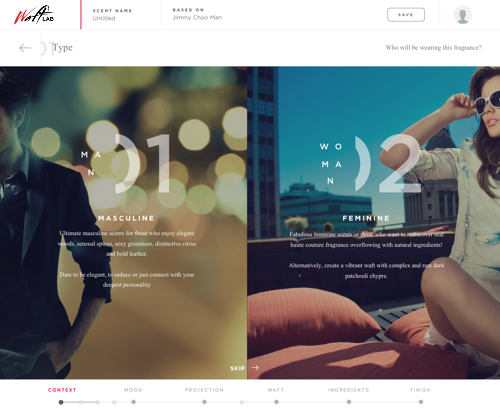 HOW WAFT WORKS
The service asks users to make choices according to a number of criteria. It all begins with type - masculine, unisex or feminine. Next is time of day - day or night. Activities follow such as sport, social, work or dating. Users then choose moods - fresh, sexy, elegant or relaxed - and personal style - classic or trendy. "Waft" is the next criteria and options are subtle, balanced or daring. Finally, users can select one or more fragrance ingredients that interest them along with one or more brand name fragrances that they like. Ultimately, users are prompted to select a single fragrance from that list as an inspiration. Here were my selections:
Answers: man / night / dating / elegant / trendy / daring
Ingredients: encens, vanilla, leather, orris, orange blossom, lavender, amber, sandalwood, milk, cinnamon, patchouli, lily, caramel, white musk, chocolate
And let me tell you it was not easy to make some of those choices. I was first challenged when having to choose man vs woman (or unisex) because I don't consider gender, at all, ever, when enjoying fragrance (if you haven't already, check out my Gender Bender column to learn my thoughts about liberating ourselves from fragrance marketing restraints). But I imagine to the general public, that's a no-brainer.
Day vs night was easier as I imagined a night scent would be a bit richer, bolder and perhaps even louder. I figured sport would be citric or aquatic, work would be quiet, and so it came down to social or dating. Again, I chose dating thinking I might get a bolder aroma. I had a similar thought process for moods - fresh and relaxed might be too subtle, so I chose elegant (*never really considering myself sexy). For personal style I chose trendy (?) and finally, hoping for bold and avant garde, I selected daring as my "waft". Whew!!! For someone as indecisive as I am, and who enjoys variety as much as I do, that was kind of exhausting.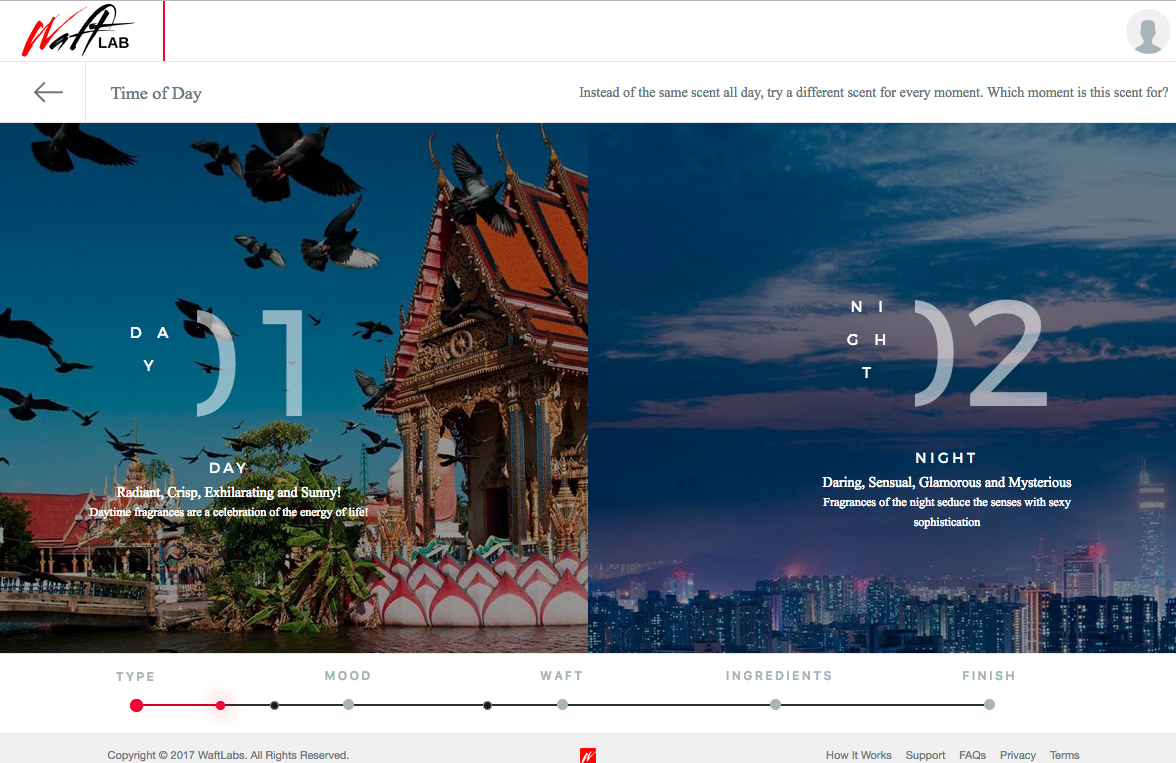 Selecting ingredients was easier and from that list I imagined I might get a gourmand floriental, but as I selected "man" and "elegant" I wondered how that would impact the potential compositions considering my chosen notes. When I went to select fragrances I liked, most of them were available though I was disappointed when I couldn't select Musc Ravageur from Editions des Parfums. For my single inspiration scent I chose CDG Kyoto hoping that my scent would lean more toward woods and incense.
You'll notice I write the word "compositions" above with an S because here's a cool bonus: Waft provides not just one scent, but three! In addition to the main 1.7 oz Eau de Parfum spray that can be customized (name or message on the bottle), Waft also sends two 15ml sprays which are variations on the main scent, aromas titled "Freshen" and "Dare" that can be used alone or layered with the others. Here are my three bottles: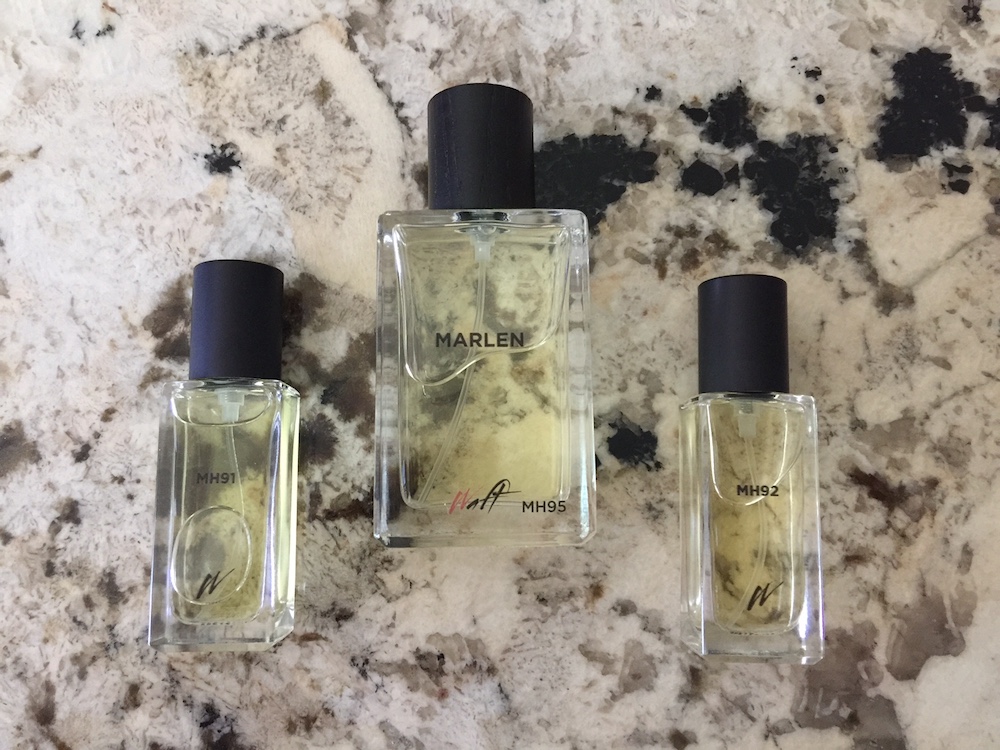 I didn't get too creative with the name. I know, lost opportunity, lol. I suppose I could have gone with something like "Sex Panther" but see my *admission above.
The fragrances arrived within one week of ordering and are housed in simple, transparent glass bottles with round caps (the larger bottle has a cap made of wood). As you can see, the bottles are personalized and also sport the Waft brand logo. The fragrances are not accompanied with any info that lists the olfactory pyramid. The total cost for the process - one 50ml EDP and two 15ml EDPs - is $79 USD. There is also a 100ml and two 15ml EDPs gift option at $99 USD.
So onto the big question: "How do they smell?"
Well, I explained that I made selections half-expecting a bold, rich floral oriental with gourmand facets. My main fragrance is anything but. I received a soft, aromatic woodsy aroma with peppery citrus topnotes and subtle floral nuances. It's a nice scent, quiet, and ultimately not something I would often reach for. I can't help but wonder what I would have received had I chosen "woman" vs "man".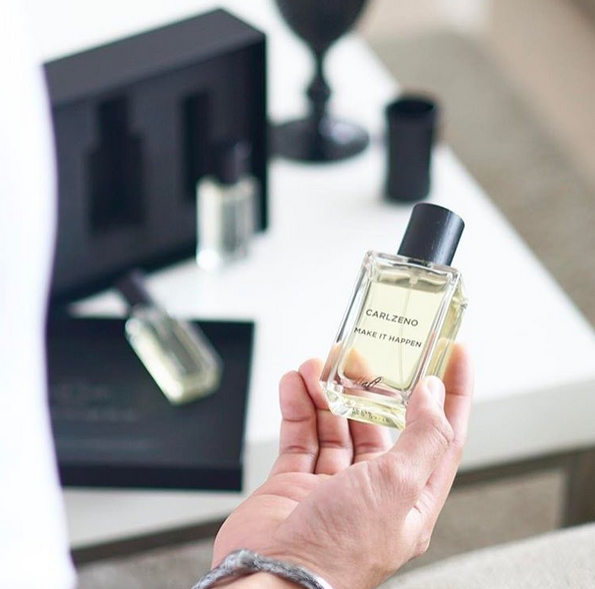 The second bottle, MH91 Dare, is a completely different experience. Whoa! This is some incredible juice. Instant love for me, but I couldn't help feeling that I had smelled this before. In fact, the more I thought about it, the more I was convinced that MH91 Dare smells quite similar to Versace Dreamer, a favorite of mine, so it is no wonder that I had such a positive reaction.
The third bottle, MH92 Freshen, is the most intriguing as it reminds me of a freshly-baked corn tortilla in the best possible way. You know that smell, when a tortilla is sweet, aromatic and kind of dusty? This is what I get here. I've never before experienced such an aroma, Eau de Tortilla, and I'm kind of smitten.
One thing I noticed: the bottom of my bottles all read MFG 11/16, though I "created" my scent in March, 2017. I also noticed on the brand's Instagram page that there was a photo of a bottle that read MH92, as my own extra 15ml does. These observations, as well as how far my main scent seems from what I was expecting (and the notes I selected) leads me to believe that there are a number of pre-created aromas that are selected for customers based on specific survey questions rather than developed specifically in response to consumer's note and inspiration fragrance choices.
So while not a rousing success for me personally, I can indeed recommend the Waft experience. I imagine that less discerning noses would be thrilled with this kind of gift, while someone who is, well...strongly addicted, and has great expectations might be a little less impressed. The personalization, the three different scents, and the overall creation process on the brand website are all excellent ideas.
Dr. Marlen Elliot Harrison

Managing Editor & Columnist

Dr. Marlen Elliot Harrison's journalism in the fragrance industry has appeared in international print and online publications such as Playboy, Men's Journal, Men's Health and the New York Times. Marlen is also a regular contributor to BeautyAlmanac.com and works as a graduate professor, thesis advisor and faculty supervisor for MA programs in TESOL, Education, Writing and Literature. Learn more about Marlen by visiting: www.MarlenHarrison.com.