One of the biggest game-changers in modern perfumery was undoubtedly 1992's ice cream sundae in a bottle, Angel by Quest/Clarins for Thierry Mugler. Still going strong with too many flankers and variations to keep track of, the coumarin-heavy Angel has proven as divisive as it is popular with many a guy opting for the original version over the men's counterpart, A*Men.
You can read my article to learn all about my initial encounter and subsequent love affair with Olivier Cresp and Yves de Chirin's Angel HERE.
However, a number of you commented that you were no longer as enamored with the groundbreaking aroma as you felt that the reformulations had not done the original composition justice. For example, Fragrantica member FruitDiet wrote:
Angel blew my mind years ago and I went through tons of it. With each subsequent refill, it got weaker and thinner and, frankly, nastier. I was complimented all the time with my first bottle and it took years to admit to myself that my favorite scent was no longer itself. The 2015 reformulation rolled out with the new "3-D" bottle was the end for me. It's more expensive than ever and it's hideous. It has the strength of a Wal-Mart body spray and dries down to a cheap, urinous synthetic amber. I've tried to spread the word about this, cause it is the most devastating reformulation in my years as a perfumista, but it's not yet common knowledge. With bloggers there's such snark about Angel that no one gives it the attention of whatever Guerlain reformulation is endlessly discussed. I seriously regret my embarrassing years of wearing bad late-era Angel. I should've moved on sooner.
I was dismayed and disgruntled...angry and yet curious: Could my Angel really be that bad?
Off to Macy's I marched to see/sniff if indeed my dear Angel had really died.
And sadly...
Disappointment.
It was true. Something had gone amiss. This was no longer the powerhouse I remembered; the rich, multi-faceted elixir was no more.
You see, I had taken a bit of an Angel vacation over the past few years, opting to explore and enjoy flankers instead of the original aromas.
"It's a multitude of angels, and they're playing with my heart...yeah"
Annie Lennox
But I will say that when I re-visited Angel for Men (A*Men) in summer of 2015 from a new bottle purchased online, I just didn't feel the love; it didn't wear on my skin the way I had remembered it. But memory can be fallible and our skin chemistry can change, so I chalked it up to me rather than a change in the composition (or ingredients).
My favorite Angel flanker for the past few years has been Le Goût du Parfum/The Taste of Fragrance from 2011:
Le Goût retains the character of the original Angel but adds a wonderful, powdery cacao note that lingers throughout the development. Each time I wear it I'm reminded of this:
And for me that's a good thing! I gifted this one to a friend who fell in love with it and I've been considering splurging for another bottle ever since.
I also tried a summer flanker, Angel Aqua Chic (2013) with its rose water, apple sorbet and raspberry blossom notes. It's nice but just doesn't have the rich depth of the original and so I rarely reach for it. I call this one "Diet Angel".
So it was with a great amount of enthusiasm and some anxious trepidation that I approached the newest star in the Angel-verse: Muse.
Thank you, Clarins, for sending me a bottle of both this and Pure Tonka to test-drive. The only thing I hate about Muse is the ridiculous ad campaign (#hatetolove), but then again I rarely think kindly of modern fragrance advertising/marketing. I'd have been happier if they emphasized the yummy hazelnut cream accord with something like this:
Or, let's be honest, even this:
So, hate to love. Could it be that Angel Muse will turn the haters to lovers? I really don't find Muse all that different from the original in its overall vibe. If I blindly smelled this I would likely respond, "Smells like Angel." Or maybe it smells more like the kinder, softer Innocent with its praline and almond?
According to the press info about the notes for Muse, gone is the fruit basket of berries (though on my skin they are immediately evident) and replacing it is vetiver (uh-oh) and hazelnut cream. Patchouli is still listed but this isn't the 1990's sweaty patchouli note that sends the haters running (and that I completely love).
First, let me say that I do love the bottle - it's easy to hold although still a pain in the butt to keep on a crowded fragrance shelf or in a crowded fragrance drawer.
When my Muse arrived, I sprayed it once on the back of my hand and immediately received compliments from both women in the room with me. I should add that neither of them are really fans of the original and didn't know what I was spraying. Ok, so it received a positive reception. And why not? Muse is a soft, fluffy, gourmand cloud with fruity nuances. I don't really get the nutty vibes that so many describe, but I wouldn't mind if at some point I do notice this. The sillage is apparent and the longevity is also excellent.
I will admit to loving Muse despite the inclusion of evil vetiver, my fragrance nemesis. The perfumer, Quentin Bisch, describes it as a gourmand and sensual vetiver however, so I don't get the typical bitter, root-like, smoky nuances.
Overall, Muse is a gourmand-lover's dream and a welcome addition to the Angel-verse. At $90 USD for a one ounce bottle though, it certainly isn't inexpensive.
I'm looking forward to draining my 1oz bottle, especially in the cooler months. It will be interesting (amusing?) to see what comes next. Will there be a men's Muse? AquaMuse? Dark Muse?
And in terms of the men's flankers, I can't say that I started as a fan. I know so many of you are dedicated to Pure Malt and Pure Havane, but both of these had something that bothered me and prevented me from loving them. Pure Coffee, however, had me doing a Homer Simpson:
Mmmmmmmmm, coffee. But did anyone else find the longevity problematic?
Recently I discovered Pure Wood (2014) and Pure Tonka (2015) and these rank as my first and second favorite versions of A*Men.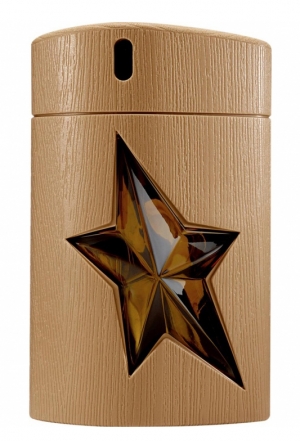 The moment I smelled Pure Wood at Nordstrom in Boca Town Centre, I immediately loved it. "Why have I not sampled this before?" I pondered. I somehow completely missed this one when it launched. I'm a HUGE fan of woody aromas, especially synthetic sandalwood and cedar. For example, Diptyque's Tam Dao is probably my favorite woody fragrance.
I made a couple of samples from the Nordstrom tester (THANK YOU, Nordstrom, for allowing customers to do this...now please, provide us with labels and pens so we know what the heck it is we're taking home with us), and after one wearing while at home, immediately went online to purchase a bottle. I'm considering buying a back-up bottle...or five (like I don't have so much already that I'll ever actually use a back-up of anything).
Pure Wood is not quite as sweet but instead is much creamier than other versions of A*Men. There is a prominent (though somewhat indistinct) "wood" note right from the opening. I wouldn't have known this was oak, and frankly, I'm not really sure what oak wood smells like. But wow, talk about comfort in a bottle: Wood? Check. Vanilla? Check. Coffee? Check. Patchouli? Just enough to keep things interesting. It's almost as if this was made just for me. It's my new favorite version of any of the Angels, for men or for women (like those distinctions actually mean anything to us fragrance addicts).
And with all of these flankers, what could Clarins really do next that would be just as interesting or attractive? Enter Pure Tonka.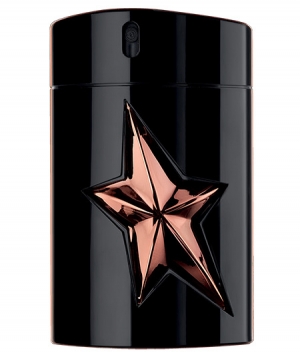 Do you remember back at the start of the 2000's when the patchouli-coffee/cacao/licorice-lavender accord was all the rage in the wake of the original A*Men? Think of aromas such as Rochas Man, Yohji Homme, New Haarlem, etc. Well, Pure Tonka re-visits this genre and turns the sweetness way up!
And wow, Pure Tonka is strong, syrupy, and totally addictive. What's most interesting is that I can perceive many of the notes as the scent develops. I absolutely detect the lavender; I can smell a warm, roasted coffee bean; I even get hints of licorice (which I usually hate as much as vetiver but here I'm not bothered). And Pure Tonka is immediately recognizable as an A*Men flanker. In fact, this is more like an A*Men Intense or A*Men Eau de Parfum than a flanker with a noticeable addition.
Those who are suggesting this one is soft and not long-lasting, I have one word for you: anosmia. I think it might be so strong that your noses are preserving their livelihood and turning off to Pure Tonka. I put on three sprays of this and 30 minutes later got a "Wow, that's strong" comment from a family member...the one who usually bathes in Obsession for Women, I might add.
So, as we approach the 25th anniversary of the iconic Angel fragrance, I celebrate the modern Angels of today and look forward to 25 more years of creative, gourmand fragrances. Thank you Mr. Mugler! Thank you, Clarins! Thank you, dear perfumers who keep my craving for coffee, chocolate and vanilla constantly fulfilled.
Dr. Marlen Elliot Harrison

Managing Editor & Columnist

Dr. Marlen Elliot Harrison's journalism in the fragrance industry has appeared in international print and online publications such as Playboy, Men's Journal, Men's Health and the New York Times. Marlen also works as a graduate professor, thesis advisor and faculty supervisor for MA programs in TESOL, Education, Writing and Literature. Learn more about Marlen by visiting www.MarlenHarrison.com.
MEH