A trip to a new perfumery can be much like stepping out of an airport taxi in a country never before visited; suddenly things look different, smell different, feel different. Remember the first time you visited a fragrance boutique you had only ever heard of or dreamed about? The eagerness? The excitement? The contemplation of just how many bottles could fit in one's suitcase? There's a feeling of "where do I begin?" Shelves packed with colorful items, testers waiting to be explored...It's like that moment in The Wizard of Oz when Dorothy trades a world of black and white mundanity for a technicolor journey:
I recently had such an experience, but not in Munchkinland; I spent two weeks in Milan, Italy meeting the Fragrantica team, speaking on a panel about fragrance criticism, getting lost in the aisles at Esxence, and more excitingly, visiting a perfume shop that sadly doesn't exist here in the United States. I finally had the opportunity to explore a L'Erbolario boutique!
Yes it's true - for the Italians, L'Erbolario is much like a L'Occitane shop, found throughout Italy and neighboring countries, and though lovely maybe just a bit common. But for someone like me, this was my top shopping destination. I didn't need to visit the Brera boutiques that sold niche or luxury fragrance; truth be told I didn't step inside any of them as there's just no way I could afford anything there. Instead, I longed for 20-27 Euro fragrances that I'd only read about and considered a budget where I could purchase 6-8 bottles of L'Erbolario for the price of a single niche fragrance!
L'Erbolario located at Via dell'Orso 18
Upon meeting many of my Fragrantica colleagues and being asked what I was most excited about sniffing in Milan, my answer was routinely, "I need to go to a L'Erbolario shop and I want to check out some Monotheme fragrances."
I never did find a single Monotheme fragrance in downtown Milan or its train station or airport; perhaps I wasn't looking in the right place. But L'Erbolario has no less than 10 boutiques throughout the city and so one afternoon, upon concluding a photography adventure at Sforza castle, I checked my wi-fi which magically picked up a connection and sought out the nearest boutique; to my luck it was only 4 blocks away! I did my happy dance and made my way to the destination with a giddy smile and a spring in my step.
My experiences with L'Erbolario had hitherto only been marginal. Fragrantica members compelled me to purchase Méharées with their enchanting reviews and comparisons to Musc Ravageur...and they were right; it was everything I hoped it would be and more! But sadly, I no longer had my bottle (see Love, Loss & Recovery to learn why) and was completely ready to dish out the funds needed to procure a replacement.
For days prior I had contemplated what else I might buy. I had heard about a fragrance of chocolate, rum and sugarcane; wondered about their two fragrances focused on almonds and hazelnuts; and pondered whether their amber would be as good as the best fragrance at Esxence, Rania J's Ambre Loup.
When I arrived to my destination at Via dell'Orso, I opened the door, peered inside and took a deep breath. I'm sure my eyes lit up at what I saw. Directly in front of me looked like a converted family room, complete with fireplace/mantle and mirror to my right. To my left was a display of the new Goji fragrance, a bench, and a wall of floral fragrances!
With only moderate self-control, I reached out to the first bottle I spotted and sprayed a paper blotter. A gentleman immediately walked up to me and began chatting to me in Italian. It was moments like that when I wished I knew more Italian than "Scusi, parli Inglés?"
And yes, he did speak English, fluently. I introduced myself, handed him my Fragrantica card, and explained that I was there to worship at the temple of botanical fragrances. I told him how difficult it was to find L'Erbolario products in the United States and he replied that I could call or email him at any time and that he could send me a package of up to some ridiculous weight, the equivalent of a small horse, for only 60 Euros. "You can have nearly all of our fragrances!" he teased. No joke, I briefly considered it.
So before I tell you any more about my frenzied shopping spree (thank goodness there had been a bench), I need to tell you about this magical brand. First of all, you can learn about their history over HERE. Basically, the company started in Lodi, a town just a few miles outside of Milan, back in 1978. Their mission was to develop a line of cosmetics based on old, family recipes and created from local botanicals: "These were aromatic waters, bath oils and lotions, distinguished by the exquisitely natural origin of their ingredients, delicately perfumed without any artificial agents, and packaged with a neat, appealing graphic design."
I'll let you explore the website for more info and continue with my scented story.
So, there I was, backpack on shoulder, only two other customers in the shop, and with a handsome Italian man offering to show me the products. He turned and retrieved a book from the table behind him, looked down at it, and then exchanged it for a different book. "Our catalog, in English," he told me as he handed me the small publication. "Let me show you the men's line," he suggested.
Men's line? Why would I want to focus on the men's line? There were only like 7 or 8 men's fragrances in a collection of almost 50 products; a few of them I already knew and could easily skip over.
"Oh, I'll just start over here at the front of the shop and work my way around!" But when I turned to the wall of floral scents, a young woman was blocking my reach and so I moved to the orientals instead.
With 5 shelves of 10 different fragrances, I was overwhelmed. When I reached for the Patchouli fragrance, my salesman smiled and told me that while he is not exactly a fan of patchouli in general, L'Erbolario's Patchouli shower gel was excellent. He then added, "I'll make sure you get a sample of it." I considered proposing marriage right then and there, but figured my humor might not be well-received and instead just offered, "Grazie!"
Of the 10 fragrances, I plucked a box of Méharées off a shelf to replace my lost one and proceeded to sample every other scent in the section.
MÉHARÉES
| | |
| --- | --- |
| Head note | Citrus; Bergamot, Orange, Rose, Cinnamon |
| Heart note | Spicy/Woody: Cedar wood, Guayacan wood, Patchouli, Sandalwood |
| Base note | Chypre: Vanilla, Amber, Moss |
While I quite liked the classical powdery amber of Ambraliquida and considered purchasing it, I wanted to find fragrances that were just a bit more unique and upon sniffing Dolcelisir, knew that I had come across something special. As a gourmand lover, Dolcelisir could have been made specifically for me. The fragrance is well-blended, smooth and the name couldn't be more apt - a sweet elixir indeed. While I don't necessarily detect the individual notes of rum, chocolate, caramel, or vanilla, the overall effect is delicious and comforting with average sillage and longevity. Many find it an affordable alternative to Ambre Narguile from Hermés; as I don't really know that fragrance, I can't really comment. Along with Méharées, this one was a definite purchase. The salesman took my two bottles to the counter and told me I could call on him should I need more assistance; in the meantime, he would pick out some shower gel samples for me. What great service!
DOLCELISIR
Head note
Gourmand: Bergamot, Orange, Caramel, Rum Absolute
Heart note

Floral/Spicy: Jasmine Absolute, Rose Absolute, Lily of the Valley,
Elderberry Flowers, Cinnamon, Cocoa powder

Base note
Vanilla: Patchouli, Vanilla Absolute, Benzoin of Siam, Tonka bean,
Amber, Mosses
Other fragrances from this area that I quite liked and considered purchasing aside from Ambraliquida were Patchouli (a sweet, earthy, ambery version) and the curious ginger and ylang-focused Ibisco. At this point I had already sprayed Patchouli, Sandalo, Ambraliquida, Ibisco and Dolcelisir on my hands and arms. I was just getting started and had already begun panicking that I would run out of clean skin!
Next, I made my way over to some of the florals where I had a field day first with the paper blotters exploring everything from Neroli to honeysuckle (Caprifoglio) to linden (Ombra di Tiglio) and then moving to some open space on my right arm. My favorites from this section of 9 aromas was Regine dei Prati, a light, green floral that reminded me of scents like Creed Spring Flower and of course Neroli, a regular favorite of mine. Though I considered purchasing these last two, I decided to wait until I had explored yet more of the line.
I stepped to my left and experimented with more florals (L'Erbolario offers a huge array of this genre). I'm not typically a fan of violet and have more than my share of favorite rose offerings so I skipped these and the straightforward but short-lived Lavanda and went directly to the Peonie, Acqua di More (Blackberry Water), Magnolia, Frutto della Passione (Passion fruit), and Iris. I quite liked all five of these, especially the juicy Passion fruit and tender Blackberry Water. I considered purchasing the Passion fruit scent but knew it was time to move to yet another group of florals.
This next section had some intriguing offerings and I came close to purchasing a couple of them. Among fragrances such as Legni Fruttati (Pear), Ortensia, 3 Rosa (Pink pepper, rose and hollyhock), and Te Bianco (White Tea), it was Mandorla (Almond) and Narciso Sublime (Sublime Narcissus) that most caught my attention.
The almond fragrance was soothing and simple but as I don't have a true almond aroma in my collection at the moment it was also quite a tempting scent.
Narciso Sublime was compelling and brought me back to re-sniff a few times. L'Erbolario describes it as "A bouquet of romantic and delicate scents based on Peach, Mandarin, Lemon, Grapefruit, Neroli, which then accentuates its intensity with the floral personality of magnolias, Roses, Water Lilies, Freesias and Narcissus Absolute, topped with the enveloping notes of Honey and Amber. A poetic composition of aromas, which speaks sweetly to the female soul."
Apparently my inner female soul liked what it heard, a honeyed, complex, substantial floral that was intoxicating with its heart of narcissus and neroli.
Both of my favorites over here were potential purchases...but...at that point I needed to sit down and take a break. I had inhaled so much fragrance in so little time that I thought I might pass out. I sought out that bench I mentioned and flipped through the English catalog while searching the shop for a sink to wash my hands and arms. No luck. In the meantime I took about 20 minutes to sniff my hands and arms and re-visit anything I felt intrigued by thus far.
Then, over in a small niche, a group of orange bottles caught my eye; I discovered an intriguing riff on the classic orange blossom water: Accordo Arancio (Orange Accord). It's true that orange blossom and neroli fragrances are typically my go to floral. The trend of orange juice-themed fragrances of late has failed to catch my attention, however. What L'Erbolario did in Accordo Arancio was combine the two genres and set them against subtle oriental basenotes, and I was immediately intrigued. Purchase #3!
ACCORDO ARANCIO
| | |
| --- | --- |
| Head note | Citrus: Mandarin, Bitter orange, Lemon, Ylang Ylang |
| Heart note | Fruity: Petitgrain (Egypt), Plum, Jasmine, Thyme. |
| Base note | Vanilla: Vanilla, Amber, Moroccan cedar, Patchouli. |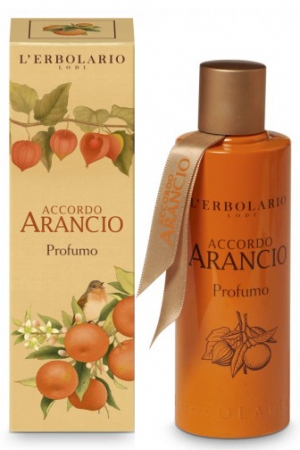 I could bore you with my takes on the remainder of the line but instead I'll conclude with some other favorites that were potential purchases. Despite resisting the allure of a Tahitian Gardenia fragrance all these years, the delicious composition and easy price of Tiare was incredibly tempting. The refreshing citrus and algae of Fiore dell'Onda reminded me strongly of fragrances such as CSP Aqua Motu but brighter and slightly more floral. Finally, the most intriguing aroma of the day was undoubtedly the hazelnut and vanilla themed All'Olio di Argan, almost like wearing a perfume version of argan oil or a hazelnut body butter. I just kept wondering when and where I'd wear this considering that I live in a hot, tropical climate and the fragrance was thick, rich and dusty.
Like any good fragrance junkie, the moment I left the shop with my three purchases and 8-10 samples of shower gel, face cream and body lotion I started having second thoughts - not about returning my purchases but regretting not purchasing the Tiare, Passion fruit, Almond, Amber, and Narcissus fragrances. I actually stopped and looked back at least once, considering that who knows, I might be back some day and can buy others in the future...or I might just have to go back once more before I leave Italy.
I didn't go back and a cool head prevailed, keeping my teacher's budget in mind and the fact that Miguel Matos and I had exchanged fragrances earlier the previous week and I had a wealth of Esxence samples to work my way through, but that last bit is the start of my next column, a discussion for another day.
I can recommend L'Erbolario to those looking for fragrances similar to those from brands like Yves Rocher, The Body Shop, etc but often at more affordable prices and as part of a much wider selection. Few of the aromas offer deep complexity or startling originality, but they are comforting and approachable, many offering a straightforward interpretation of our most loved plants, herbs, spices and flowers. I'm thrilled I was able to share my experience with you and look forward to reading about your favorite L'Erbolario aromas in the comment section below.
Other articles in this series:
GIFs via Giphy.com; Images of L'Erbolario shop by author; Product images from L'Erbolario.
Dr. Marlen Elliot Harrison

Managing Editor & Columnist

Dr. Marlen Elliot Harrison's journalism in the fragrance industry has appeared in international print and online publications such as Playboy, Men's Journal, Men's Health and the New York Times. Marlen also works as a graduate professor, thesis advisor and faculty supervisor for MA programs in TESOL, Education, Writing and Literature. Learn more about Marlen by visiting www.MarlenHarrison.com.