Discerning noses could readily claim that German perfume schools are just as good as French. But with little publicity abroad, schools like Haarmann & Reimer and minimalist brands like biehl.parfumkunstwerke fly largely under the radar…
Sergey Borisov: Dear Thorsten, nice to meet you in Milano. In order to introduce you to Fragrantica readers, what is your perfumery background? And who are the perfumers you work with creating your brand, biehl.parfumkunstwerke?
Thorsten Biehl: I am not a perfumer; I was part of marketing and evaluation teams, and was also responsible for sales. So I was part of the Symrise development team, which creates perfumes to be sold worldwide. During my 17 year career at Haarmann & Reimer and later Symrise, I worked with many perfumers. My experience and long working relationships with perfumers helped me consider who I wanted to work with and who were the most creative perfumers. And I chose the perfumers that I admired the most due to their creations.
There are maybe 1000 perfumers in the world who have the formal education and who have learned and worked in big perfume companies. You have to know the raw materials to be a perfumer, to have learned from someone who has perfume creating experience… and about a few dozen perfumers specialize in fine fragrances. I mean everyone can say they are perfumers by learning and mixing, and perfumers could be autodidactic but it's not necessarily the case…
Sergey Borisov: Having founded your brand in 2007, you cannot escape the comparisons with another olfactory editor, Frederic Malle. He "edits and publishes perfumes," you "make exhibitions of perfume artworks." Is there any similarity? In what ways are your brands different?
Thorsten Biehl: Well, when I was starting my brand, I happened to read some article about Frederic Malle on the web. And I thought then: "Wow, that's pretty close to what I want to do!" At the time there were no perfume-devoted blogs, there were not many web discussions about niche-artistic perfumery as we have now. So many changes were made in the last 10 years!
So what's unique about our brand? All our perfumers were taught in Germany, in the Haarmann & Reimer perfumer school. So that's the difference, maybe – a different understanding of perfumery? The taste, maybe? And it's not just a cultural difference – as Patricia Choux is French, Arturetto Landi is Italian, Geza Schoen is German, Mark Buxton was born in England, but all were educated in Germany. Egon Oelkers. was a long-time perfume professor in Haarmann & Reimer School, so he trained hundreds of perfumers from different countries - Japan, Argentina, Mexico....
And my role as olfactory gallerist is to choose the best perfumes, what I think is really unique, maybe a signature scent of a certain perfumer.
Thorsten Biehl
pc01 created by Patricia Choux is difficult to compare with any other fragrance. I can smell its unknown tropical flower, so juicy and aromatic that it can be simultaneously eaten like very fleshy sweet and sour fruit! I love it as an amazing and unusual perfume artifact that brings me into the summer mood in any Siberian weather – it`s just incomparable with any other perfume! (I agree that in the distant base notes it recalls to Jardin après la Mousson by Hermes – but Jean-Claude Ellena creation has no this freshness accented, it lacks this fruity side and magic of live mango, and flowery Spring)
Sergey Borisov: Did you make briefs for your perfumers?
Thorsten Biehl: No, that's the other thing.
Sergey Borisov: So how is the process organized?
Thorsten Biehl: We need to go back to 2005, when I talked to perfumers first. It was my departure at Symrise, and I wanted to do something with fragrances… So I talked with friendly perfumers and asked, "What would you do?"
And they said, "Doing regular briefing day-to-day, creating the next VW Golf".
"Good, would you like to draw the new Ferrari? – Just to use an auto example. – Would you love to use very specific, and very rare, and great raw materials – to make something for your private life, to wear for your friends, for your family and yourself?"
And some of them agreed…
Like Geza, his gs.02 was the fragrance he was working on for about 10-20 years, and I smelled it from time to time, and I had samples of it, I was wearing it myself. So I said "Well, would you give me that formula?"
He said "Cool that you asked and you could have it, because it's not suitable for any other regular briefing!" No regular Hugo Boss brief could be won by it.
And I was asking only my friends, people I really love, otherwise it doesn't make sense and the team is quite close.
gs02 biehl parfumkunstwerke is a leather perfume. It starts with piercingly fresh grassy bitterness, then turns to the dry side of leather – its more aggressive green and animal version we know under the name of Kinski. Then gs02 becomes a calm amber smoke, a little sweet and pleasant, with a touch of leather accent in the spirit of Bel Ami Hermes.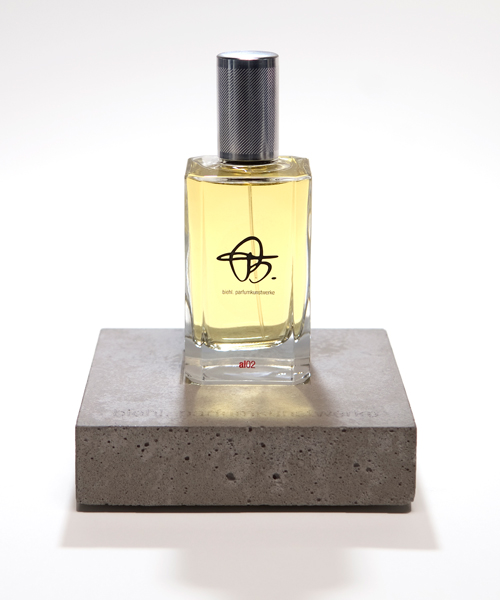 Sergey Borisov: Your motto, which I read on your website, is "Art not for the masses." Masses always mean good sales and profit measured by money. What's your point? Art is bigger than money? OK, so your brand is just a hobby?
Thorsten Biehl: There's a certain interest in maintaining the brand, so of course it has a commercial background to it. But in comparison to mass brands that are distributed worldwide, so called mass-market, we are different; all our perfumers have the experience of that type of perfume creation and got sick of it. It's the bread and butter process of the perfume industry. In Germany we have Douglas, Sephora chain-stores, and some other big stores. A minimum of 80% of all perfume products sold in the chains worldwide belongs to just 4-5 companies, and they all use the very same approach. The perfume does not matter. It's the brand that does matter.
We worked on the brand perfumes before, and its budget for raw materials is next to nothing; brands do not care about the development process, even if it would be a pre-formulated juice from the library, they just pick them for the next perfume if the price is right. That's what we all have in mind, the situation that developed over the last 20-25 years – and now people suddenly started to be creative again! But you could build it on a smaller scale; you have to be creative if you don't have to have certain commercial goals.
But, of course, you have to care about money. That's why we cannot spend a lot of money on packaging. If you take a look around – you need a commercial distribution. So you need little gifts. And certain very expensive packaging. But here's what I'm saying and it was my motto from the beginning – why do you spend a few hundred euros for a product when you are obviously buying the nice packaging? So we focused on the main part, on the perfume ingredients. Still we have boxes and bottles – we need some look, we need presence and to transport our perfumes, but we do not spend much on it…
Sergey Borisov: Why did you take only one perfume made by your father for biehl. parfumkunstwerke?
Thorsten Biehl: He's just not that active of a perfumer anymore. The perfume he made for the collection, hb01, won the prize of most innovative perfume in 1987. There`s a Community of French Perfumers (Societe Francaise des Parfumeurs) that makes a creative contest every year or every two years, and he was the first non-French perfumer who won the prize (International Perfumer-Creator Award). I remember that very clearly, and I think Arturetto Landi was second or third. It was a first time when they participated, before it was a competition of a close circle of French perfumers. My father told me it was not easy to achieve – the situation was like teaching Germans how to brew beer! Nowadays I think it's more common – perfumers from all over the world could participate…So he just shared the ready formula with me.
mb03 fragrance could be included in the legendary Incense Comme des Garcons collection – so sweet, comforting and colophoni-like. There is an elegant, transparent chamomile note on a background of labdanum that gives a thin and rounded smell; it is so completely heart-warming it could have been made in honor of the most white church, like Intercession on the Nerl.
Patricia Choux
Sergey Borisov: So far you have about 14 pieces of olfactory art. That's enough for the brand, but definitely not enough for a museum.
Thorsten Biehl: I love your point. When we discussed the idea of the brand, we thought about a museum. But we chose the idea of a gallery because a gallery is more contemporary and lively. A museum is the concept that looks back. We are looking forward.
As the market is flooded by new perfumes, we are waiting. We are not in a hurry to launch some new perfumes. Our next perfume will be hopefully launched in August-September-October this year, after a long while. The perfumer is Patricia Choux, and we've known about it for some time, and at last we are going to show it at Pitti-2016.
Sergey Borisov: Perfume art is art by itself – but you stress that by organizing special events. I have read about Perfume Tasting, Perfume Safari, Perfume Dinners, Perfume-inspired art and other collaborations you have organized in Berlin. Could you tell us about it? And does it help you in your business?
Thorsten Biehl: Of course. Perfume art popularization is a business approach, which shows perfumery from the unexpected and unknown side. Customers who are new to perfumery start to discover perfumes differently – "Oh, there's perfume life outside the big department stores and mainstream perfumes!" They see perfumers, and perfumers describe their routine work to them.
The reason for it is simple: if you look at our perfume products, we don't reach millions of people, like Dior does.
So we try to reach people by our events, with our educational programs. And this part of our work has its origins in my previous Haarmann & Reimer work – as we have to teach our customers how the perfume market develops, how to create perfumes, ingredients and so on. And our events have been a huge success – that's infotainment! People have fun, they learn something new, and they feel better than in classes. They open the whole new world of perfumery – they find out some secrets from the creators, and they could ask them questions.

gs03 is the most new fragrance in biehl.parfumkunstwerke's collection. You could smell in it the features of classic citrus colognes (neroli, mandarin, orange blossom), and features of the latest Geza Shoen project, Renegades (pink pepper, castoreum, juniper and Hedione)...not to mention the elegance of his eccentricities molecules – those are here as well!

Sergey Borisov: "Perfume art, nothing else." The slogan is great. But the reality shows that every niche brand is forced to compete on the shelves with other art perfume brands. Some of them are supplied with bright pictures, designs, feelings, memories, legends, and even some gold and bling, whatever niche brand owners created. And pure minimalist art will lose in the competition, as if invisible. What are your brand's strong sides?
Thorsten Biehl: The difficulty and the beauty of it is that we are different. We are on the perfume side, not the crystal and bling-bling side. If you want a nice flacon, OK then. You spray the fragrance and wear it on your skin, but you never bring the flacon with you, normally. Refill, maybe, but nobody will carry a 200 euro crystal bottle in a purse.
All we can do is to help people understand how to select the right perfume. And we help them to find the perfect perfume, the perfume they like, or the perfect concept.
Sergey Borisov: To conclude. Frederic Malle showed the way to the niche world – that development will bring you to the big corporation world. Are you going the same way, to some big investor's hands – or looking for another way?
Thorsten Biehl: OK, it seems like the luxury market is looking for fresh blood, as they see the lack of development in their own prestige business. In the most cases they are buying new brands to make another commercial story and after 10-15 years the brand is ruin.
Sergey Borisov: So you are on the pessimistic side? Well, if Coty will approach you one day to buy your company, would you start the negotiations?
Thorsten Biehl: Coty probably is not a right example…. We don't know yet. At this point we certainly have no interest. As far as it's not just another regular project, it bears my name on it, so I should be sure about having a very good position, otherwise why should I sell my name? I would have to talk with those people about their vision, to see if we share the same values and to be sure that it would bring us to the next level, to be sure that the goal is not to enter the commercial mass-market with a price range 50 euros per bottle.
Sergey Borisov: OK, I see what you mean, Thorsten, thank you for the interview!
Sergey Borisov

Sergey Borisov has been involved in perfumery since the early 90`s when he had his own perfume-devoted program "Close to Body" on Krasnoyarsk radio (1993). As a perfume enthusiast (known as moon_fish), he became famous in Russia for his translation of Luca Turin's Perfume: Le Guide. He made a career as a fragrance journalist and contributed to such distinguished magazines as GQ, Vogue, Elle, Cosmopolitan, Interview, Forbes, Allure, Robb Report, Flacon, Departure, RBC-Style, TSUM-Magazine (2008-2016). His own online columns for RBC-Style.ru, Vogue.ru, and GQ.ru (2006-2015) have earned him international recognition and an invitation to be an editor for the Russian edition of "The Little Book of Perfumes" by Luca Turin & Tania Sanchez. Sergey Borisov was invited as a speaker at Esxence 2012 (Milano) and Intercharm 2015 (Moscow). In 2013, Sergey joined the Fragrantica team.