This is another in a series of bargain fragrance reviews, scents that may be found online or at discount stores for US $25 or less.
Summary: Yellow Alluriana from Sonia Kashuk for Target is a sparkling grapefruit and verbena aroma over a mild musk - perfectly unisex and only $14.99 USD for a 100ml bottle.
Perfumer: Unknown

Try this if you like: Sweet citrus aromas.
Reminds me of: Creed Zeste Mandarine Pamplemousse, CSP O Pomelo, Benetton White Night Man, Biotherm Eau Vitaminee
Pros & Cons: Sonia Kashuk, a make up artist and former creative director of Aveda, is one of those names that has flown largely under the radar since she appeared on the mass market beauty scene back in 1999. Every few years she seems to be associated with a new collection of make up, beauty tools and scents. A few years ago (2013), a new line of fragrances and bath/beauty products arrived at Target upon the 15th anniversary of her collaboration with the retail giant and the aromas (and prices) are actually noteworthy.
Yellow Alluriana is a straightforward, uncomplicated citrus aroma with a bitter drydown that reminds me of fresh cut grass or fig leaves. I don't really detect much musk and the entire citrus experience wears rather quickly - 90 minutes and the scent has almost entirely changed to a leafy skinscent. But with the use of products from the corresponding bath and body range that includes hand cream, body butter, body lotion and shower gel, the aroma is sure to last a little longer.
I recently added the current fragrance line up to our database after being tipped off about the brand by Fragrantica member Konga500 so there aren't many reviews of Kashuk's scents just yet. I tried all 5 and most enjoyed the creamy tuberose of Pink Innocencia and the tart refreshing Yellow Alluriana.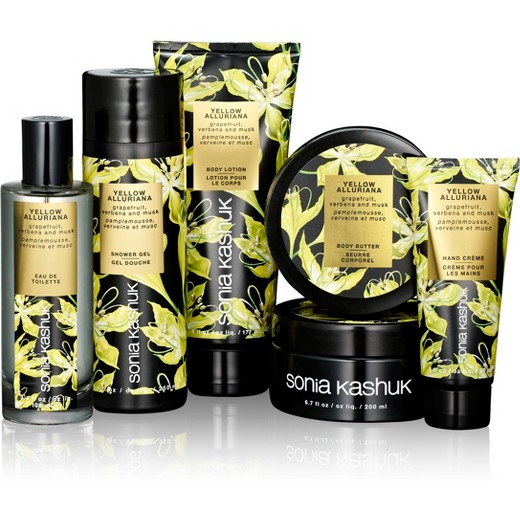 Notes: Grapefruit, verbena and musk.
Designer's Description: "A burst of refreshing citrus notes and crisp verbena plays to the sensuality of musk, for the happiest, most vibrant and uplifting fragrance. A delight for the lively, bubbly and free-spirited. December 2013: Bath & Body Collection won "Best Product of the Year" for mass fragrance in Women's Wear Daily." Target.com
Number of times tested: 5 times over the last 3 weeks from a current bottle I purchased at Target.
Number of sprays applied for this review: 2 sprays to the back of my hand.
Fragrance strength: Eau de Toilette (but wears more like an eau de cologne)
Development: (Linear / Average / Complex): Yellow Alluriana opens with the tart citrus - juice and rind - and after about 15 minutes begins to relax and moves toward something earthy that reminds me of sweet, moist gardening soil. This could be the synthetic musk or perhaps even the verbena leaf (I have another verbena scent that has a similar potters' clay note).
Longevity: (Short / Average / Long-lasting) Unfortunately, Yellow Alluriana is all topnotes and they start to fade after about 30 minutes. Whereas Pink Innocencia lasted and lasted, Yellow Alluriana was reduced to a faint shadow of its self by the 2nd hour of wearing.
Sillage: (A Little / Average / A Lot) This was quite strong at first blast but after the first hour it's nose to the skin time.
Note about the packaging: The tall cylindrical glass atomizer and simple black plastic cap is adorned with a stylish black and yellow floral print label with gold accents. The paper box echoes this pattern.
Where can I buy it? Available at Target stores and online for as low as $14.99 USD for a 3.4oz EDT spray.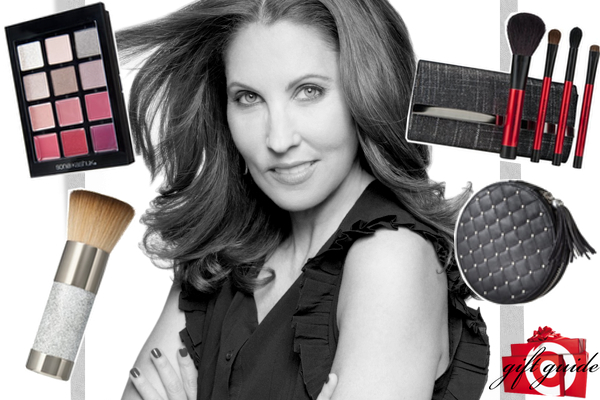 Sonia Kashuk for Target
The Bottom Line: I'm a sucker for grapefruit aromas; the only problem is that none of them ever seem to last more than a few hours. Yellow Alluriana is no different, but considering the price, I'm happy to continuously douse myself in this hesperidic wonder.
The fragrance opens with a true-to-life grapefruit note accented by the lemony verbena (verveine). To me, this is summer in a bottle, a day at the beach and liquid happiness...Thankfully there is no sugary tonka, coumarin or vanilla here to turn it super sweet. Instead, the fragrance relaxes and reveals a slightly green, crushed leaves aroma. No, this is not a cucumber-esque bright vegetal green, but rather a somewhat earthy, warm leaves in the sunshine scent. And this facet isn't really all that strong. I dare say it is *almost* reminiscent of fig leaf.
Yellow Alluriana is simple, straightforward and genderless. This is one to decant and carry in a backpack for a quick pick me up. I'm addicted and need to explore the bath/body line to see how layering might improve longevity.
Dr. Marlen Elliot Harrison

Managing Editor & Columnist

Dr. Marlen Elliot Harrison's journalism in the fragrance industry has appeared in international print and online publications such as Playboy, Men's Journal, Men's Health and the New York Times. Marlen is also a regular contributor to BeautyAlmanac.com and works as a graduate professor, thesis advisor and faculty supervisor for MA programs in TESOL, Education, Writing and Literature. Learn more about Marlen by visiting: www.MarlenHarrison.com.