This is another in a series of bargain fragrance reviews, scents that may be found online or at discount stores for US $25 or less.
Summary: Toujours Moi in its current formulation by Dana (as opposed to the original by Corday and then Max Factor) is, considering the packaging, a total oriental surprise with its honeyed spice, floral and resinous cola notes.
Perfumer: Unknown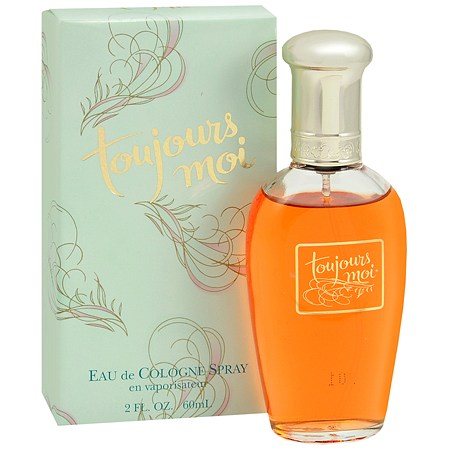 Try this if you like: Amber, spices, cola, resins, honey, citrus pomanders, musk or soapy scents.
Reminds me of: Youth Dew, YSL Opium, Tabu, Cinnabar, Habanita
Pros & Cons: First a bit of history and explanation. Today I am reviewing the present formulation of the 1995 version of Toujours Moi currently produced by Dana. Originally launched by Corday, inspired by cathedral incense, and sold from 1924 - 1961, it was then faithfully re-launched by Max Factor in 1961. By purists' accounts, the current Dana version is far from the 20th century original or re-launch. (Oddly, though Corday wasn't founded until 1924, Dana's website lists Toujours Moi as its first fragrance launched in 1921; perhaps they too launched a Toujours Moi but in 1921, totally different from Corday?)
I knew Toujours Moi as the demure-looking, cheap scent sitting on the bottom shelf of Walgreens, Wal-Mart and other chemists/supermarkets, but not by its scent. Recently Dana sent me a bottle and I expected old-fashioned, wispy, powdery-aldehydic florals. I mean look at that bottle and box! I was not at all expecting a cousin of Tabu (which I reviewed HERE). Wow! This stuff could easily have been a launch from Lush, Lutens or L'Artisan.
Sadly, the scent has its haters as it is undoubtedly not made with the highest quality ingredients (considering its price) and as I noted, is likely different from the original. And I do admit, Toujours Moi's cacophonous opening notes are indeed a challenge. That being said, it also has its fans....
Fragrantica member Distortech explained, "One of my favourite perfumes of all time. It is wonderful! I love it! I think I like the vintage Corday a little bit better, BUT, I can not really say that with a clear conscience. There is still some kind of magic in the Dana version that is just so alluring. It's a classic in itself. Glorious!"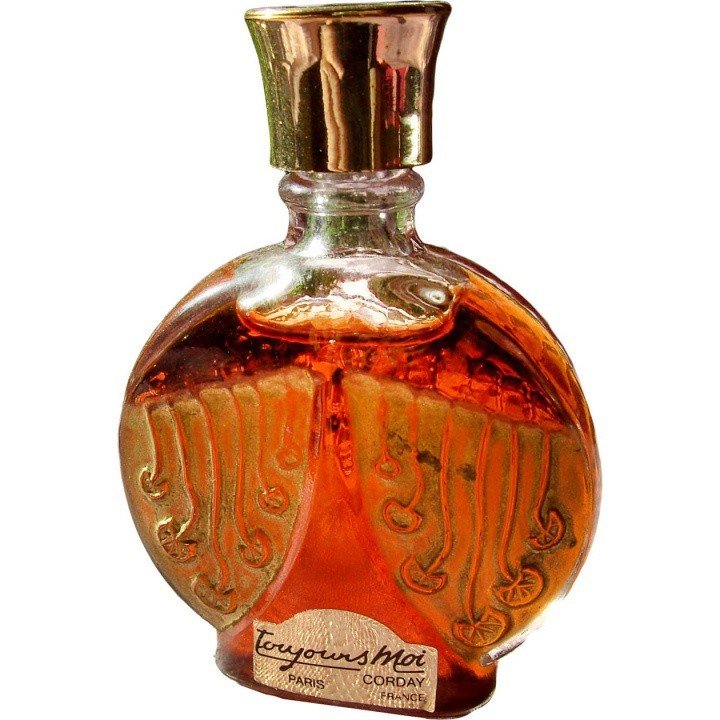 And Kiku adds, "TM by Dana is often mocked and called an "old lady fume" but I don't know why. It is divine! It still has the seminal notes that define the oriental family. The addition of woodsy notes makes this incarnation dryer and softer than the previous two. This is warm, sweet, and a bit outdoorsy. It has a surprising depth and richness for an inexpensive scent. It would be a great fall/winter perfume."
LeahJane1992 also loved it, "My favorite fragrance is the smell of burning woods and dry leaves that comes in the air of Autumn. This fragrance reminds me of that. A semi-sweet woody scent. I call this my out for a walk scent."
And Plumpie raves, "Dry erotic honey meets vintage face powder, an old suitcase, brown paper, mixed spice, a tinge of dry sherry layered over a beeswax candle. Yes she is old but she is a hottie. This is a damn sexy scent and I reckon very few my age would have heard of yet yet wear it. Man magnet."
However, Lillitth didn't have much luck, "It truly smells like nothing but paint thinner on me. I tried to let it dry down to see if anything else came out at all, but I just couldn't do it. The sharp metallic smell of paint thinner was just too much for me. I couldn't even catch a whiff of anything else underneath."
And Bcars10 wrote, "I blind bought this one, based on the reviews here, but I'm not loving it. On me, the drydown smells greasy or petroleum. A powdery petroleum."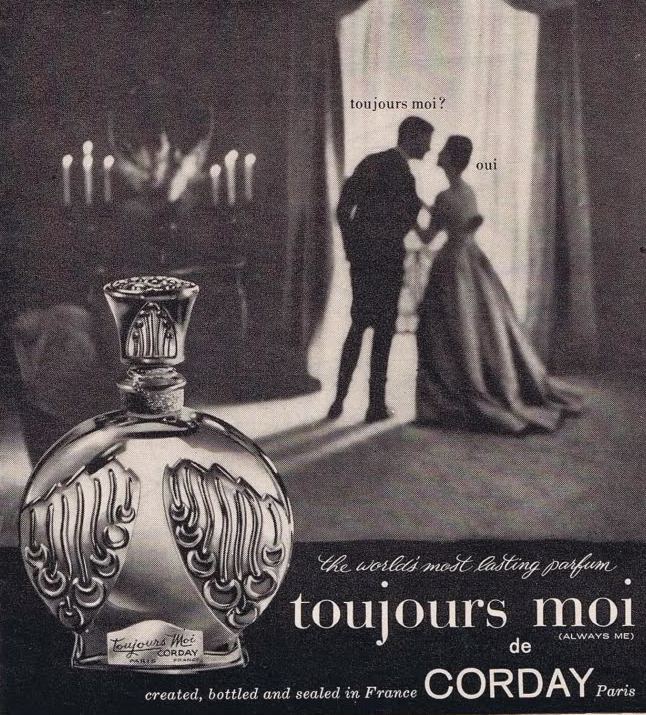 Notes: Orange Flower, Honey, Jasmine, Carnation, Spice, Olibanum, Benzoin, Musk, and Patchouli
Designer's Description: "Mysterious, sensual and exotic. A provocative, romantic scent that envelops the senses. Experience the luxurious French style of Toujours Moi. This intriguing bouquet of intoxicating florals is infused with an opulent oriental background and soft, velvety nuances. A truly irresistible and ultra luxurious creation. Fragrance Category: White Floral • Oriental" DanaBeauty.com
Number of times tested:
5 times over the last 3 weeks from a current bottle sent to me by Dana.
Number of sprays applied for this review: 1 spray to the back of my hand.
Fragrance strength: Eau de Cologne
Development: (Linear / Average / Complex): Toujours Moi opens with, and I'll be polite here, a touch of old orange peel and a slightly bitter cola note. This is one of those fragrances that needs to settle on the skin so give it a couple of minutes and fear not. Once the "paint thinner", "wood varnish" or "airplane lavatory" disappears, Toujours Moi offers a surprising journey through spices, resins, musk and honey. I find it similar to Tabu without the animalic nuances or cloves. I detect a hint of soapiness in the midnotes that then subsides. The fragrance finishes like wearing a soft fur or velveteen coat while sitting in front of a bonfire. I don't really perceive florals other than a hint of orange blossom but can imagine that they are likely employed in the midnotes to add some sweetness and depth. The honey is indeed perceptible but the patchouli stays subtle. I do indeed perceive the dry, peppery frankincense and sweet benzoin adding depth to the basenotes.
Longevity: (Short / Average / Long-lasting) One single spray stayed powerful for about 90 minutes and then faded to a fuzzy, resinous spice for another 3-4 hours.
Sillage: (A Little / Average / A Lot) This was quite strong at first blast but after the first hour it's nose to the skin time.
Note about the packaging: The current clear glass bottle retains its late '50s form but with a full gold cap rather than the powder blue plastic/bakelite shown above. The cap has scrollwork around its base and the name of the scent is printed in gold on the bottle. The fragrance is housed in a simple mint green paper box with a gold flourish pattern.
Where can I buy it? Available online for as low as $5 USD for an unboxed 1oz spray; retails for ~$20 USD for a new, boxed 2 oz spray.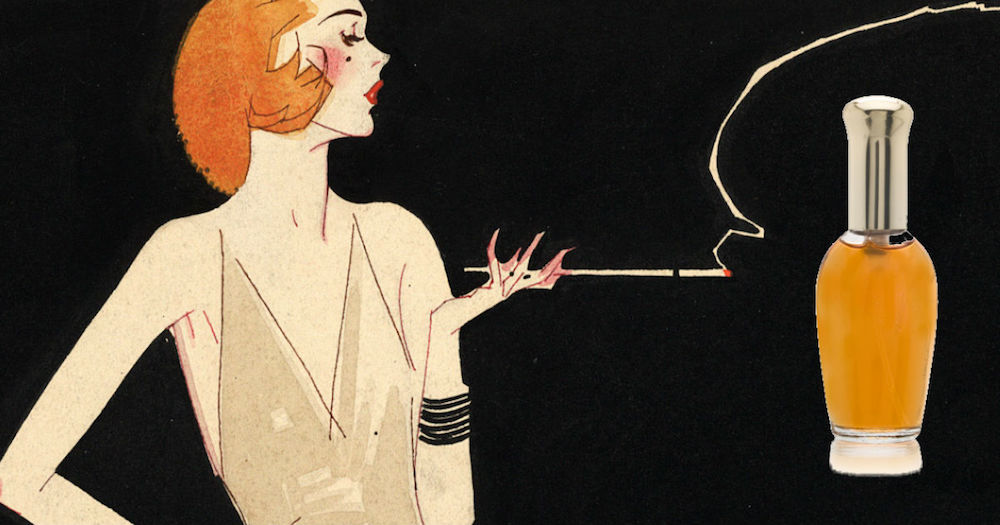 The Bottom Line: Once upon a time a "feminine fragrance" was rich, sultry, dark and animalic. Bitter mosses, aromatic leathers and green herbs were de riguer. My how times have changed. And Toujours Moi, with its 1920s composition (far simplified today) embodies that oriental feeling that so many of us vintage lovers - tired of the modern fruitchouli, fruity floral, candy-gourmand, or anemic aquatic - long for. This is warm and fuzzy, slightly musty, golden brown and bitter-sweet. The opening is a little challenging but the lingering drydown is worth it.
Our friend Barbara Herman didn't at all care for the current Dana version of Toujours Moi writing, "Run away from this as fast as you can. Its nauseating chemical drydown is as bad as the Tabu that you can now get for like 5 bucks. Awful." But then again, Barbara has A LOT of experience with an array of vintage originals, fragrances from bygone eras utilizing an array of now forbidden materials. So for some, Toujours Moi will be a disappointment. But for the intrepid fragrance lover, the price of a movie ticket will buy you a trip through history and the opportunity to experience a scent created almost 100 years ago.
That being said, to me Toujours Moi is a softer Tabu or Habanita with the cola turned up a notch and a big drizzle of orange blossom honey. I think adventurous male fragrance-lovers would have a lot of fun with Toujours Moi, French for "Always Me". I never smelled Toujours Moi's original predecessors but I'm intrigued. I have been enjoying my journey through Dana's scents (in addition to Tabu I also reviewed Navy and Navy for Men and will be reviewing the two recent British Sterling flankers in the coming weeks) which are consistently proving how "drugstore classics" and "bargain fragrances" can offer exciting fragrant possibilties.
Dr. Marlen Elliot Harrison

Managing Editor & Columnist

Dr. Marlen Elliot Harrison's journalism in the fragrance industry has appeared in international print and online publications such as Playboy, Men's Journal, Men's Health and the New York Times. Marlen is also a regular contributor to BeautyAlmanac.com and works as a graduate professor, thesis advisor and faculty supervisor for MA programs in TESOL, Education, Writing and Literature. Learn more about Marlen by visiting: www.MarlenHarrison.com.