On my latest trip to Paris, I had the privilege of a guided tour inside Firmenich, one of the world's main raw materials supplier for the perfume industry. Inside, a team of incredibly talented perfumers works everyday so they can create the fragrances we fall in love with. Dora Baghriche is one of them. She has been working there for 10 years now, starting as a trainee in Firmenich in Geneva in order to become a perfumer. After two Years in Geneva, she joined the fine fragrance department in New York where she received training from Harry Fremont. After her New York training she joined the offices in Paris where she now works with the fine fragrance team. Among her creations we can highlight scents for Cacharel, Juicy Couture, L'Artisan Parfumeur, Olfactive Studio, Viktor & Rolf, Kenzo, Versace, YSL, and others be it mass, prestige or niche. She is amazingly fun and kind and also very beautiful and it was a pleasure to sit with her and chat.
Dora inside her office with some of her creations
Miguel: As I was waiting to enter your office, I was reading a short bio of yours and it says that in the beginning you wanted to be a writer?
Dora: Yes, it's true. It's still my other passion. I love writing and I read a lot. I wanted to be a writer and a journalist. I was actually about to enter journalism school. But what is behind that is a state of mind: curiosity. I am a curious person. In fact I am still linked to writing and in February I am going to join a writing workshop in a publishing company. I am very connected to the words we use to describe our senses. The words are key. You have to find time because if you want to improve the way you write about perfumes, your storytelling and how you talk about it when you create for other people, you have to work on it, read a lot, think a lot. We are always focused on our job and we must be able to multi task. We are always running against time because of short deadlines. We need to rush and be careful about the technique, aesthetics, how you talk about it... It's very important how you read a brief.
Miguel: Writing can be important when you try to convince a client that this is the right version of a perfume...
Dora: You know, the first contact that a client has with a fragrance is the name. So the name is very important. I chose a name to all my creations.
Miguel: Even it it's a name that is not going to be used you always name them?
Dora: Always. I have to name things. Everyday, if I have to find ten different new themes, I have to find ten names. It's a personal strategy and it's how you introduce your story. Also, I think that as a perfumer you put your interests, what you read and what you see, in a fragrance.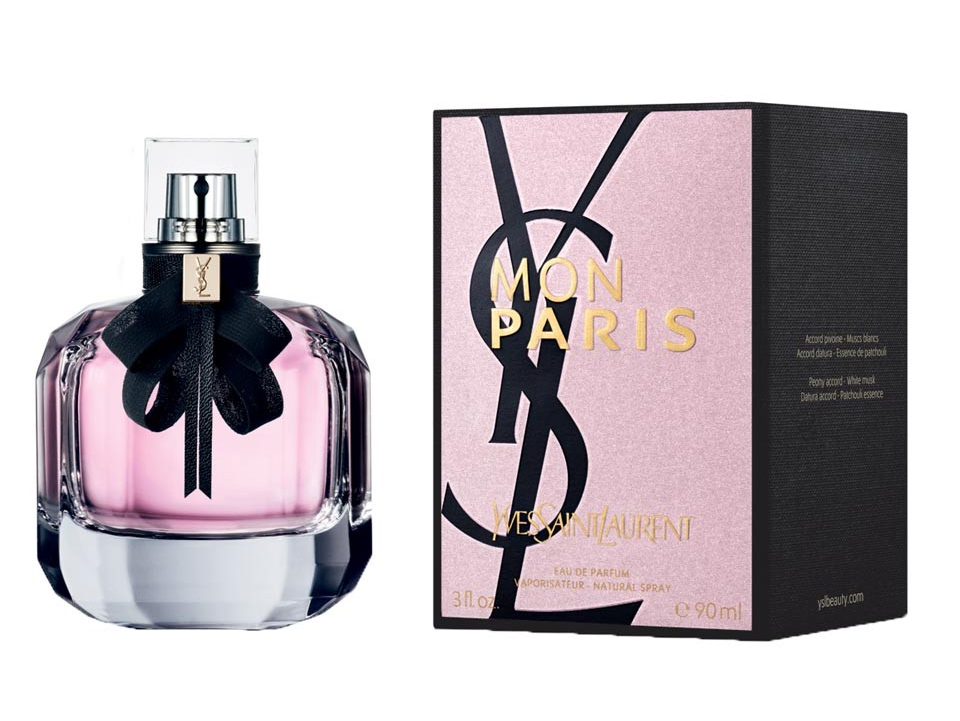 YSL Mon Paris is a recent fragrance formulated by Dora
Miguel: Is it different to work in Firmenich in New York compared to Paris?
Dora: The market is different. The tastes are different. The US market is now opening to other fields, but for a long time we always talked about being clean and fresh. They like florals but in a certain way. We didn't dare, in the American market, to go in some directions like orientals or heavy florals. In Europe you have everything. Everything is possible. That's why for me Europe is key and the reason why I love working from here. But in the USA they are now opening to soft leathers and they are more European-oriented. Regarding the mainstream brands, everything has to smell good and be soft. If it's a feminine fragrance it has to smell feminine. It was very interesting to work on what is clean. And I have figured out that you can be clean and addictive. Addiction is not only gourmand. You can have a clean addiction.
Miguel: Clean Addiction would be a nice name for a perfume...
Dora: This was the idea behind what I just did for Viktor & Rolf, Liquid Diamonds. I used the idea of a softener molecule. So it's really going into the extreme notion of clean. The idea was to prove that we can be clean and interesting, creative and addictive at the same time.
Miguel: (Smelling the strip) It smells just like fresh laundry hanging in the morning.
Dora: Exactly. And despite it's floralcy (I have combined it with peony) it's still unisex because of this clean softener molecule.
Miguel: My taste is the opposite of this. The dirtier the better.
Dora: And that's very nice to explore as a perfumer. It's very good to explore everything. I still want to explore.
Miguel: Can you tell us what is your personal taste?
Dora: Yes, I am also a little bit darker in what I wear. I used to wear Bulgari Black for a long time, made by Annick Menardo. It's beautiful and it's very inspiring to be working in the same place as her. I also wear Musc Ravageur, I love Maurice Roucel. But what I like to create is still very large. I don't want to close my eyes to new things. Whenever there is a flower I never explored before, I want to do it. I want to go where I didn't go before. I must admit that I have a passion for gourmand. My two grandmothers were chefs and I like working with chefs. So, many of my fragrances have a gourmand side. For example, the one I created for Cacharel, Anais Anais Premier Delice, the idea was a gourmand pear and it was the first of a long series of fragrances with pear. I think it's one of the first that really had an overdose of pear because I love a molecule that we have in Firmenich called pear ester. It's a fantastic smell. But what I want to say is that it's not because you explore gourmand or fruity ingredients that you are not creative. You can be creative in any raw material. Every association, every contrast that is new and surprises you is creative.
Miguel: I see between your creations something that I haven't seen before: two flankers of the classic Vanderbilt.
Dora: Oh it was my first FiFi Award!
Miguel: This is the first time I see a flanker for Vanderbilt, such an important perfume in my opinion. How was it to interpret such an icon?
Dora: It was challenging. I had a lot of pressure on my shoulders and you are absolutely right. Despite being a mass market fragrance, it's an emblematic one too. When L'Oréal told me "we want to work with you" it was scary. Sometimes you feel more pressure when they tell you it's going to be you, than when you are in competition. If you lose it's just because someone else had a better perfume and it's also subjective. When you are chosen because they trust you and they want you to do it it's a great responsibility. I was very happy to do it because the public liked the scents and they are very different.
Miguel: One of them is called Minuit a New York.
Dora: They asked me to come up with my modern version of Vanderbilt. I like the original one a lot, it was made by Sophia Grojsman.
Miguel: So you were the chosen one to work on a very important icon of perfumery that was a work of a genius...
Dora: And I wanted to run away to the Virgin Islands! Really, the idea was to keep what I personally liked in the original one, this dark cistus and woody background. And bring another flower rather than hyacinth and jasmine. I thought about gardenia because I like it and it's a favorite among American houses. It's a floral bouquet and I've kept the sensuality in the background using patchouli, a touch of cistus and ambrox. I wanted to modernize the woods. It's less spicy and green than the original. I also didn't keep the aldehydes. It's a softer sensuality. The brief was this woman on a rooftop in NY. It had to be optimistic.
Miguel: Then a year after you did Vanderbilt Jardin à New York...
Dora: This is very green with lily of the valley and jasmine. The idea was the green gardens that you have on the rooftops in New York. It has a little bit of galbanum too.
Miguel: It smells a bit vintage and almost like a chypre.
Dora: Exactly, something like Chanel Cristalle. I love green fragrances. I would really love to work on a modern galbanum. It's very chic. In the case of Jardin a New York I worked with a lot of mandarine, citruses and pear. The pear brings juiciness to galbanum.
Miguel: What was it like to work from an image, like you did with Olfactive Studio in Still Life and Still Life in Rio?
Dora: After I did Still Life, when I went on to Still Life in Rio, my first question was "why should we bring back the first fragrance?" Céline Verleure said she wanted to bring the same character to another country. She likes the freshness in Still Life but she wanted a warmer version of it. Then she showed me the picture and the first thing you notice is the yellow light. The idea was to be warm, beachy, with sand and skin. For me Rio has this exoticism. I wanted to create a new exotic fragrance without the white flowers that are normally used to evoke that atmosphere. I didn't want to go there. So Still Life was made from this woody yuzu and I kept it. I wanted a leathery note with coconut, but going in a fresh direction. We had a nice coconut water base that I liked and I proposed her this watery accord with copaiba wood. I wanted this coconut to be mouthwatering and to have the feeling of a mojito cocktail.
Miguel: Working for Firmenich you have a lot of molecules and other exclusive ingredients that nobody else can use. Do you have your favorite Firmenich raw materials?
Dora: Yes, Pear Ester is one of them. We have a cistus that we have co-distilled with other materials and gives a very nice woody note. I also like what we did around Clearwood. We really have enriched our palette of natural ingredients. We have a wonderful Honey Signature that brings out the animalics.
Miguel: We've just talked about very different brands. Be its a mass-market giant or a small, personal niche brand. It shows that you can do different kinds of work. How are these two segments different in process?
Dora: It's a very different approach with some similarities because you always want to come up with personal and original ideas, no matter if it's for two people or two million people. You want, as a creator, to have personal strong ideas.
Miguel: What are your most personal creations?
Dora: The one I did for L'Artisan Parfumeur, Caligna. It was a very personal choice and I really had a white page. I had this accord of woody sage that I loved and the way I built the fragrance was totally free. Anais Anais Premier Delice was also very personal. Still Life too. I love Japan and I wanted to work with yuzu and japanese ingredients. I love Kiehl's Vanilla Cedarwood too. They are personal because I had the chance of choosing the ingredients I like.
| | |
| --- | --- |
| | Miguel Matos is a Portuguese journalist obsessed with perfume. Miguel likes to see himself as a fragrance curator, investigating perfume as contemporary art. He directs his own cultural magazine, Umbigo, and writes texts for museums and galleries. He is a vintage perfume collector and organizes regular talks called Vintage Perfume Sniffing and Olfatto L'Amore. Honorable member of the International Perfume Bottle Association. He did workshops for brands such as Versace, Grès, Roger & Gallet and Florescent. He also writes on beauty and grooming for Beautyalmanac.com. He is a Fragrantica writer, translator and editor of Fragrantica.com.br. |