Niche Perfumery

Escentric 04: The Upcoming Player in the Escentric Molecules Game
by: Elena Vosnaki
The Escentric Molecules brand stands as the perfect example of what I call "the sliced bread concept": a simple pioneering idea that sounds like anyone could devise while walking the dog or something, but only one actually did. That one, in the case of purist ingredients sliced out of the lab for the public's awareness, has been none other than German-born perfumer Geza Schoen.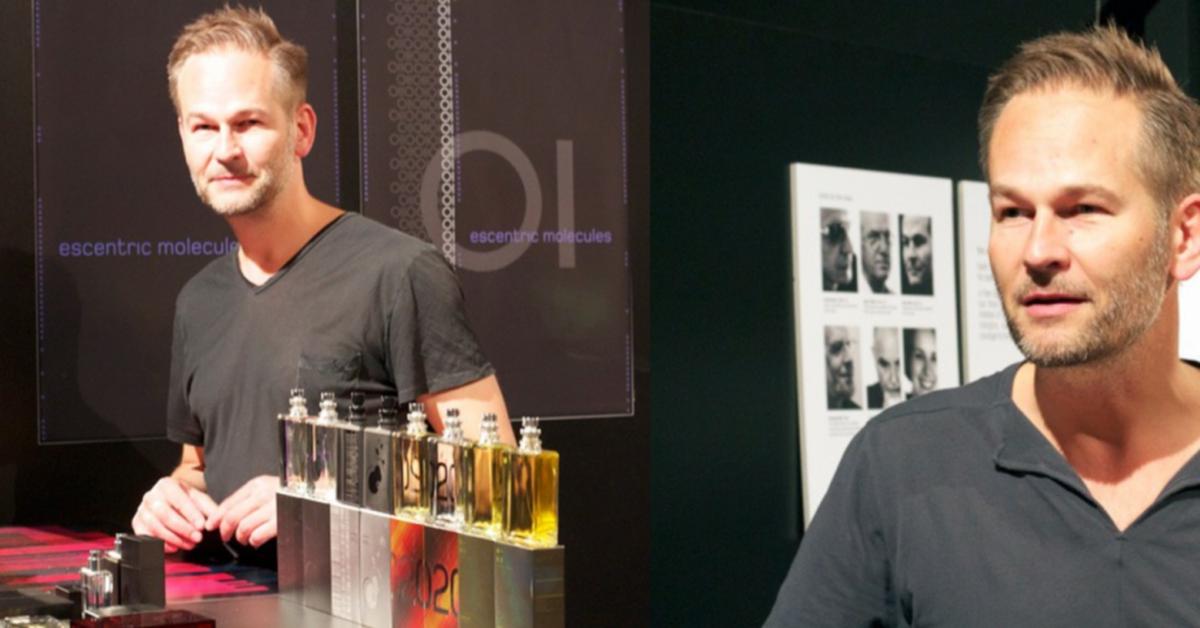 The premise is a purist one. The motto of the brand runs thus: "Radical. Purist. Singular. Escentric Molecules celebrates perfumery as the art of chemistry".
This is no accident. Its founder, independent perfumer Geza Schoen, is a chemist by vocation; actually one of a select group of chemists who all work in the fragrance industry. Most perfumers train as chemists anyway. But putting chemistry as the selling point of perfume is a move that has been avoided for ages due to its anti-fantasy element. Even more so lately, when Big Pharma and chemical additives have been justifiably demonized due to the increasingly artificial world we're living in. And yet the idea that chemistry can be put to use in the pursuit of pure pleasure is an alluring thing; at least it is to me personally. Therefore, the Escentric Molecules line always held a certain attraction and indeed Molecule 01 holds something of a cult status, if its #1 slot in sales chez Luckyscent, the purveyor of niche fragrances, is anything to go by. (Not every perfume lover agrees, as fellow writer Mat Yodov neatly explains in his article.)
The distinction between the Molecule fragrances and the Escentric fragrances within the line is a fine, yet reasonable one. "Molecules" are scents based on a single molecule; harder than it actually looks since things such as chirality or isomers play a significant role in chemistry. "Escentrics" on the other hand actually consist of a complete formula; they're blends based on the titular numeric Molecules, surely, but fledged beyond a single ingredient. They go beyond the mono-molecular.
The upcoming addition to the line (Escentric 04) therefore consists of the fabrication of a fragrance based on the core of a single man-made ingredient that has been populating many a modern fragrance these days; this is Javanol, i.e. a sandalwood-substituting synthesized molecule with a tart intensity and milkiness that to perfumer Geza Schon resembles "liquid metal grapefruit peel poured over a bed of velvety cream-coloured roses". We are thus led to expect something that can adhere to the skin thanks to its lactonic properties, but which at the same time will induce a fantasy of freshness as well. Maybe what's missing is actually launching Molecule 04 in a mathematically-devised dilution of Javanol for fine fragrance purposes for the purists among us.
The newest Escentric Molecules fragrance Escentric 04 will be available from March 2017 and will retail at 75 GBP at select stockists and through the official e-boutique of Escentric Molecules.
Elena Vosnaki

Elena Vosnaki is a historian and perfume writer from Greece and a Writer for Fragrantica. She is the founder and editor of Perfume Shrine, one of the most respected independent online publications on perfume containing fragrance reviews, industry interviews, essays on raw materials and perfume history, a winner in Fragrantica Blog Awards and a finalist in numerous blog awards contests.

Her writing was recognized at the Fifi Awards for Editorial Excellence in 2009 and she contributes to publications around the world.
Elena Vosnaki

Thanks for chiming in. That would be 100% accurate if indeed he was bringing out a Molecule 04. But the actual fragrance is more of a blend, Eccentric 04, like the other Escentrics. The introduction of Molecule 04 is only a hypothesis on my part, as transpired from the text. Maybe I wasn't that clear, so clarifying it now.
Jan
17
2017
I.D.Adam

Javanol is an interesting molecule indeed. Its odor strength is nothing short of mutant so I suspect Molecule 04 will be a very large percentage of ethanol and a touch of aromachemical. Javanol smells wonderful to me, unique amongst the sandalwood chems though not true by itself, but to charge more than a handful of dollars for what likely be 95+% ethanol, well let's just say I think Herr Schoen has pulled the wool over the eyes of his customers. Brilliant marketing.
Jan
09
2017
Add Your Review
Become a member of this online perfume community and you will be able to add your own reviews.