"She had no sooner taken the spindle, which was very sharp, that she became a little dizzy, and, moreover, as the fairy order had ordered it thus, she pierced her hand and fell fainting. The good old woman, very embarrassed, shouted for help: help comes from all sides, one throws water into the princess's face, one loosens her clothes, one strikes her in the hands, one rubs her temples with Water Of the Queen of Hungary; But nothing made her come round."

Henry Meynell Rheam, Sleeping Beauty
In the popular tale of "The Sleeping Beauty" by writer Charles Perrault, L'Eau de la Reine d'Hongrie (Hungary Water or Water of the Queen of Hungary) is clearly featured as a means to try to wake the sleeping princess, alas to no avail. A patch of rosemary for remembrance, fresh citrus and lush jasmine make the heart grow fonder. The recipe for L'Eau de la Reine d'Hongrie is a fascinating story to unravel.
The story of bringing the alembic to the West from its Arab birthplace involves one of the most notoriously dark periods in world history, the Crusades.
The introduction of the alembic to the pestilence-scourged European soil was a momentous instance. The distillation of rosemary in particular was a medium to counteract the effects of pestilence, through the tonic and antiseptic effects rendered by the rosemary essential oil attained. Much like Vinaigre de Toilette (the history of which you can read HERE), it's always useful to remember that in times past, when pharmacon (from the Greek φάρμακον) literally meant potion, cure and poison all in one, the prophylactic use of fragrance was an established idea.
Nevertheless, the attainment of health has never been as covetable as the attainment of youth, beauty and their accompanying vigor.


The Queen Consort of Hungary, Elisabeth, also regent queen of Poland, used the cologne Eau de la Reine d' Hongrie all her life, both using it on her skin and drinking it. (If you don't know about the history of drinking Eau de Cologne there is a dedicated article HERE). It was said that she owed her beauty and good health to it, to the point that she allegedly attracted a suitor when she was already 72 years old.
Her secret? A recipe, according to some sources, built in the 14th century, specifically in 1370, and as per other sources composed by Arnaud de Villeneuve in the 13th century. It is arguably the world's first eau de toilette. A recipe heavily relying on the invigorating powers of rosemary (Rosemarinus officinalis), a humble plant with a scent between mint and lavender, whose essential oil is used to this day to fight against cutaneous ageing. The miraculous reputation must have stuck for much longer than her lifetime, because fragrance companies continue to prepare fine fragrance inspired by the Renaissance recipe. Even the famous alchemist Alberto Magno (Albert the Great) advised taking a shot of this "eau" alongside some other liqueur or potion and rubbing down the body to rejuvenate.
As historians, however, we need to put things in perspective and dispel some of the tantalizingly promising tale of a miraculous elixir of youth. Elisabeth's regent status was not a bequest from a husband. It was thanks to her son, Louis de Hongrie, who became king of Poland. So whatever propositions make the stuff of legend are only that. And if we are to believe the claims by Marie Meurdrac [1], it might even refer to a different Queen altogether. Not Elisabeth but Dona Isabelle who reigned in 1652!

I
n the city of Budes in the kingdom of Hungary, of the twelfth of October one thousand six hundred and fifty-two, the present recipe was written in the Hours of the Serenissima Isabella, Queen of the said Kingdom.
"I, Dona Isabella, Queen of Hungary, being seventy and twelve years old, very infirm and gouty, having used a whole year of the following recipe, which was given me by a hermit whom I had never seen...which had such an effect on me that I recovered my strength; So that appearing beautiful to everyone, the King of Poland wished to marry me; whom I refused ..."

The fragrance itself was based on "alcoolat de romarin", a maceration of rosemary flowers and distillation of upper stems, at a ratio of 6:10 of flowers to wine spirits. Today it can be replicated with non-denatured alcohol.


This Eau was used in the Court of French King Charles V the Wise, to whom it was offered in 1370, and persisted through different countries and different eras well into the 17th century at the Court of King Louis XIV (Le Roi Soleil), among the olfactory orgy that reigned in "the perfumed court" of this scent-loving king.
Madame de Sévigné (1626-1696), her daughter Madame de Grignan, and also Madame de Maintenon, who advised the fragrant "water" to her boarders at Saint-Cyr, were all dedicated fans of L'Eau de la Reine d'Hongrie. It was thus that Madame de Sévigné writes to her daughter [Lettres]:
"By dint of talking to me about torticollis, you gave it to me. I can not move my right side. It is, my dear child, one of those little evils which no one complains about, of which one only screams ... Your water of the Queen of Hungary will have cured me before this letter reaches Paris ... "(January 17, 1676)
Claude Lefèbvre, portrait of Marie de Rabutin-Chantal, Marquise de Sévigné
The vogue and demand for Hungary Water continued until the reign of Napoleon I, when it was supplanted by the Italian-derived Eau de Cologne and its citrus-rich counterparts.
We need to remember: these were times with no antibiotics in sight and no vaccinations. These were times when getting down with pneumonia or a strong bout of the flu rarely meant recovering. Every little bit of help was useful in the battle for life, then. Rosemary and its corresponding "water" were therefore prized for their virtues: revitalizing and therapeutic powers (beneficial to everything from rheumatism, and liver obstruction, to jaundice and abdominal pain, most of which claims have since been scientifically demonstrated) as well as its aromatic tang.
The Montpellier scent industry had been established early, earlier than that of Grasse. Rosemary was central to Montpellier. Thanks to its climate and copious production of scented plants, the municipality also supported the claim of birthplace of perfumery through visitor-warming gestures such as "offering glass vials with scented watered, powdered violets and other 'gifts' of fragrance" [2]
Let's not forget that one the most important families of Montpellier's perfume industry, the Matte la Faveurs, were related by marriage to Jean-Louis Fargeon's antecedents. Fargeon was of course the perfumer of one infamous Marie-Antoinette...
The basic alcoolat was quickly supplemented with essences that were prized in their own right for their olfactory profile, as well as their therapeutic powers: lavender, bergamot, jasmine, cistus labdanum and "amber".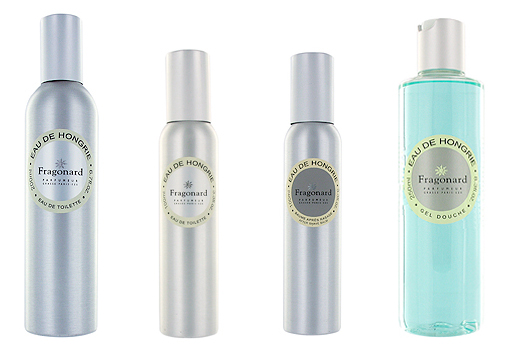 Nowadays, some artisans and a handful of fragrance brands still make their version of L'Eau de la Reine d'Hongrie. From Fragonard, who dedicate their soft bergamot and jasmine mix with amber and cistus to men, in their Eau de Hongrie range, all the way to Viktoria Minya whose Eau d'Hongrie is a satisfying perfume that fondles the senses as much as it boosts morale, which doesn't bear an aromatic link to rosemary but rather to the Tokaj dessert wines.

An easy recipe for home-made "Eau de la Reine d'Hongrie":
Pick a glass carafe with 1 part fresh leaves of sage, marjoram, and lavender and 2 parts of rosemary flowers and upper stems. Add eau-de-vie. Stir and cap. Let it sit in the sun for a week. Drain and it's ready to be used for body brushing after the shower. [3]
Ref:
[1] Meurdrac M. La chymie charitable et facile, en faveur des dames.1666. CNRS Editions, 1999.
[2] Feydeau Elisabeth de, A Scented Palace: The Secret History of Marie Antoinette's Perfumer, 2006 I.B Tauris & Co. Ltd
[3] Home Naturo
Elena Vosnaki

Elena Vosnaki is a historian and perfume writer from Greece and a Writer for Fragrantica. She is the founder and editor of Perfume Shrine, one of the most respected independent online publications on perfume.

Her writing was recognized at the Fifi Awards for Editorial Excellence in 2009 and in 2011.

She is consulted as a fragrance historian & expert and has been curating fragrance installations at museum exhibits at the Milan Expo 2015 and elsewhere. She also contributes to publications around the world.