Columns

Fragrantica Celebrates Love in Red on Instagram
A few days ago, celebrating love and the upcoming Valentine`s Day, we decided to share a red, love inspired perfume wave onto our Instagram profile. There are so many great red perfumes - perfumes that smell passionate and evoke the feelings that red stands for - and so many creations are packaged in the most beautiful red colored flacons. Our editors chose some of their favorites and we want to share with you our suggestions and inspire you to join us in our #celebratelove #celebratered week. So, let the red perfume wave begin!

Stefanie's favorite red perfumes are Guerlain Samsara and Guerlain Habit Rouge. Sandrina chose her beloved reds Casamorati Bouquet Ideale, Xerjoff Red Hoba and Mugler Angel Passion Star (the same composition as the original in a red star flacon).



Marlen decided to promote Bill Blass Hot, Elizabeth Taylor Diamonds and Rubies and Ralph Lauren Polo Red, while Lucia gathered Dior Hypnotic Poison, Gucci Rush and Nishane Hundred Silent Ways.


Beside his strong affection for Ferrari cars, Edis adores Ferrari Scuderia Racing Red, Jean Paul Gaultier Summer Edition in the red flacon and Mugler Amen Ultra Zest. Jodi shared her love for Boucheron Trouble, Montale Red Vetyver and Ineke Gilded Lily.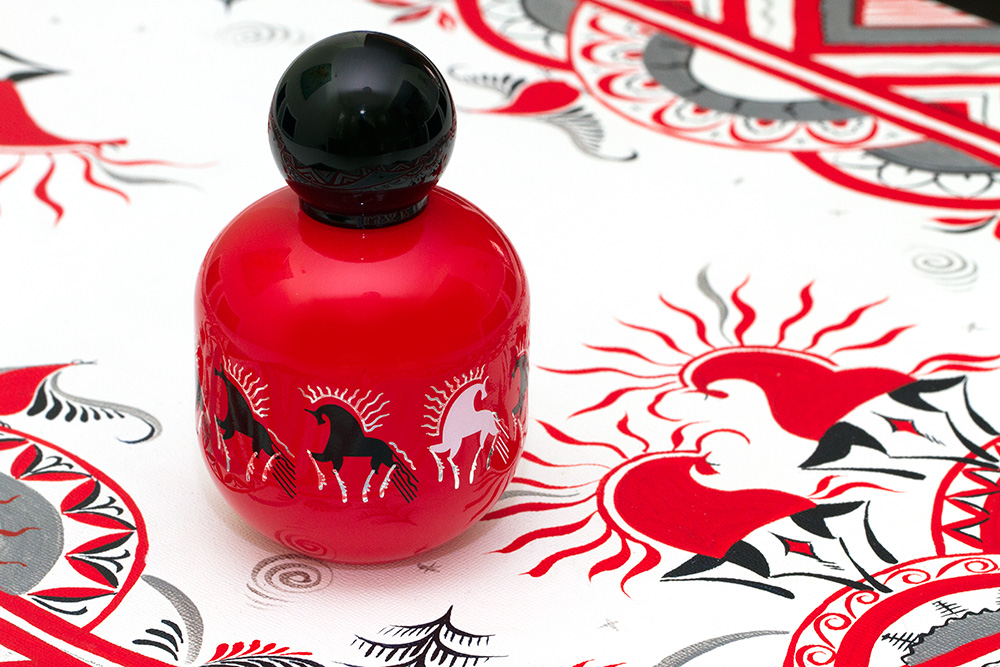 There are so many more suggestions that create our red Valentine's perfume wave on Instagram: The Vagabond Prince Land of Warriors, Issey Miyake Feu d'Issey, Hilde Soliani Il Tuo Tulipano, Givenchy Xeryus Rouge, Elizabeth Arden Red Door, Cacharel Amor Amor, Prudence Mademoiselle Rouge, The Merchant Of Venice Rose Cloud, Tom Ford Jasmine Rouge...

And not only perfumes, we chose to also include prominent red notes like red tulips, red berries, cranberries, cherries, red peppers...
You can join us here with your own red suggestions or propose your favorite red perfumes so that we can include them in our Instagram celebration.

#LoveFragrantica #CelebrateRed #CelebrateLove
Choose Love!
Happy Valentine's Day!
leila_mic

Lyric Woman by Amouage
Feb
19
2017
sistermoon

Papavero soave by Lerbolario smells very "red" to me, with preserved fruit, jammy notes and amber/vanilla base. It's delicious, spicy and warm. The bottle is deep red.
Feb
18
2017
smellsogood

Boucheron Trouble in the divine parfum concentrate.
Feb
18
2017
sandrina_bambina

Thank you all for your great suggestions! Most of them we included in our red perfume wave on Fragrantica official Instagram account! What can we do next? Spring joy wave? :)))
Feb
18
2017
SuzanneS

Best reds layered:
Hypnotic poison edp + Amber Mystique + Calligraphy Rose
Feb
17
2017
Isabelle fr
Mon nom est rouge (which means "my name is red" - and this is exactly what you get), by Majda Bekkali
Feb
16
2017
Angela Agiannidou

Calligraphy Rose, what else?
Feb
15
2017
juniemoon
Ferrari Man in Red. And of course the bottle is all red, heavy glass and I need both hands to hold and spray it.

Wow, So scrumptious, juicy strong red apple, spicy cardamom, plum, tonka bean, I think I smell cinammon and cloves but they aren't listed. This is SO unisex, I get constant compliments, just discovered this, you HAVE to try it! Best in cool and cold weather - like right now - February!
Feb
15
2017
ellebelle84

Heat by Beyonce. It's a dark red/burgundy colored glass with a ombre transition to clear and it smells gorgeous.
Feb
15
2017
LadyIva

When I was younger I enjoyed my cute red cheapies: Yves Rocher Fraise and Fruttini Cherry Vanilla. Now that I'm a grown woman my No 1 red delight is Guerlain Samsara.
Feb
14
2017
Miss Givenchy

Davidoff Hot Water, Lolita Lempicka Sweet, Escada Cherry in the Air
Feb
14
2017
Carrillatta
Also, Absolutely Irresistible by Givenchy!
Feb
14
2017
Calvini

I think Dolce Passione (Pantheon Roma) is most fitting for the holiday!
Feb
14
2017
Nil3

Oriflame, My Red by Demi Moore!!!!!
Feb
14
2017
muckata_11
I will add here and Valentino Absolu!
Feb
14
2017
Karmalathe
Azzaro Visit!
Feb
14
2017
cookygirl
Omnia Coral. A fruity, red, sweet and sour trifecta: pomegranate, goji berries and hibiscus.
Feb
14
2017
sz.galambos

How can you skip PE360RED? o.O
Feb
14
2017
Carrillatta
Creed Royal Princess Oud has a real "valentine" look to it! And then too, there is Serge Lutens La Fille de Berlin, which is probably what I will be wearing.
Feb
13
2017
lemonzest

Vivienne Westwood Anglomania. Red box red bottle, red smell.
Feb
13
2017
catherine82

Giorgio Red! Hypnotic poison(s)! Rush!
Feb
13
2017
OTA Mom

Hilde Soliani Una Tira L'Alta--pure cherry joy!
Feb
13
2017
Add Your Review
Become a member of this online perfume community and you will be able to add your own reviews.