From the Forums highlights our Fragrantica readers and what they're talking about on the Fragrantica discussion boards. There you'll find many topics that range from polls to opinions to requests for help with selecting something new for a personal collection. You can access our forums through the top menu on the website, as seen in the example below. Why not visit and engage in some lively discussion?
White: The Color of Snow and Coconut
Despite the fact that there is a lot of snow in the world right now, in the New to World of Fragrance forum, Fragrantica user beckyfaye asks others for advice when looking for sweet coconut scents that have good silage and longevity. She says,
I wouldn't say I'm new, but any of you guys know of any scents that are coconut heavy? I'd prefer sweet but I don't mind fresh. I like vanilla, and fruity types of perfumes that are sweet and warm. I like gourmand scents.
Is there any more gems like

Rihanna Reb'l Fleur I adore that perfume!
So just any coconut heavy perfumes you know of. Or even that smell tropical in that kinda way. I'm thinking of trying Versace crystal noir but I'm not sure
(I wouldn't mind if they were cost friendly as well, but I don't mind)
Ptilda has many interesting suggestions, running a wide gamut of genres, price ranges and scent families:
A number of members mentioned Salvador Dali's Laguna as an important choice for this category.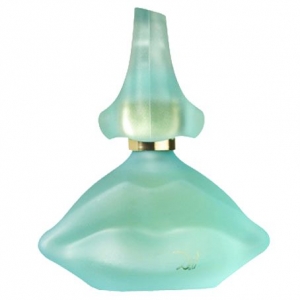 This 1991 Mark Buxton creation has many fans, and besides coconut includes notes of lemon, sandalwood, tonka bean, galbanum, plum and pineapple. What makes a solid coconut fragrance for you? Or are you one of those who thinks it ought not be near a perfume bottle at all?
Fragrance Meets Fashion
Our Fashion and Style forum can often move to realms away from perfume, but I've recently discovered the incredible aesthetic fun that Fragrantica readers are having there pairing fragrances with images of fashion. In a series of threads created by Fragrantica member veda, she invites other readers to share fragrances put together with fashion. They are fascinating: Some depict pairings of complementary colors, some are about moods that suit each other, some glamorous, some quiet and contemplative. But in each of these groupings, there is a lot of thought and an interesting conversation is begun between the wearer, the scent, the scene. We start to build a story in our mind. Although all of the contributions to this continuing series of threads are extremely creative, here are just a few that particularly caught my eye as I was going though the most recent:
fleurdefi has paired a soft powder blue coat with Thierry Mugler's Innocent:
Platinum1 mixes a coffeehouse James Dean type with Lili Bermuda's Fresh Water:
Veda mixes a monochromatic urban gray skirt with Bvlgari's Eau Parfumée au Thé Blanc:
I can't think of anyone who wouldn't find something amazing for the eyes here. Come and enjoy this spontaneous serendipity of smells and sights at the latest thread.
Cold, Mineral, Ozonic
AveParfum poses the curious and important question about a rather modern approach to perfumes. In the Niche and Indie Perfumes forum, suggestions are asked about perfumes that suggest cold, mineral and ozonic scent qualities. The treatise begins:
It's an abrupt (and for some, delightful) shift from the ambery, honey-incense-golden-hued elixirs many of us have been wearing as the high holidays have approached. Does the wintry air reflect back on us and do we seek something that mirrors our exterior for ourselves?
Great ideas were readily available. Sociable Hermit starts off the discussion with some solid recommendations with cool, iris-based notes:
ami.alger suggests some scents that venture to the "silvery" territory:
smellagent makes two recommendations for notes that contain a particular coldness (in this case, iris), but also for the idea of a postmodern androgyny, which seems perfectly fitting for this realm of the senses:
Masque L`Attesa Recently purchased and it is a masterpiece imo. Has a super cold iris with this aromachemical yeast thing that I am loving. No warmth.

One of Those Oxygen [8O] I think I might go ahead and order this. I have been in the mood for maybe something similar. My latest thing has been sort of a post modern androgynous kind of thing. Hard to explain. Anyway this is that.
It's an eye-opening thread to perfumes that are perfectly suited to this time of year, join the conversation!
Added to the Database
Fragrantica user KajiraSuzanne requested that we add the perfume Skinny Dip, a young woman's fragrance launched in 1970 and promoted by the fresh-faced actress Sandy Duncan. It wound up being an interesting excursion into the realm of research for me. The Skinny Dip line was quite successful for its ten years, beginning with one cologne spray and branching out into its own fun flankers, Skinny Dip Wild Strawberry Cologne, Lemon Cologne, and Tingling Fluff Cologne. The last was an interesting kind of foaming perfume that you smoothed over the skin (it actually sounds rather refreshing!) The original company to produce the perfume was Leeming, which then joined forces with Pacquin (famous for its hand cream and Hai Karate colognes), both eventually getting sold to Pfizer, and then moving into the hands of Johnson & Johnson.
What is fascinating about the Skinny Dip products is that they were smart precursors to our "on the go" modernity: At one time they released a compact of fruit scented solid colognes that you could mix and match on your skin - incredibly versatile and user-friendly by today's standards. It strikes me as a more independent and "girl power" approach than later fragrances that aimed for the same audience, like Love's Baby Soft by Dana, who also came out with its own fruit-inspired young women's colognes. The Skinny Dip collection has been added to our database, and now I'm quite curious to smell these for myself!
Is there a fragrance that you'd like to see added to Fragrantica's database? Tell us about it in our Forum HERE.
Keep the conversation going at Fragrantica's Club, our Forums.
Have some fragrance questions or need assistance locating a hard to find scent? Fly on over to the Forums and plant the seeds of a new fragrance discussion.
May your fragrant wishes bloom!
| | |
| --- | --- |
| | John Biebel is an editor for Fragrantica living and working in Boston, Massachusetts, USA. He began writing for the site in 2011. He holds a degree in Fine Art from The Cooper Union in New York City and works as a software application designer and a painter. He began his own indie perfume venture, January Scent Project, in 2015. He has a particular love for perfume history, the chemical composition of perfumes, and interviewing perfumers when he travels. He writes two recurring columns: From the Forums, and Perfume in Technology. In the world of fragrances, John has a great personal attachment to certain classic perfume types like fougères and chypres, men's scents of the barbershop type, rose perfumes, and the perfumes of Serge Lutens. |