This is another in a series of fragrance reviews that asks, "Can a guy pull off a women's perfume?" Leave a comment below for your chance to receive a sample, shipped anywhere in the world, free!
Hello and welcome to my new column here at Fragrantica: "Gender Bender", an exploration of aroma, gender and scented freedom. Though by no means do I prescribe to fragrance having a gender, sociocultural stereotypes about masculinity often prevail at the fragrance counter. Join me as I explore some of the 20th century's masterpieces of perfumery in my quest to address the familiar question, "Can a man successfully wear a women's perfume?"
Summary: My favorite Chanel fragrance also happens to have originally been marketed towards women and named after Gabrielle Chanel's nickname, Coco; as times have changed and fragrance paradigms have shifted, the floriental Coco now feels more in keeping with niche, gender-neutral offerings that focus on incense and woods. Having started this column with reviews of Patou's Joy and Revlon's Ciara, we now turn our attention to one of the world's most famous design houses.
Perfumer: Jacques Polge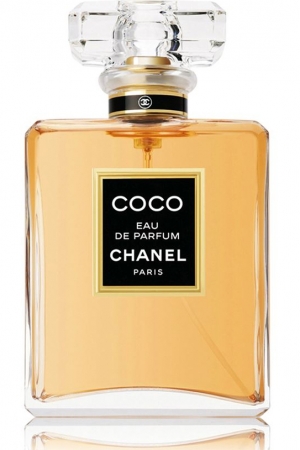 Try this if you like: Oriental florals; accents of rose and jasmine; spices such as clove, tonka, and coriander; animalic accents; incense-themed fragrances; warm, ambery drydowns with a hint of vanilla; did I mention rose?
Pros & Cons: Coco has purportedly suffered from numerous reformulations and as such, might not be what one remembers from 30 years ago. There are also numerous perhaps confusing iterations—EDT, EDP, Parfum, Coco Mademoiselle and Coco Noir.
Coco Mademoiselle has almost no relationship to the original Coco; Coco Noir is like a combo of Coco Mademoiselle's floral and fruity notes with original Coco's oriental, balsamic basenotes. I have been using the recent (2012) Coco EDP and find that it is indeed lacking just a little something, especially in the basenotes.
That being said, I can really think of no other scent in this genre that I more enjoy wearing; I think the woody, resinous basenotes with their touch of vanilla and amber (recalling the great Shalimar) are what set Coco apart from its contemporaries. The stunning bottle, superb longevity and smooth blending of notes all contribute to this scent's enduring popularity.
Notes: "Top notes are coriander, mandarin orange, peach, jasmine and bulgarian rose; middle notes are mimosa, cloves, orange blossom, clover and rose; base notes are labdanum, amber, sandalwood, tonka bean, opoponax, civet and vanilla."—Fragrantica.com
Reminds me of: YSL Opium, Cinnabar, Basile by Basile, Aramis 900, JHL, original Fendi, Gala by Loewe, Yves Rocher Aztek, Fendi Asja, Lutens Arabie, Aqaba Classic.
Designer's Description: N/A
Number of times tested: 100+ over the last 30 years.
Number of sprays applied for this review: One single spray to the back of hand from a current bottle I purchased online (2012).
Fragrance strength: Eau de Parfum
Development: (Linear / Average / Complex) One of the great beauties of Coco is its complexity and development; the fragrance unfolds over time revealing a number of facets along the way – floral, spices, woods, and resins. Clove, labdanum, rose and peach all come out in full swing as the citrus and powdery florals so famous in Coco Mademoiselle create a fuzzy accent around this central accord. As the topnotes relax, the floral aspects become fuller and a slightly indolic jasmine shines through with a hint of something animalic. Once the opening stages develop, the spices begin to radiate from my skin and clove once again stands out. The drydown retains the original character but takes a slight detour into sandalwood, amber, vanilla territory that many of Coco's contemporaries missed. This final stage with its sweet, woody aura is what I have most come to treasure about Coco EDP.
Longevity: (Short / Average / Long-lasting) I agree that earlier formulations had a greater depth, but my current EDP lasts a good 8-10 hrs on me with only minor application.
Sillage: (A Little / Average / A Lot) I admit to wondering where Coco EDP went when testing it in cold weather. It could be my nose but the sillage seems to soften rather quickly compared to what I recall from the 90s. Still, Coco is a head-turner and could be used with a light hand, hence only one spray for this review.
Note about the packaging: Coco EDP is generally found in the classic rectangular Chanel glass bottle with beveled matching cap and the logo around its sprayer band. A gold and black label adorns the bottle, and the bottle is housed in the traditional black and white paper packaging.
Where can I buy it? Found online at set department store prices from $92 USD for a 1.7 oz EDP spray and $77 USD for a 1.7 oz EDT spray; sometimes less at discounters and auction sites. Visit Chanel.com for more info.

The Bottom Line: There are a number of us who have strong scented memories associated with a classic like Coco; luckily, no one I knew wore this and so the scent remains fully my own without any gendered connotations. Well, ok, the name Coco is in homage to Mademoiselle Chanel, which Luca Turin suggests in The Emperor of Scent was derived from "cocaine" due to the drug's prominence at Chanel's roaring soirees (at a time when the drug was ubiquitous). With this in mind, that Coco may possibly be named for an addictive drug that provides a euphoric high, I suggest that the name is utter perfection. I regularly need a Coco fix from time to time, feeling like I can never quite get enough of this magical, rose-tinged potion.
And so let's talk roses and cloves; more than any other notes in Coco, on my skin at least, these notes prevail. Yes, I get a touch of citrus, hints of fruit (peach), breezes of white petals, and tendrils of smoky, vanillic incense, but more than any of these, I get roses and cloves. And rose has played such an interesting role in men's perfumery throughout the last one to two hundred years, having once been almost entirely relegated to men's aromas and then later almost entirely missing from men's aromas. We've seen it used skillfully in North American/European brand fragrances such as Aramis 900, Acteur, Antaeus, and more recently Burberry Brit, 1 Million and fragrances from Montale and Tom Ford. Having always been a prominent note in Middle Eastern and Far Eastern perfumes for both men and women, I'm sure some folks scratch their head at the notion of rose, and even jasmine for that matter, being relegated to women's perfumery solely.
This brings me back to the category of "oriental" perfumes as a classification of fragrances. Fragrantica offers, "Oriental fragrances with dominant amber are placed in a separate group thanks to their accentuated warmth and sensuality. Their opulent bouquet includes intoxicating and intensive substances such as musk, vanilla, exotic resins and wood, often accompanied with exotic flowers and spices." As the 90s progressed and men's as well as unisex perfumery began to shift paradigms, more and more of what makes Coco so classic became evident in a range of compositions. The strong spices and resins are often de rigeur in men's scents still today; floral notes beyond geranium and carnation are no longer considered specific to women's perfumes; and the overall style of Coco feels still relevant while for those of us old enough to remember, retro as well. I'd argue that most any oriental could feel gender irrelevant within the ever-expanding niche markets. Again, aren't our own historical and socially-constructed ideas about gender and aromas inextricably tied to the memories of those people who wore them? I'm happy to claim Coco as my own and continue to thumb my nose at any marketing and advertising limiting my fragrant experience in any way!
Dr. Marlen Elliot Harrison

Perfumer/owner at Kings Palace Perfumery, Dr. Marlen Elliot Harrison is also the creator of ThePerfumeCritic.com and has contributed to Perfumer &
Flavorist, American Society of Perfumers, Basenotes, Fragrantica, Playboy, Men's Journal, Men's Health, The New York Times, Forbes, NowSmellThis, and BeautyAddictMag.

Marlen is a professor of humanities with over 15 years in international academia; his research can be found in peer-reviewed publications ranging from Qualitative Research in Psychology to Language Learning in Higher Education.
Having lived in the USA, UK, Japan & Finland, Marlen currently resides in Washington, DC where he works both part-time at The Smithsonian Institute's National Museum of the American Indian and as a professor / faculty supervisor for Southern New Hampshire University's online graduate programs in Writing and Literature. Learn more about Marlen at www.MarlenHarrison.com.