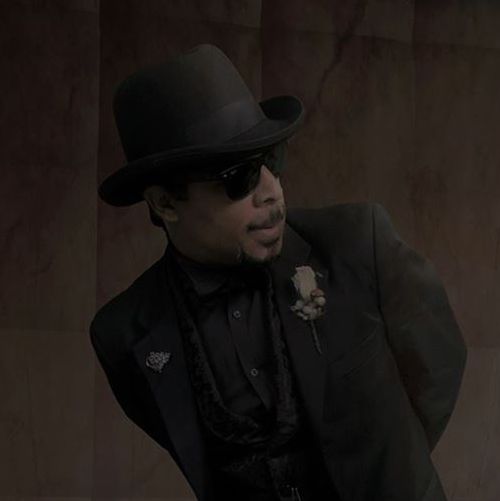 Vincent of Dreamhouse
With so many new fragrance brands constantly entering the market, it can be difficult to discern the good, the bad and the boring. Add to that the utterly subjective nature of fragrance and it can be a challenge to know when to follow recommendations of critics or fellow enthusiasts. As such, brands resort to concepts, packaging, and let's face it, gimmicks, that catch our attention and entertain our curiosities. Sometimes, however, fragrance is developed as more than just an aroma, more than an accessory, and becomes a piece of art.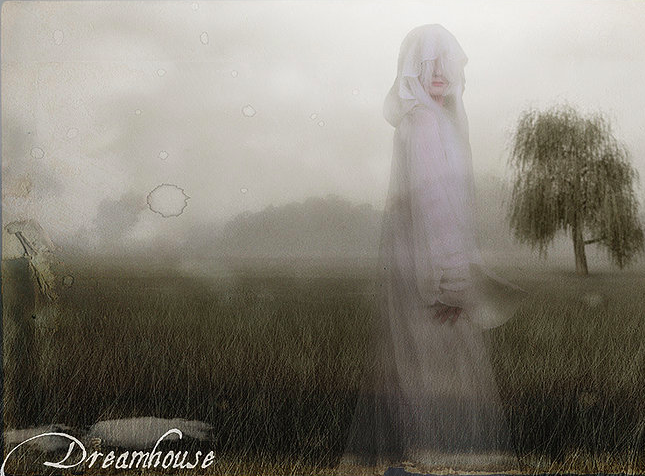 Recently, a new American brand reached out to me to introduce their products; the website, name and concept indeed entertained my curiosity - Ikiryo by Vincent of Dreamhouse. Vincent, the founder and perfumer (and really, he wears more hats than simply those two) writes:
The marketing slogan is "Not fragrances for men, not fragrances for women...but fragrances for a man and fragrances for a woman". The connotation is to imply the uniqueness of the scents and that they are indeed for those seeking something exceptional and to stand out from the general olfactory fare. I want to transport people who wear the fragrances to worlds seen in my visual presentations. I want people to take notice, turn their heads and go "WOW". Far to many times I have seen lackluster presentations and smelled generic smelling fragrances to the point of infuriation. Rather than turn my head and go "WOW, I'd scratch my head and say "WHOA"...! My visual presentations will appeal to the artist in everyone and I strive to have their olfactory companion pieces themselves be seen as "wearable art".
To add, among some of the fragrances Ikiryō creates are oils and notes rarely if ever used, making my scents truly one of a kind...
Ikiryō...making dreams of dreams...
"Ikiryō" is the Japanese term for a ghost of a living person (the American/English equivalent to this would be a doppelganger). Fragrance, to me, is like our ethereal other selves. A ghostly alter ego that swirls about our person and communicates silently with others. Dreamhouse-Ikiryo.com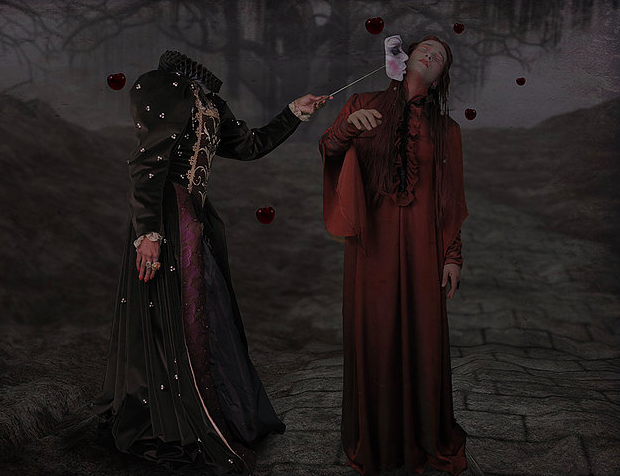 Upon our initial correspondence, I spent some time exploring Ikiryo's website and was mesmerized by the combination of music, language and imagery. There is a gothic, renaissance, fantasy vibe (with just a touch of steampunk) that well-matches Vincent's explanation of his brand. I soon began to realize that this was no "let's launch a best-selling fragrance" attempt but rather the creative expression of an artist enjoying the pleasure of working in a range of media. Vincent describes himself as follows:
"'Imagine Tim Burton if he were to become a photo editor, make-up artist, a hair-stylist, photographer and costume designer…as well as still being a director…'
I encompass a broad range of mediums such as dance, drama, photography, costume design, set design, lighting design, film, infra-red visuals, even computer generated images (CGI…used to create special effects in films). Because of my diversity, it is impossible to select just one category for myself. I write all of the shooting scripts, design and make all of the costumes, I do all of the hair and make-up, I do all of the photography and all of the post edit. And I am my own perfumer. I wear many hats/guises: Dreamhouse-my overall "hat"...Otto Phokus-my photographer's "hat"... Ikiryō-my perfumery "hat". I am basically a one man show.
I have been designing and creating costumes as well as doing photography since I was 14 years old. I have been into fragrance since I was little, swiping sprays of my father's colognes as well as my grandmother's perfumes. I studied/followed haute couture with my brother for two years, with designs on becoming the next American couturier in Paris after Oscar de la Renta. In 2000, I felt the fashion industry became extremely sloppy...so I went back to my first love: costuming. I soon began designing costumes for opera companies throughout Northern and Central California. It was here that I began honing my skills as a storyteller. In 2010 I began focusing developing my own projects, using my skills as a designer, costume maker, embroiderer, make-up artist, wig stylist, photographer, photo editor and storyteller/writer.
I have every intention of returning to opera soon..." Dreamhouse-Ikiryo.com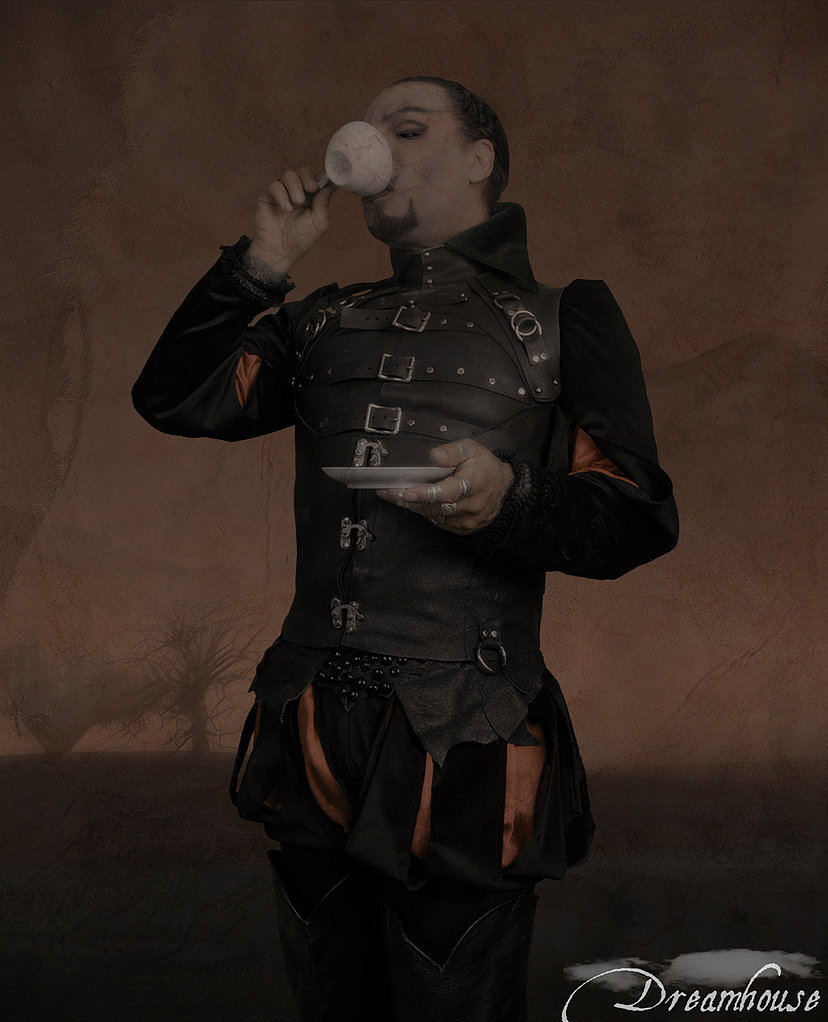 When Vincent asked if I might want to sample his creations I enthusiastically thanked him for the offer. I decided not to read about the fragrances (other than their titles) so that I could experience them without any preconceived notions or expectations (aside from the anticipation instigated by the pleasure of browsing the website).
When my (large) package of samples arrived, I thought that Vincent must have made a mistake! But when I opened the box I found a tall, handmade, cylindrical container that looks like the one at left: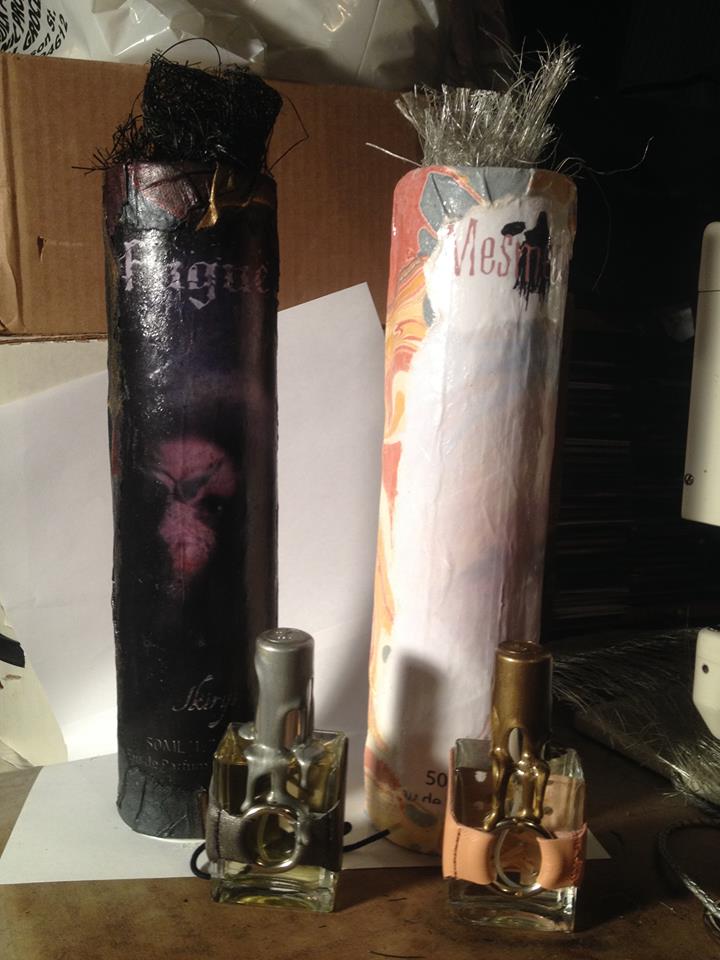 I was surprised by the handmade cylinder. "Wow, this guy puts A LOT of thought into his products," I remember thinking. Inside the cylinder was a book (!) of photographs that told the story of my fragrance and a bottle with leather and metal corset adorned with silver sealing wax. I had to break the wax to open the bottle. But more on the scent and the samples tucked away in the cylinder in just a moment.
The book for my fragrance, Fugue, was truly impressive. The story and images created quite a rich context in which to consider the aroma. I began to realize that for Vincent, fragrance is but one part of the larger experience when being a customer of Ikiryo.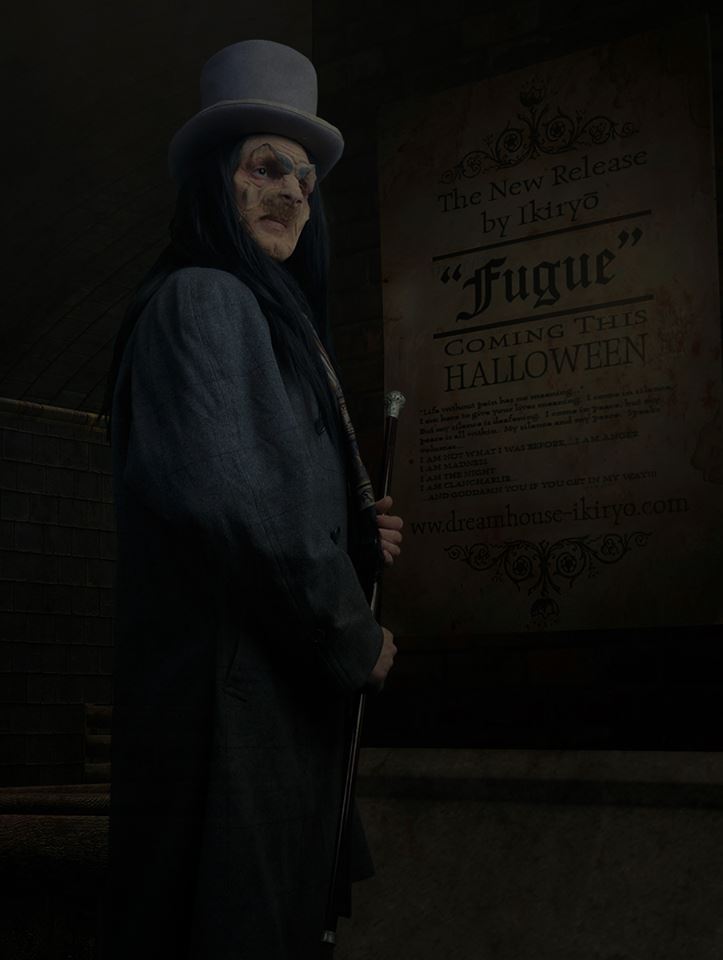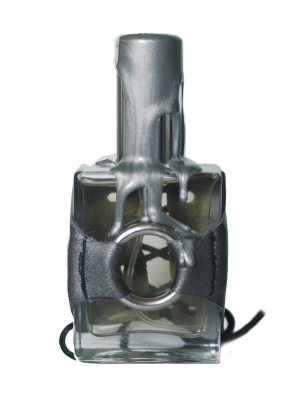 A tale about a chemist creating a base for an incense which sends him into a "fugue state".
A hypnotic scent of boozy and fruity incense that is sure transport you to a dreamworld filled with lustful nights in exotic cabarets..."
Notes: Clearwood, sugar beet, benzoin, iso e, honeysuckle, black currant, pineapple, rum, castoreum, incense
Fugue could best be described as a floral, smoky cider. There is a high-pitched fruit note that dominates the first 30 minutes of the composition followed by a sweet, boozey aroma that anchors the base. Between these two levels is a woody-floral accord that unites the fruit and booze. Behind these prominent notes, lingering at the edges, are tendrils of frankincense and myrrh. The fragrance is unusual and I can't really think of anything else to compare it to.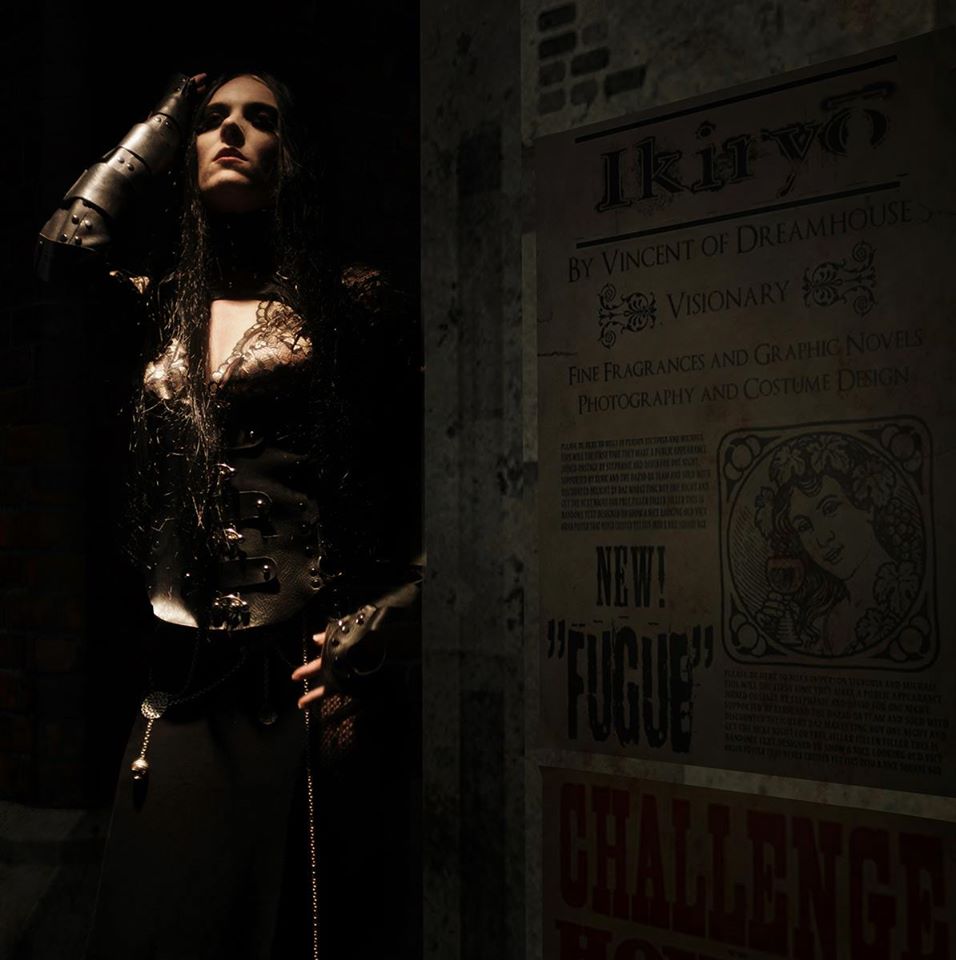 But Fugue is even more unique after reading the accompanying book that reads like a graphic novel. It's impossible not to associate the scent with the otherworldly, often creepy images designed and costumed by Vincent. As such, wearing an Ikiryo scent, if one has had the privilege of enjoying the full packaging, is akin to stepping into an art installation or witnessing a performance. The aroma is but one part of the overall experience. Ikiryo is an invitation to enter Vincent's imagination.
I enjoyed many of Vincent's creations, and found his florals - particularly Tree of Sorrow - and the ambers from his forthcoming "Ambre Ange" series most to my liking. The fragrances are all rather complex with strong development and excellent longevity.
Vincent offers sample packs of 4 fragrances for $24 USD ($30 USD for Canada delivery) and prices of his fragrances range between $80 USD and $160 USD for a 50ml spray depending on the ingredients of each scent.
A big thank you to Vincent for sharing his artistry with me. Visit Ikiryo online at Dreamhouse-Ikiryo.com
Dr. Marlen Elliot Harrison

Managing Editor & Columnist

Dr. Marlen Elliot Harrison's journalism in the fragrance industry has appeared in international print and online publications such as Playboy, Men's Journal, Men's Health and the New York Times. Marlen is also a regular contributor to BeautyAlmanac.com and works as a graduate professor, thesis advisor and faculty supervisor for MA programs in TESOL, Education, Writing and Literature. Learn more about Marlen by visiting: www.MarlenHarrison.com.
alittlebrittle

Okay. okay okay okay....I was thinking the same thing as some of you, in fact my first thought upon reading that Vincent considers himself Tim Burton-esque..yawn..listing all of these sort of romanticised hobbies as things he actually excels in, makes a living doing...the wordiness that indicates he's a good tale-spinner, but hasn't really done anything of note, and everything he lists himself as "being", is overtly Baroque, "Gothic"...."opera"? Really? "Otto Phokus"...cringe...at least you're not referring to yourself in the third person...YET... So my first thought was "oh gawd, not another pseudo-Lestat, vampire-obsessed Byron & DeSade worshipping twit...probably claims to play the harpsichord as well, went to Art Center or FIDM for a semester..." Then I thought...yeah...what's with the cheap bottles with homemade little belts around them, covered in sealing wax...the packaging is ugly, looks like papier-mâché and glue-collage...

However! I get all poet-y and deep sometimes too, and like my fantasy and appreciate "Gothic" stuff too, and this guy just went for it, guts and all, is willing to be a bit of a ponce to have his "craft" taken seriously...HE'S DOING IT, when a lot of us have only thought about it. Ref: cupboard full of scent-making supplies that have likely expired, unused. Good for you, Vincent, but remember that people who take themselves far too seriously end up terribly depressed, and can come off as unapproachable and po-faced, so get yourself some sun, have a giggle (Brent (Brett?) at Smell Bent can help you), read some lighthearted chick-lit or something, but DO lighten-up a little! People LIKE a nice, appreciative guy behind the "art" (see: Andy Tauer, nicest niche-creator ever), otherwise I fear you'll end up in the "deleted" Facebook profile pile...with a cupboard full of unused fragrance-making supplies.
Apr
21
2017