Romain Alés, Miguel Matos and Paula Gomes manager of Dara Jewels
Caron is a big, fragrant passion of mine. I think that Caron is a passion for any proud fragrance lover. The history, the quality of the perfumes, the allure of their creations, the French iconic status...it's all too magical not to be admired. So it was with great joy that I received a phone call telling me that the president of Caron, Romain Alés, was in Lisbon for a quick stop and he wanted to meet me. Caron started a corner for the brand inside Dara Jewels, a luxury jewelry boutique in the middle of Avenida da Liberdade.
There we can find two crystal fountains and most of Caron's best-sellers. It is now the only place in Portugal where we can buy Caron and the brand will soon be expanding to the other two Dara stores in Lisbon and Azeitão. I had 20 minutes to speak with Romain before he had to catch a plane back to Paris, so after greeting him I felt like making the most profit of the time by making a small interview:
Miguel Matos: Romain, you represent the Alés Group, which acquired the Caron brand in 1996. Before that the brand was going through a complicated period. Can you tell me about the state of the house when you started working on its rebirth?
Romain Alés: It was very difficult. The brand was very disorganized. It was an old brand with too much dust. The previous owners did a lot of things that were illogical for this brand. I had to decide what was and what wasn't Caron, killing all the projects that were not identified with its history. I wanted to make sure the history of Caron was revalued and respected. I want the past of Caron to be alive today and tomorrow. And if I do something I want to do it in the same perspective of the founder of the brand Ernest Daltroff. One of our products is now everywhere: Pour Un Homme.
Miguel: It's a universal fragrance and a timeless one, too.
Romain: It goes back to October, 1934. That was the first parfum for men. Before that, men had only eau de cologne or eau de toilette. There are many later versions, but the true formula was L'Impact. When Daltroff launched it, he did it in the parfum concentration, just like it was usual to do for ladies' perfumes. After, he did an interpretation of L'Impact in eau de toilette in the 1950's. That was Pour Un Homme. Two years ago we launched Pour un Homme Millesime. I told Richard Fraysse that I wanted the same scent but more rounded.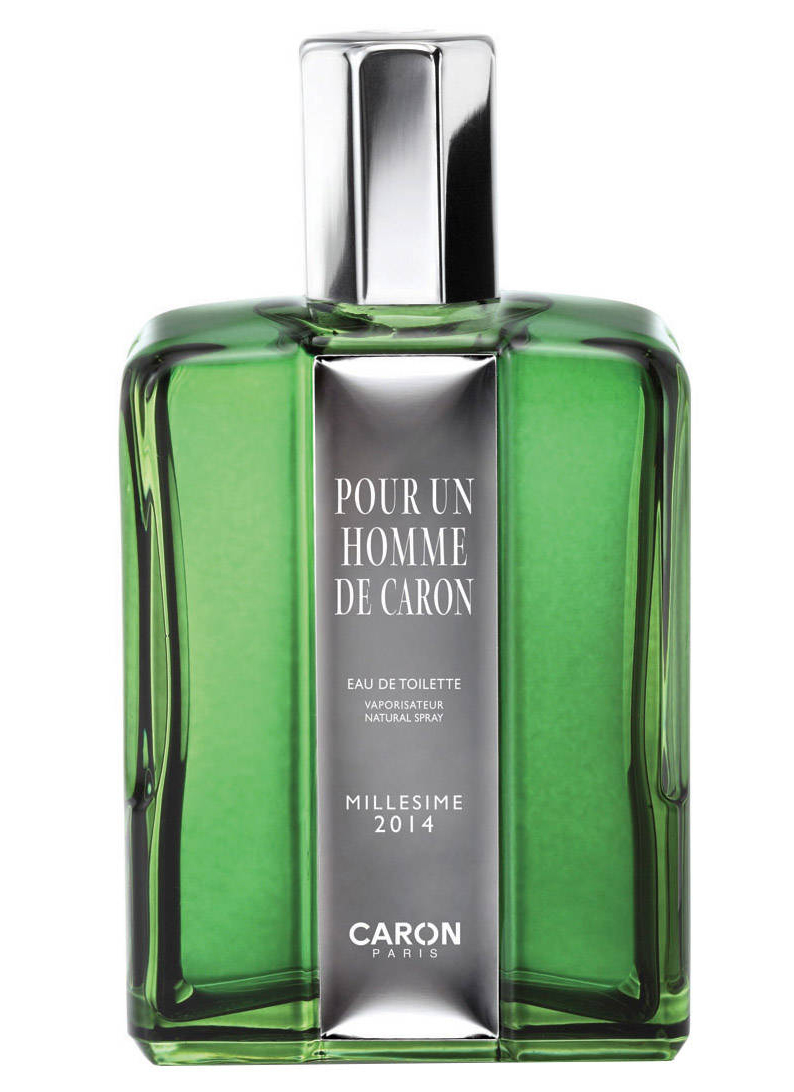 Miguel: Is it more modern, in your opinion?
Romain: I don't know. Today's Millésime is a beautiful story but it's not extremely original. Pour un Homme is everywhere because it's our most popular fragrance. Everything else is "once upon a time". It's our history. I want to tell a story. For example: Tabac Blond. To sell it I need to start by saying "let's go back to 1919". You have to smell this story and make it your own. A woman who buys Tabac Blond leaves the boutique with a story, a past and something that became hers. This happens with En Avion, Aimez-Moi, Poivre....
Miguel: After purchasing the brand, how do you see the evolution of Caron today?
Romain: When we bought the brand it went down. That's why I had to "clean" it. I had to clean the market day after day for 10 years.
Miguel: But that had to be very hard, also because the money was not coming.
Romain: But if you think of who we are...we have the cosmetic brands Lierac and Phyto. When you see the sales numbers of Caron, they are very small in comparison. I have time. The market changes everyday but I will always be here. Caron is not a trend product. All the trend products of today will be dead tomorrow. Caron was here yesterday and is here today. And it will be here tomorrow. Caron is for the person that wants to wear something that others don't.
Miguel: When we mention Tabac Blond or Narcisse Noir, for example, they carry emotions that are not available in other brands. Caron is about heritage.
Romain: But I'm not outdated. I am not "passéiste". I use the power of the past in order to be here in the future.
Miguel: Does memory have an era?
Romain: Memory has no epoch.
The new Caron boutique in Paris (Rue François 1er) with a modernized Art Deco style
Miguel: The Entreprise du Patrimoine Vivant (Living Heritage Company) is a trademark of the Ministry of Economy, Finance and Industry, set up to reward French companies to craft skills and manufacturing excellence. You are also the president of the EPV institution.
Romain: In EPV we have chosen the best crafts companies in each sector. The ones that stand for the excellence of their craft. I fight for it in France. I fight for my existence with the know-how that is ours. In France, Caron and Guerlain are the two oldest perfume brands. Born from perfume, reflecting about perfume, thinking perfume. Guerlain is such a big name and I have an enormous respect for Thierry Wasser. Now Guerlain has been acquired by a financial company. I hope that Thierry Wasser is able to preserve the past.
Time goes by quickly and suddenly the time to fly had arrived. I said goodbye to Romain but not without the promise to visit him next month in the new Caron store in Paris.
For all the Caron lovers, here are some more articles on the brand:
History of a Lesser Known Aldehyde: Nocturnes 2013
Caron Does a Sport Fragrance But It's Not What It Seems
Pour Un Homme de Caron: The Eternal Perfume Made Even Better
| | |
| --- | --- |
| | Miguel Matos is a Portuguese journalist obsessed with perfume. Miguel likes to see himself as a fragrance curator, investigating perfume as contemporary art. He directs his own cultural magazine, Umbigo, and he has a background as an art critic. He is a vintage perfume collector and organizes regular talks called Vintage Perfume Sniffing. Honorable member of the International Perfume Bottle Association. He writes on beauty and grooming for Beautyalmanac.com. Miguel is a Fragrantica writer, translator and editor of Fragrantica.com.br. |
Published: Marlen
Mary-Jayne

Thank you for this interesting article.
Like those who have also commented, I am a really big fan of Caron. And much like others have stated here and elsewhere on the web, I find there is something about the historical relevance and lineage of the house and their perfumes that adds a romanticism and a sense of cachet to the house of Caron. I enjoy the back stories of the older fragrances; the beauty and myth, the inspiration, the initiative and imagination, the cultural impact and the influence they had on other perfume houses of their day. I enjoy imagining those before me who wore these perfumes, trying to imagine what their lives were like and conjure in my minds eye the world seen through the lens of women who were experiencing the incredible cultural changes and societal upheaval of the 20th century.

Caron, and that other pre-eminent house Guerlain, are to me and many others the epitome of classic French perfumery. There is a caveat here that we just kinda gloss over some of both brands' low points; we'll accede that neither is perfect, both have made mistakes and both have/had some rather questionable products in their line up.
It also has to be acknowledged that despite the emotional and sentimental pull of the classics of both houses, they are brands and fundamentally they are there to make a profit and remain in business, and the nature of that particular beast means there will always be some level of conflict between artistic creativity and financial necessities.

Caron are a house with such prestige, that has such historical weight and importance in terms of cultural heritage and influence, and that lists amongst it's creations some of the most beautiful fragrances I have ever smelled.
Therefore it is a real disappointment to me that it is so hard to find Caron stockists these days. I too have noticed the ever dwindling number of retail outlets, at least here in the UK, both online and IRL, and I am concerned that soon it won't be possible to obtain certain Caron scents at all. I have noticed also the disappearance of several of the beautiful classic Caron fragrances from their website and sincerely hope they have not vanished permanently or been discontinued or heavily reformulated.
As it is, I generally now have to contact the Paris boutiques in order to purchase my beloved perfumes, and have them shipped over to me in England. I understand that things move on and times and trends pass, just as the article states. I really hope that Romain's comment that:

"The market changes everyday but I will always be here. Caron is not a trend product. All the trend products of today will be dead tomorrow. Caron was here yesterday and is here today. And it will be here tomorrow.."

means that Caron will continue to create and produce their classic, beautiful and beloved perfumes, and that there won't be any discontinuation of their masterpiece scents.

I realise there is an inherent paradox in wishing for the stunning Caron perfumes to become more widely known and readily available, yet simultaneously not wanting to share, not wanting everyone to be wearing the same perfumes as me, not wanting the romance to be sullied or diluted through market saturation and mass consumerism. I don't want those market forces and trends to alter the path that Caron treads.
This is a contradictory desire, I know. But, my flimsy defence is that so many Caron perfumes have somehow touched me emotionally, have had a profound impact upon me, they cocoon and console me, they comfort me, they energise me and inspire me, and they have been my olfactory accompaniment through some of the most difficult years of my life.
So yes, I agree it is childish and absurd; I want to be able to buy my Caron scents easily, but I don't want everyone else to be doing so - just enough to keep it all ticking over! This is an utterly selfish conceit, I know!

I suppose I could surmise that the fact that so many of the Caron fragrances, the older classics in particular, have had such a profound effect on me, and that I find myself feeling so strongly about them as to write this piece in response to the article despite the physical pain and overwhelming fatigue I am currently enduring (I have briefly lost consciousness at least 6 times in the several hours it has taken me to painfully type this out!), attests to the qualities and gravitas imbued within those glass bottles of beautiful fragrance, and the depth of the cultural significance and weight of historical import to be found within the annals of the Caron back story. I truly hope that Romain Ales comment, that I quoted earlier; "Caron was here yesterday and is here today. And it will be here tomorrow." proves to be true, and that it is here in a similar and recognizable shape as it is today in terms of it's fragrances.

Once again, thank you for this article, and thank you anybody who managed to read all my writing!
Oct
27
2016