At the Esxence-2017 exhibition I managed to find another great example for my collection of vetiver fragrances. However, the name of this fragrance, Incident Diplomatique by Jovoy Paris, did not presage such a choice at all – as vetiver is one of the quiet woody notes, and usually aromatherapists recommend vetiver oil to make people calm and to ground feelings and emotions. But the fragrance Incident Diplomatique, developed by perfumer Vanina Muracciole and Jovoy art-director François Henin, came out equally peppy and good-tempered.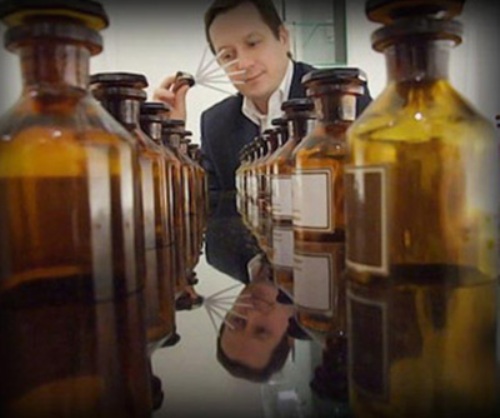 FRANCOIS HENIN: Dear Sergey, I have a surprise for you. First of all, in Jovoy Paris we've been working for two years on a perfume called in English, Diplomatic Incidence, or in French, Incident Diplomatique Jovoy Paris. The pitch is "She stole his perfume, and by doing so, she created such a confusion that it ended with a diplomatic incident."
SERGEY BORISOV: So from where did she steal it?
FRANCOIS: She stole the perfume probably from his private wardrobe, or she really stole the bottle physically from him. This is a masculine perfume that I would make you try actually (taking the bottle and spraying onto blotters), and it seems in the same line with the most famous perfume of our collection, Private Label Jovoy Paris.
It's a strong woody perfume with the DNA of what Jovoy is. So this is vetiver, of course, quite smoky, quite dark, there's a bit of cigarette and a dark evening. It has a strong masculinity without any compromise…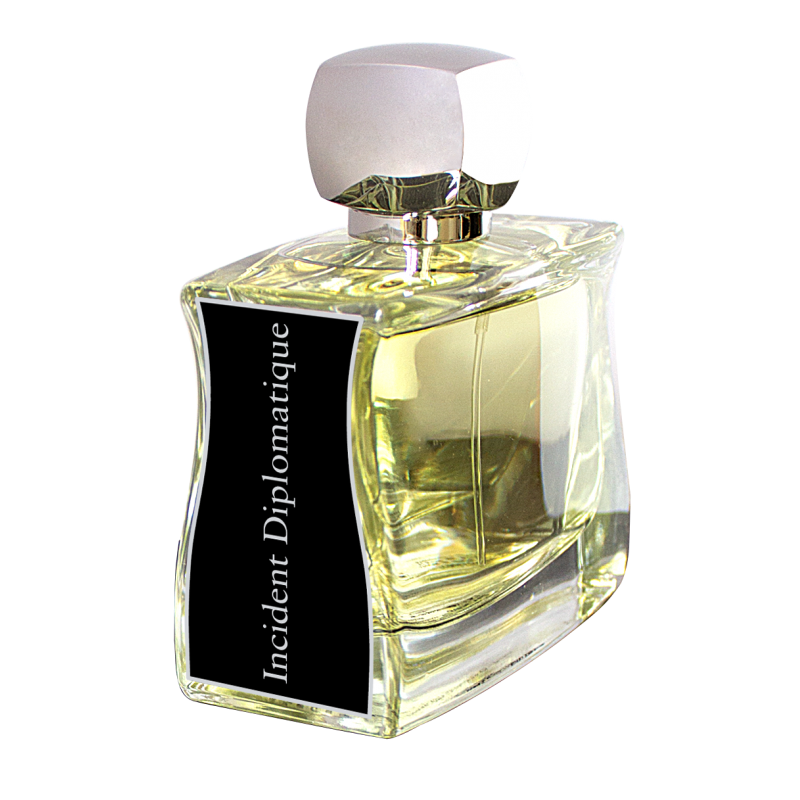 SERGEY: Maybe some black smoky whiskey or rum barrels?
FRANCOIS: Probably, I don't know if those barrels are full or empty. We do not have that much of that sweet and dry fruity cognac-like notes here; it's more an atmosphere. We are in the middle of a British gentlemen's club in the beginning of the evening, with smoke, with the first glass of whiskey and virility. It's so dark, virile and masculine! When you wear it, you would never suggest that a woman can wear it. But she does. In my experience with Jovoy there are a lot more women that want to buy and wear their fathers' colognes than men who buy their mothers' favourite perfumes.
SERGEY: I remember the fragrance you made before, L'Art de la Guerre, The Art of War, it has a similar approach…
FRANCOIS: Yes, but L'Art de la Guerre was different, because its approach was to bring femininity into a typical masculine fragrance. Now she steals it from him directly; if she was to wear it - even though I fear it is strictly masculine - that would create a confusion like saying to somebody "Excuse me Sir" because of his fragrance, but then "sorry, Madame"! (laughs) only when realizing the mistake. This is when the diplomatic incident appears...especially if I'd said that to the wife of a Russian Ambassador! (laughs)
SERGEY: I'd say that it could happen to any beautiful lady as any woman is free to wear any perfume she likes (laughs).
FRANCOIS: OK, I agree. I promised you the real true story? Here it is.
The beginning of the whole project was 2 years ago. It was in our Parisian store. There's a gentleman from Italy, extremely chic, extremely delicate, and I suspect that when he visited our store, he was wearing only new garments and shoes, the stereotype of Italian James Bond, if there're any, and he's so sweet! His wife is a lovely lady from Greece, and they always come to our store together. It's so difficult to surprise them!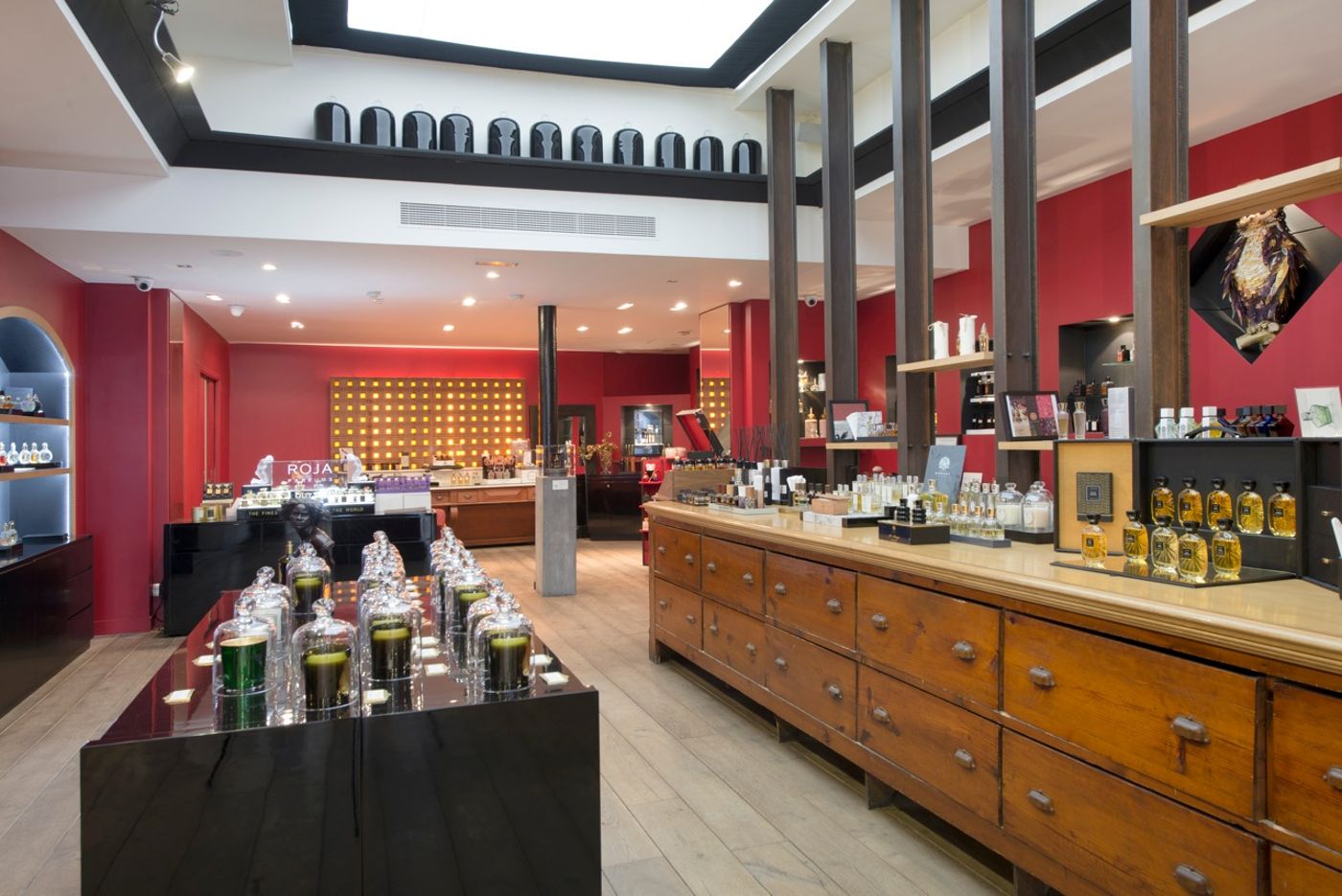 Jovoy Paris interior
FRANCOIS: So one day he came to the store without his wife and he said: "OK, my wife is not here, let's cut the crap! I want the perfume that smells like SEX!" OK then, let's start, let's get down to business!
You know me, we moved around the store, and as far as he has an educated nose, I started with Wazamba by Parfum d`Empire, which is sexy and spicy as two adults who embrace and sweet sweat smell tells you that they are not playing chess or cards. And he said that it's too girly for his taste. So I went to the sensual direction, I tried to show him amber perfumes. And he said "I am not going for sensual perfume, I am going for sexual perfume." We went through all of the scents in my store; I tried all my cards. There's 1200 different perfumes in my store.
SERGEY: Did you show him Lys Epona?
FRANCOIS: Yes, sure! It's a good choice because it's so carnal! And then I tried some really good things that I love myself, but let's not mention the brands and leave all names aside. It was a very strong oud.
I tried to explain to him that it was a really strong oud perfume, and to be careful – but I did not have enough time to explain as he just took the bottle and sprayed all over himself, like this – one-two-three-four-five-six sprays…
First, it was a shock, as he said "Yes, it's a really weird thing," but then he said the words I'll never forget: "I feel like it makes my ears bleed." I remember my staff's faces that were saying "Open all the windows! Alarm! And doors as well! Alarm!"
It was one of the heaviest and naughtiest oud perfumes, the most animalic, wild, dead goat cheese and dead goat zombie together, heaviest dark Cambodian oud. We opened all the windows.
SERGEY: Did he buy it?
FRANCOIS: Not yet! That's when the story gets fun. Two days later, I saw him again with a big smile on his face, entering my store. I went to him, and he said "Hey, what's this perfume?" I said "Hello, how are you? It was a perfume X" – and he replied "It's a crappy name! Let's name the perfume Incident Diplomatique!" I said "OK, why? What happened to you?" And he told me the story that after he sprayed himself so lavishly, he went to La Meurice Hotel next door to our store to meet the concierge there. Then he had his "Scottish tea" with his friends at 12 o'clock, if you see what I mean, so he was happy, and on his way back some three women from The Middle East came up to him.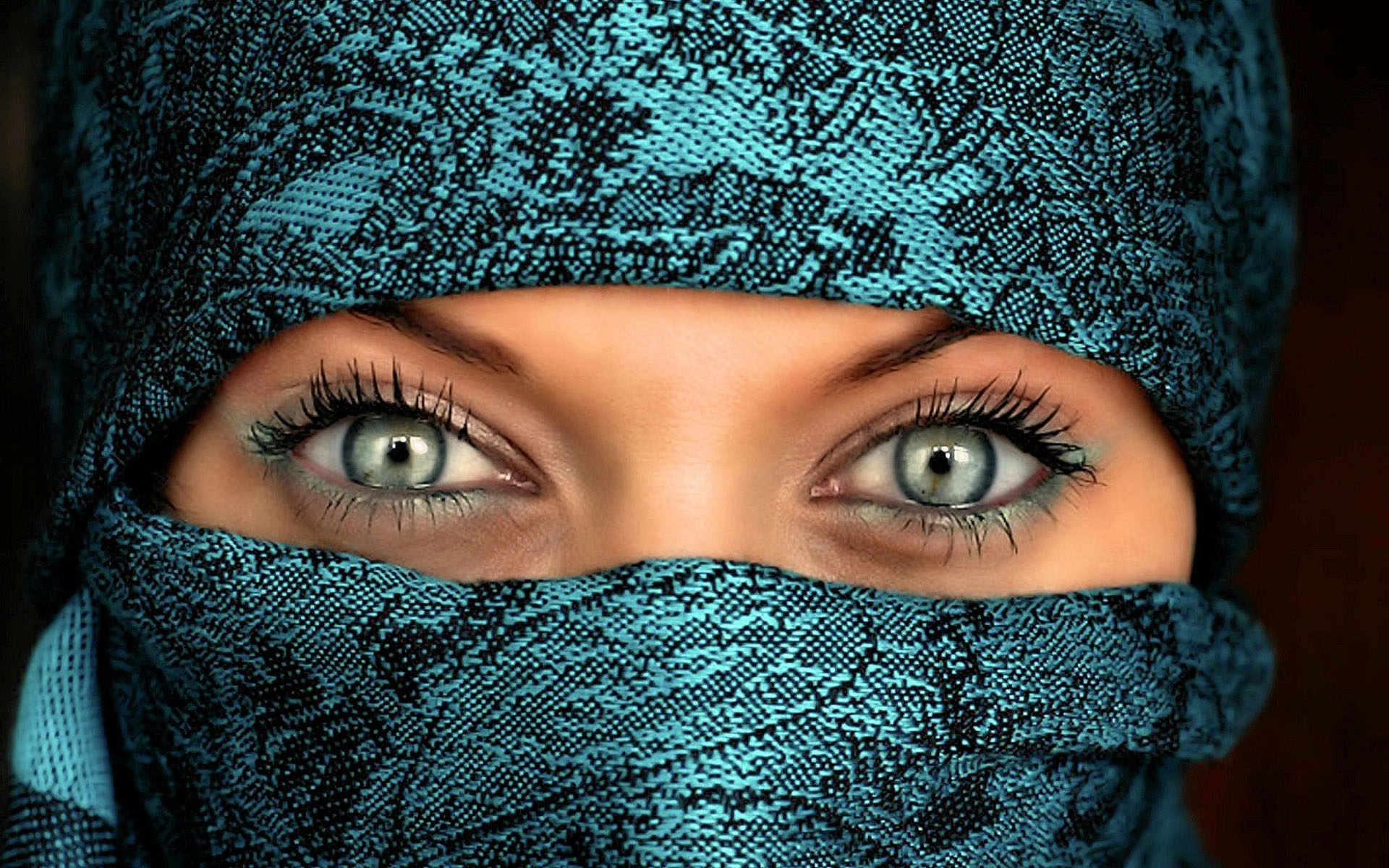 "So the three women walk over to me speaking Arabic. But I don't speak Arabic, so I said – do you speak English, ladies? – in very polite and very sophisticated Italian. And they could not even start to communicate as two bodyguards in black appeared nearby from nowhere and said, 'Sir! You cannot talk to the women!' And at that time my Italian blood was boiling and I said, 'Hey, I didn't speak to the ladies, the ladies spoke to me! What country are you from? I am Italian and I love women!' Probably the women were Princesses or somebody like that, I don't know."

And he said that they created such a big scene in the La Meurice lobby, the five-star hotel where people talk in low voices. He bought two bottles of the perfume, saying "Whenever I am going to a boring dinner, I'll wear that, because this stuff will create a stir every time!"
And that's when I promised him, "Look, I'm not going to create oud – it's not my cup of tea. But I promise we will work on Incident Diplomatique as a concept, as a perfume that is strictly masculine. But we changed the story a bit – castoreum and animalic accords was not the story I wanted to tell. So here's Vanina Muracciole, the beautiful wonder-perfumer, and believe me, we've been struggling a lot trying to find what is best for the concept. And now we are launching Incident Diplomatique here, in Milano.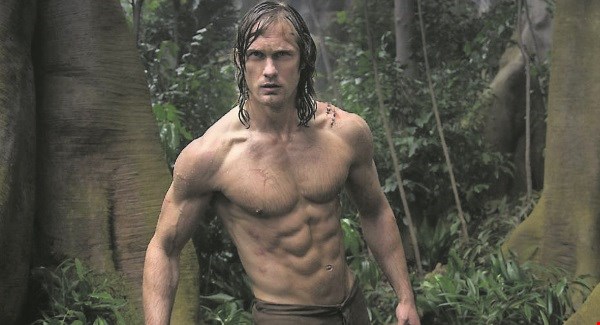 A handsome vetiver perfume, Incident Diplomatique is a naturally smoky, thick and mellow woody fragrance. With cigarette tobacco and dark chocolate tones, and a smoky peaty whiskey accent and a burnt resinous wood. With some help of mild and well-mannered patchouli oil – the fragrance is a wild woody masculine. Trying to personalize Incident Diplomatique, I think about a character like Tarzan or Crocodile Dundee. He's such a natural and simple man, unschooled and free, unaware of the conventions of civilization; conventions, turned into untold rules and strict laws. And all the incidents around this man in the civilized world arise so easily, quickly and naturally. Well, the very smell of smoke, once the smell of home and hearth, safety and warmth, the smell, which gives hope for hot food and a night's lodging in the warmth – the smell has now turned into a signal of fire and danger.
Greetings from the wild past are now named Incident Diplomatique.
Incident Diplomatique Jovoy Paris
Top note is mandarin orange;
Middle notes are Haitian vetiver, Java vetiver and nutmeg;
Base notes are patchouli and sandalwood.
| | |
| --- | --- |
| | Sergey Borisov has been involved in perfumery since the early 90`s when he had his own perfume-devoted program "Close to Body" on Krasnoyarsk radio (1993). As a perfume enthusiast (known as moon_fish), he became famous in Russia for his translation of Luca Turin's Perfume: Le Guide. He made a career as a fragrance journalist and contributed to distinguished magazines such as GQ, Vogue, Elle, Cosmopolitan, Interview, Forbes, Allure, Robb Report, Flacon, Departure, RBC-Style, TSUM-Magazine (2008-2016). His own online columns for RBC-Style.ru, Vogue.ru, and GQ.ru (2006-2015) have earned him international recognition and an invitation to be an editor for the Russian edition of "The Little Book of Perfumes" by Luca Turin & Tania Sanchez. Sergey Borisov was invited as a speaker at Esxence 2012 (Milano) and Intercharm 2015 (Moscow). In 2013, Sergey joined the Fragrantica team. |