Luciano Bertinelli, CEO of Ferragamo Parfums standing next to Salvatore Ferragamo and Audrey Hepburn
It's not common for a world-renowned fashion and perfume house like Salvatore Ferragamo to open its doors in such a trusting and welcoming way to a journalist. But in fact upon my last trip to Florence I was given the incredible chance to enter the familiar environment of Ferragamo, for an interview with Ferragamo Parfums' CEO Luciano Bertinelli. I was also allowed a visit to the Palazzo Spini-Feroni, headquarters of the brand, and I even had lunch in a Ferragamo-owned restaurant nearby, before a visit to the Ferragamo Museo.
Palazzo Spini-Feroni
I already had a very good relation with the brand's PR team but this time I was so warmly received by the administration and the creative team that I felt at home. This year we've seen exceptional releases from Ferragamo like Signorina Misteriosa, La Corte, Leather Rose and Uomo. So it seemed like the perfect time for a friendly conversation inside the Palazzo. We talked about the perfume lines and the new launches, but also about what drives this brand to place their bets in the quality of their fragrances.
First of all I would like to tell you more about the place where the Salvatore Ferragamo company is based: the Palazzo Spini-Ferroni in the center of Florence by the margin of the Arno river. This is one of the oldest examples of Medieval buildings in Florence. There are only three: the Bargello, Palazzo Davanzati and Palazzo Spini-Feroni.
The original foundation of the Palazzo dates back to 1000-1100 when it was used as a defensive rampart for a group of houses stretching from Piazza Santa Trinita to the Arno embankments area. This helps explain its " fortress – like" structure.
The place is very well kept and it keeps the stunning glamour of past centuries. According to information sent from Ferragamo, "during the first half of the 16th century the Palazzo underwent its first restorations. The rooms were frescoed by the famous artist Bernadino Poccetti who worked there from 1609 to 1612. His works total eight in all; the chapel and others arranged in some rooms on the first floor. All of the works represent Virtue and the Sacred Stories. The families which succeeded the Spini family made their own modifications to the Palazzo hiding, at times, the precious artistic treasures. In 1846, Palazzo Feroni was elected county seat for the Municipality of Florence and after various owners was purchased by Salvatore Ferragamo in 1938."
"Given its historical importance, the Palazzo was one of the monuments the Germans saved from bombardments during the Second World War." It's very easy to find this building when in Florence. It is one remarkable example of Medieval architecture but it's also the main Ferragamo boutique.
After my brief walk inside the Palazzo's rooms and corridors I was shown the meeting room where I met the extremely kind Luciano Bertinelli and he was open to all my questions. He is a follower of Fragrantica after our articles (Viola Essenziale, White Mimosa, Golden Acacia, Leather Rose, La Corte and the latest Uomo) and the company wanted to show their appreciation for our work by opening their doors to us.
Inside Ferragamo Museo
Images of the interiors of the Palazzo Spini-Feroni and the corridor that unites them, leading to the meeting room
Not many people know that Ferragamo began creating fragrances in 1960, shortly before the death of the founder. It was always Salvatore Ferragamo's desire to create perfume, but the attempts were somehow always interrupted. Only 15 years ago the brand started a consistent fragrance business with the opening of the Ferragamo Parfums division.
Gilio was Ferragamo's very first perfume ever released. It was produced in 1960, in a very small edition while Salvatore Ferragamo was still alive. Photo from the Ferragamo Museo collection.
F de Ferragamo, one of the early and rare fragrance editions of the brand, from 1971. There was also a Monsieur F de Ferragamo (top left). Notice the Palazzo Spini-Feroni illustration printed on the packaging. Bottles from the Afonso Oliveira collection, Portugal.
Regarding the company as a whole, I was pleased to know that is it truly a family business. Wanda Ferragamo Miletti, Salvatore's widow, is still working everyday at the Palazzo as Honorary Chairman. Ferragamo is a public company and the majority still belongs to the Ferragamo family which is fully dedicated, from the president Ferruccio Ferragamo (son of the founder) to his sister, Giovanna Ferragamo. There are a number of other family members in top positions in the company. In the Ferragamo world everything is 100% made in Italy. Every single detail. This is a point of honor for the brand. Even the boxes are made in Italy, the caps and the glass in the perfume bottles. Also in the fashion department, everything is Made in Italy.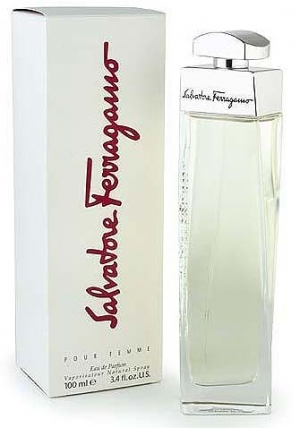 Pour Femme, from 1998, marks the return to fragrance creation
Luciano Bertinelli and I sat down finally. An outspoken man of kind manners and informal attitude. I admired how he was so honest and open about the brand as perfume-maker and his vision for it. I felt truth in his speech and not just marketing. Needless to say that if before this experience I was already a fan of the brand, now I am even more fond of it.
Ferruccio Ferragamo, Vittoria Puccini and Luciano Bertinelli in the launch event of Emozione, 2015
Miguel: Luciano, it is a pleasure to meet you. I will start this interview in a very direct way: after many years of a not so brilliant production, I think that the changing point for the Ferragamo perfume line was the creation of the Tuscan Soul and Tuscan Scent collections. In my personal opinion, Incanto was a very big line that made the consumers feel a bit lost about the brand. Tuscan Soul made it clear for me that Ferragamo wanted to climb back to the top. Can you comment?
Luciano Bertinelli: You are totally right. This is true. We are quite young, the Ferragamo Parfums company started 15 years ago. It's not a lot. We have an internal division fully dedicated to perfume, it's not a license. We think, we develop, we produce, we sell.... The entire chain is totally under our control and this makes the difference because we need to compete with giants but we are small inside a big multinational company. It's not easy. So we try to leverage our core business to develop and sell fragrances. You mentioned Incanto and you are right. To be very honest with you I'm not particularly proud of Incanto. It's not really our DNA, we are conscious of that, but we launched it 12 years ago and it is still a good business in Asia. Officially, we don't sell it in Europe anymore. We sell it in Japan, Korea and China because they like it and they want it. They like that kind of fragrance. Especially in Japan the teenagers like the colors of Incanto. So, it's not easy to unplug this project. Of course we wouldn't sell it in Italy or in other key countries. Later, in 2012, we launched Signorina which is a worldwide success in our portfolio and still growing, with a new limited edition for 2017. Signorina, Signorina Eleganza and Signorina Misteriosa are for three different women with three different olfactive profiles.
Ferragamo ballerinas with the iconic bow on top also used in the Signorina bottles
Miguel: And the design of the bottles have all the Salvatore Ferragamo visual codes, like the Vara Bow that is typical of the shoes...
Luciano: For sure. When you say that Incanto doesn't have the DNA of Ferragamo, Signorina has it, no doubt, no discussion. Is it the best product in the world? Maybe not, but it's nice. It is beautiful and I'm proud of it. With this line we tried to upgrade Ferragamo perfumes. We did it even higher with the Quintessential Collection. The Tuscan Soul line is comprised of eau de toilette editions, very light, transparent and clear. In Tuscan Soul we play with traditional locations in Tuscany: Carrara, Punta Ala.... Tuscan Scent are all eau de parfum and we play with ingredients that you can find in Tuscany.
Miguel: Tuscan Scent is actually my favorite line in Ferragamo.
Luciano: Me too.
Miguel: It's a very big trend for big brands to have exclusive collections to capitalize on the growing of the niche segment. Dis you want to follow this trend with Tuscan Soul and Tuscan Scent?
Luciano: We cannot anticipate the trend because we are small. We are followers but we are very fast and creative. So I think there is a niche opportunity. Pitti Fragranze is a case of success. All the brands have a niche product nowadays. It's working, we know the numbers, but still we cannot compare to the mainstream figures. But people are ready to spend more money and they expect something different from our company, something high-end. Especially when they enter our shops. We have more than 600 Ferragamo shops in the world, in the fashion business. People that enter our shops to buy a tie or shoes, they expect to see something different. These exclusive lines we have, you can only find in our shops and in very selected places like Saks, Harrods, El Corte Ingles... We are very selective. We are trying to get to Russia and we have some more places to cover. But again, it's more a question of image, the cherry on the cake, positioning the brand.
Miguel: Is it effective in order to make the consumer have a higher idea of the brand as a perfume maker?
Luciano: 100%. This is fundamental for us. This is more of a PR product. We can build a lot of editorial angles with that and that is extremely important. People talk about it, more than about the more commercial lines.
Miguel: However, with Uomo, that's a different case. It's a very exceptional perfume for a commercial range.
Luciano: Yes. Since you talk about Uomo, I am proud of our portfolio. But this, from my point of view, is excellent and there is no discussion. Everybody in the world that takes the product in the hand and when they see the details it's amazing.
Miguel: The way that you inserted your initial DNA with the original lettering on the sides, the execution of the glass, the perfume itself... I think it's a flawless product.
Luciano: I won't judge the fragrance because you are more of an expert than me. I personally use it everyday. I like it. From fragrance to packaging and campaign I believe this is a good project. Finally we have a smiling man, not only showing muscles. It's a real man. A young, well dressed handsome man with a beard, because he is modern. It's a Ferragamo suit but it's relaxed. He is a man you can find everywhere.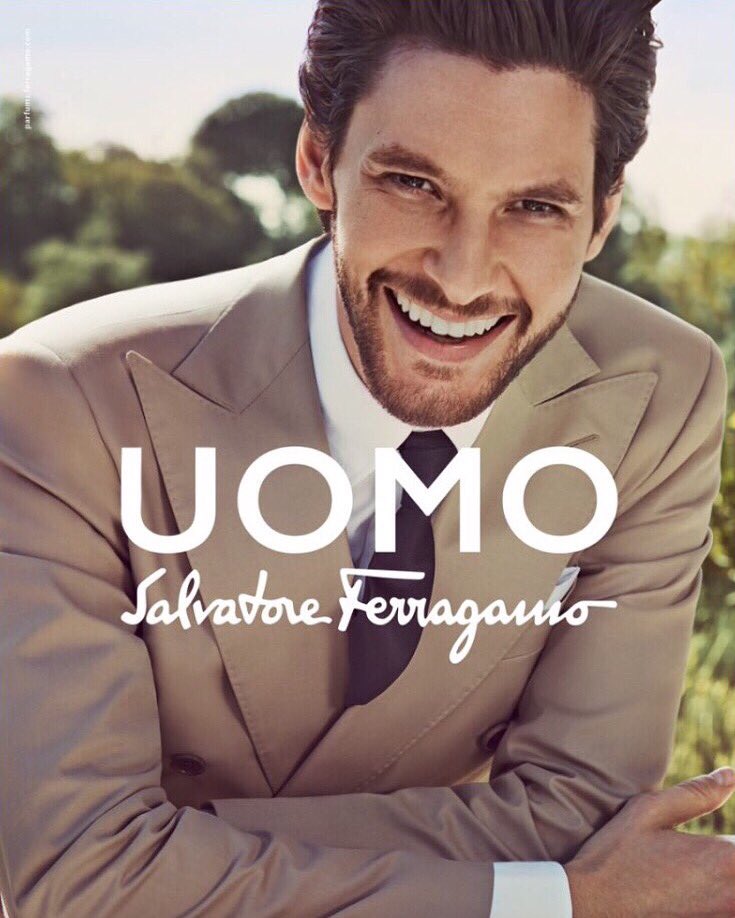 Miguel: And the tiramisu note in the fragrance, that also brings a fun element to it.
Luciano: Exactly. And then you can talk about this detail on the bottle. The sides, they are not plastic, this is glass, we paint the glass and the technical result is fantastic.
Miguel: Luciano, I know that you have novelties to present next year. Can you disclose some of them?
Luciano: We will have another chapter in the Tuscan Soul collection called La Commedia, another Signorina flanker called In Fiore (February 2017) and a special limited edition of Signorina but it's too soon to reveal anything more.
When we looked at the clock it was time to have lunch so we set off to eat a magnificent risotto and we had some glasses of prosecco. In the end I had to try a real tiramisu and everything ended with the discovery of the typical cantucci biscuits. Now that I have found an Italian shop that sells it in Lisbon I can always have a tasty souvenir from this magic day in Florence. I have to thank Eva Maria Heinen and Daniela Sola from the Ferragamo PR division for all the kindness and generosity in organizing this visit.
| | |
| --- | --- |
| | Miguel Matos is a Portuguese journalist obsessed with perfume. Miguel likes to see himself as a fragrance curator, investigating perfume as contemporary art. He directs his own cultural magazine, Umbigo, and he has a background as an art critic. He is a vintage perfume collector and organizes regular talks called Vintage Perfume Sniffing. Honorable member of the International Perfume Bottle Association. He writes on beauty and grooming for Beautyalmanac.com. Miguel is a Fragrantica writer, translator and editor of Fragrantica.com.br. |
Published: Marlen