Flowers of the last Esxence grew not only on their beds: perfumers collected grandiose bouquets from them, decorated desserts with tiny inflorescence, dropped them into melted asphalt, and handed them to the spirits of nature.
Naias, a nymph by Giovanni Sammarco, seems to have been waiting for this particular exhibition: she fluttered for two years in laboratory vials until landing on the background of sultry tuberous bouquets and the numerous ylang garlands with which Esxence was peppered. A lover of natural civet and castoreum, Sammarco this time made a weightless, almost transparent dress with a lush violet-pink skirt: such, one would think, could be worn by an ideal Proust woman (by which the fragrance is inspired) or fairy Dragee.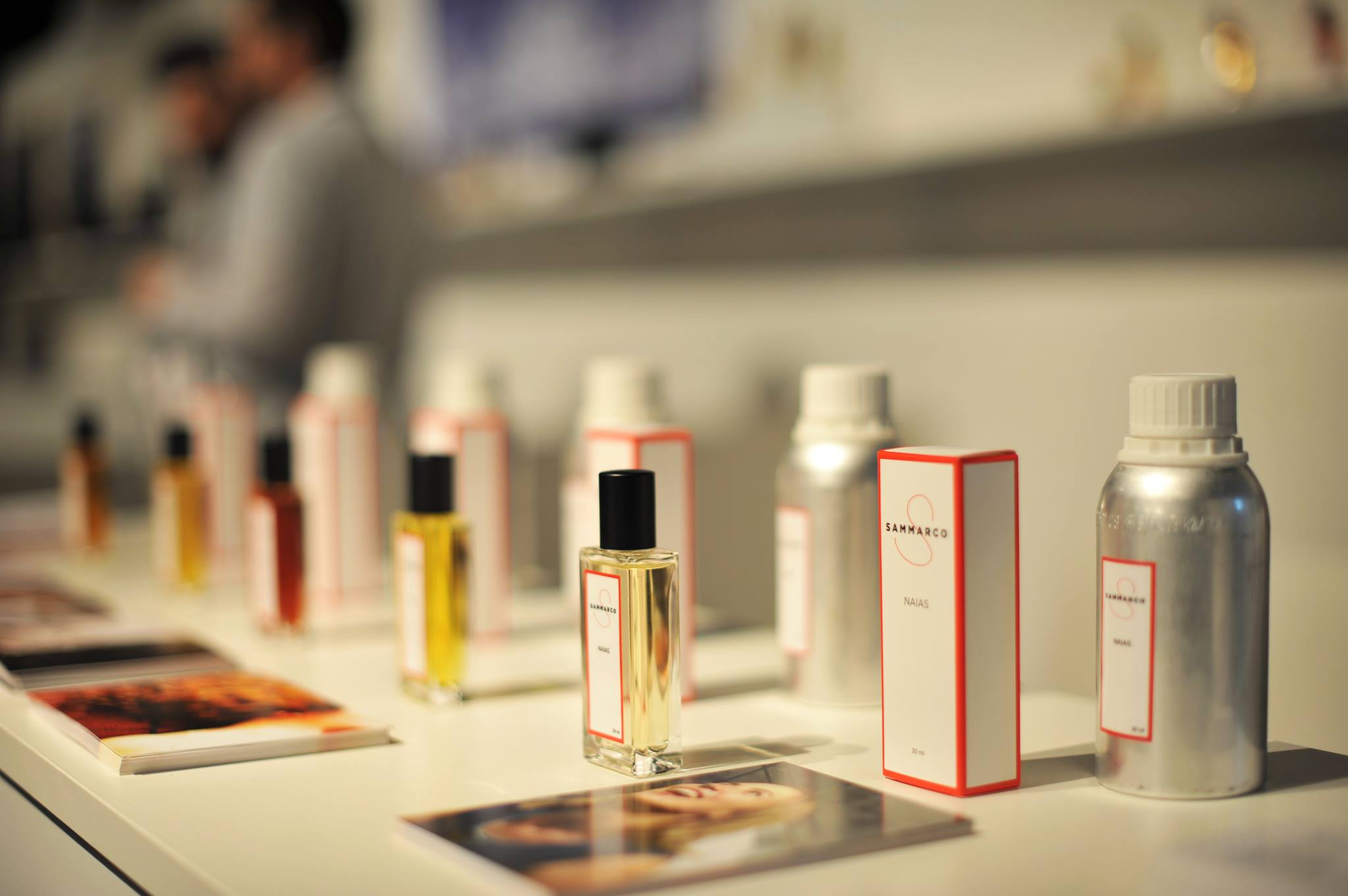 Booth of the brand at Esxence
Naias - watercolor kisses of forest nymphs, slow flow of groundwaters, a blurred edge of sleep: a half-stained portrait of a violet, met once in an unnamed garden, which does not come from the head, being in an old slumber, on the pages of random newspapers and in strangers' conversations. In it, is the pale, ghostly golden-pink light of the Millais' "Ophelia": wet violet roots and neatly outlined brownish-green leaves; mashed in the palm satin petals of young tea roses; powder with a puff and lipstick in a small gold case. The earthy juices of gray, piled iris tubers are flowing, pears are blooming, the earth is breathing evenly. Sammarco's naiads are awakening in the freezing March air of Iris Silver Mist, but are quickly colored with a garden rose blush, sprays of Chinese pear's juice, peaches in light sugar syrup, currant skin and carved leaves of it; the violet here is an aureole, a warm trace from the kiss, the most tender of the flower voices, and also a pair of disheveled, thawed, whitewashed osmanthus bushes from the upper parts of Absolue d'Osmanthe Extrait Perris Monte Carlo.
The mood of these naiads strongly depends on the situation: in cold and dry weather, they bring currant buds and dewy raspberry stems, when it is rainy outside - sprinkle the skin with loose violet powder, and if it's a hot day, they cover your wrists with windy kisses of rose lipstick. It does not change only the diffuse manner of development and the strange, but interesting effect of dissipated glow, as if the surface of the skin is "blurred" in the photo editor - it is given by montaverdi, an IFF substance with an abstract fruit profile resembling the smell of Duchess and Packham pears, honey yellow apples, traces of which are especially noticeable at the beginning.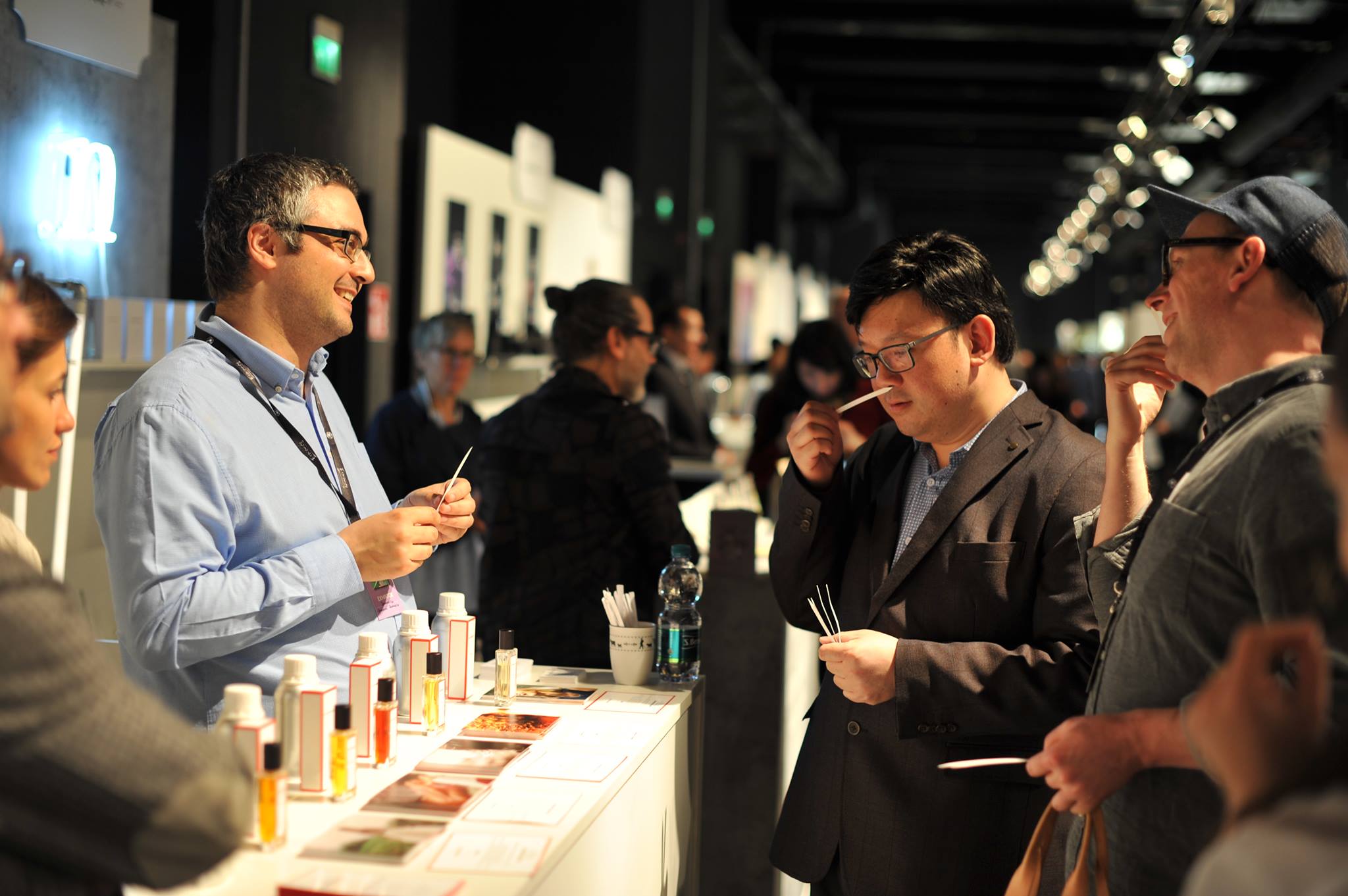 Victor Wong (Zoologist) and Giovanni Sammarco
Naias is easy and pleasant to wear, and it is much more friendly than, for example, Alter, which requires a sable fur coat on the naked body, or Bond-T - the best cocoa fragrance for those who understand chocolate (read more about it here); guests of the brand's booth at Esxence said that it is a perfume which makes you smile, and at the pre-launch on March 22nd in the Profumo someone compared Naias with Chanel Misia and La Violette Annick Goutal. Whatever it is, watercolor florals are a modern classic, a reinterpretation of which sometimes (as in the case of Sammarco) leads to success.
Photo: Angelo de Fortunatis, Sammarco
| | |
| --- | --- |
| | Juliett Ptoyan is a perfume journalist who collaborates with several glossy magazines, organizes perfume workshops and regularly writes for her own blog, bouquetjuliet |