Fragrance Reviews

New Alien Eau Sublime Review
by: Elena Knezhevich

In 2017, Alien's Solar Goddess radiates her energy through a new limited edition creation: Alien Eau Sublime, inspired by the sun at its zenith and created by Dominique Ropion, the perfumer of the original Alien.


The new Alien Eau Sublime arrived in light shimmering colors with a white gradient color overlay spreading up from the bottom of the bottle. This new color scheme reflects in the composition: Alien's signature notes of jasmine, amber and cashmeran are doused in a light powder of unknown nature. It is very soft and immensely pleasant, and very wearable unlike its forbear, which requires a certain placement of stars, at least for me, to wear.
The first blast is citrusy and even slightly green, but it does not much refer to natural scents; it is dusty and blurry, and, yes, solar, because it is not cuddling, you always feel the power and support of the glorious original.


The union of jasmine plunged in white amber, both active and forceful, is less persistent in Eau Sublime. I can't say that the perfume has been simply watered down, it would not be fair. I would say that the perfumer has found a new level to balance what he once blended so well. It is still very hypnotic and extremely alluring, but now I can actually wear it.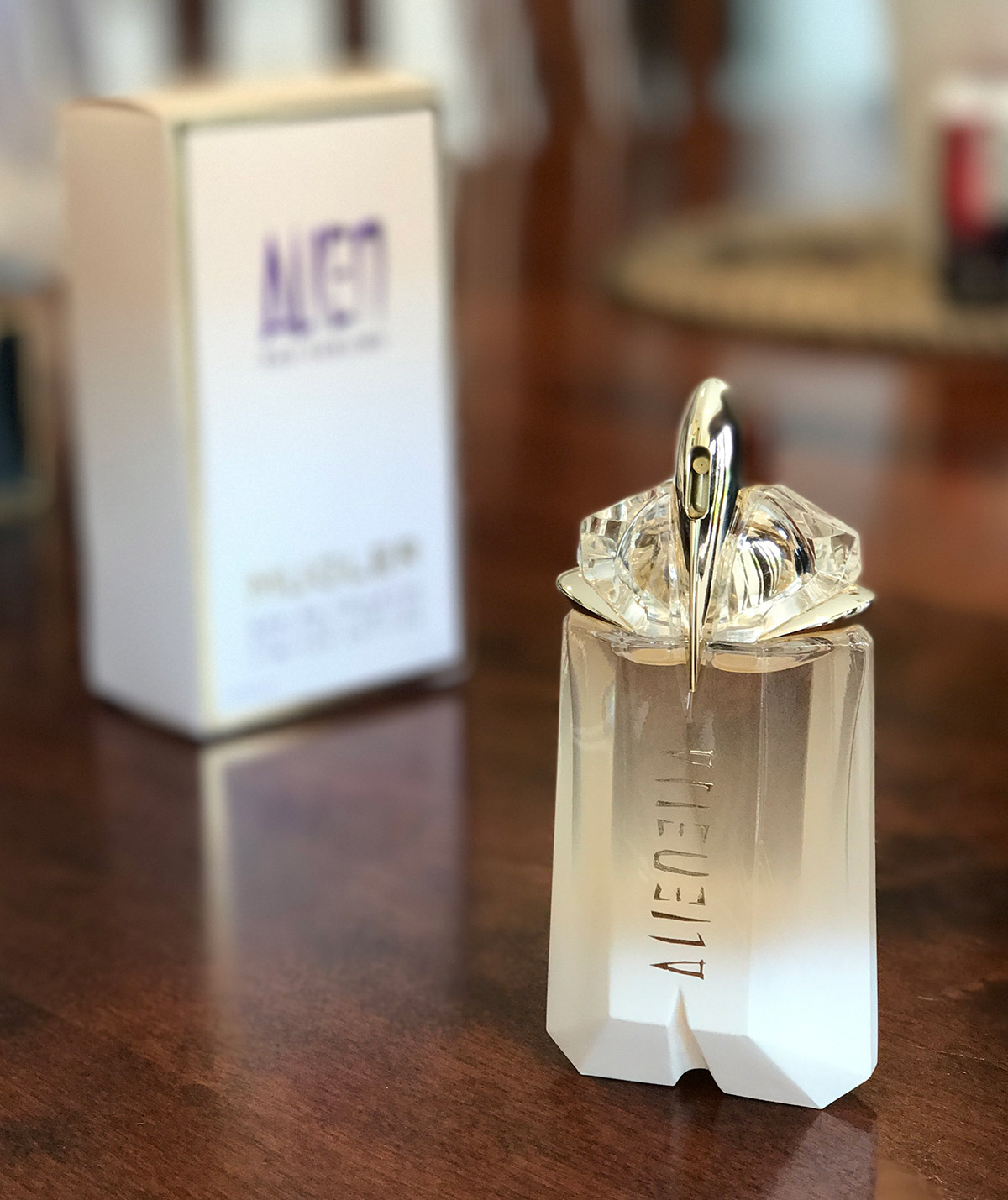 Elena Knezhevich founded Fragrantica together with Zoran Knezevic in 2007. Since then Elena has taken care of its design and content as the Editor-in-Chief.

Elena was born in Russia, studied Slavic languages and literature in Moscow, and lived in Sarajevo and Belgrade, where the idea of Fragrantica was born. Now she resides in California.

"I have had a nomadic life style since I was born, changing homes, cities and countries. I love having this island on the Internet that I built myself, to reach from everywhere and feel at home.
Michylaka

Great review and video Elena! I need to go test this as I too cannot wear the original Alien. I am more curious than ever now! Mugler fragrances are becoming a new part of this amazing addiction!
Apr
21
2017
genny17

I find this version very nice. A tad similar to edp, but brighter, more solar, and great projection, to my nose, nicer than Extraordinaire...summery, I sprayed myself at the perfume counter, walked around and managed to get two compliments in less than 15 mn!
Apr
21
2017
FeltFace

That bottle with the dull white paint at the bottom does look very dull. But it's a great vibrant and easy to wear version of Alien. It reminds me a lot of the earlier Sunessence editions. Since I was daft enough to swap them away it's great to have a replacement.
Apr
21
2017
Betsywoolbright

Very disappointed to see yet another Alien flanker based heavily around cashmeran. I'd love to see something like this (especially with the solar notes) minus any polycyclic musks.
Apr
21
2017
Konga5000

Much better than the original. This one lessens that "synthetic sting" that the original ALIEN hits you with upon your first blast.
Apr
20
2017
ularewolf

Just got this in at my job and absolutely love it! I find it better than the original (but not quite as good as the Absolute version).
Apr
20
2017
raiza1990

The bottle of this perfume has to be one of the most beautiful bottles i have ever seen!
I an no fan of the original Alien, but your review made me curious about this flanker. this goes to the test list.
Apr
20
2017
Antares811

I love them both, Angel and the new Alien Eau Sublime.
The bottle of this Eau Sublime is beautiful and the scent is amazing, wonderful jasmine note on the spicy-woody warm base.
Better than the EDP, in my opinion, because there isn't the strong opening (metallic) note.
Apr
20
2017
jeca

This one is less fruity and sweet, more Alien, powdery and clean.
Apr
19
2017
Tangobutt

How does it compare to Alien Sunessence?
Apr
19
2017
corkscrewcurly

Another flanker of Alien... Sigh... I have to add yet another to my want list and I haven't even got my hands on Musc Mysterieux yet.

This sounds absolutely wonderful for warmer, muggier days when the original is too overbearing (even for me).

Thank you, Elena for your review - it sounds magical.
Apr
19
2017
jeca

Thanks ;o) I am going to add my video review as well, I've gotten inspired by my friend Dave Johnson's video reviews.
Apr
19
2017
Ms. Cherie

Beautifully said, Elena!! And, yes, it is more wearable than the original.
Apr
19
2017
smellagent

I have been wanting to try this ever since I saw it mentioned on the Forum threads. I like regular Alien but it is a beast. I have liked a few of the Alien flankers and Dominique is one of my fave noses. Note to self: Try soon!
Apr
19
2017
Add Your Review
Become a member of this online perfume community and you will be able to add your own reviews.