Welcome to another installment of Shop Your Fragrance Wardrobe, in which we take a fresh look at fragrances that have been in our collections for some time. Join us for the journey and share your experiences of revisiting old favorites.
Chypres were a challenging category for me when I began exploring fragrances. Learning what defines a chypre, what the category's characteristic notes are, its fruity and floral variations, and lately, contrasting 21st-century chypres (what? no oakmoss?) with classic 20th-century chypres like Guerlain Mitsouko (still a favorite and a "reference" chypre by which I judge most others)—well, to make a long story short, all this pleasant-smelling research resulted in chypres earning a special place in my heart.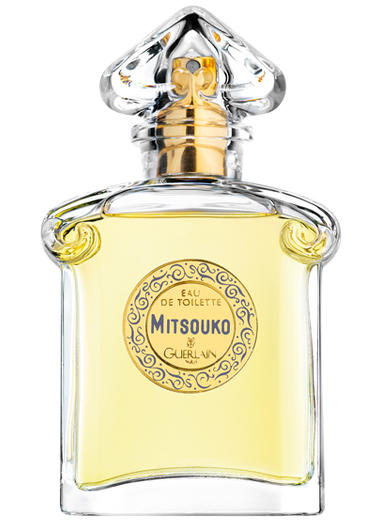 Mitsouko is and will always be a must-have scent for me. It took me awhile to fully appreciate its musty, dusty peachiness and I don't wear it often (mostly because I'm hoarding the last of my nine-year-old bottle that still contains tree moss). But I marvel at how it manages to smell interesting and beautiful, classic but not dated, nearly 100 years after its launch. Love of Mitsouko launched my greater chypre explorations, and also kindled a fondness for peach scents, along with those olfactory cousins of the peach aroma: nectarine, apricot and osmanthus.
(Oh, yeah. I'm going there: "Peaches" by The Presidents of the United States of America. Silly lyrics but a catchy song and a guilty pleasure for those of us who remember the 1990s.)
I've yet to find a true peach single-note scent that I want to wear—too often they veer into young, girly, overly sweet body spray aromas, often with a hefty dollop of whipped cream and an abundance of sugar. However, I've found many chypre scents that I enjoy, some of which have a prominent peach (or apricot, etc.) note: Molinard Chypre D'Orient, YSL Yvresse, En Voyage Perfumes Peche Noir, just to name a few. Of course, peach is not restricted to chypre scents and I've also found many Oriental and Fruity-Floral fragrances with peach/apricot/osmanthus notes that I adore. Somewhere along the way I was given a sample of Mauboussin Mauboussin EDT. I liked its heavy-duty peachiness well enough that in 2010, when I crossed paths with a sealed bottle of the EDP for a good price on eBay, I made it mine.
I loved (and still love) the packaging on this fragrance. Its shiny prismatic pyramid bottle casts rainbows when turned in the light. Mine was also a special edition 15 ml EDP that came in a tiny purple faux-leather Mauboussin jewel box, not unlike one that might contain a diamond ring or a watch. For a time, I loved the fragrance, too, though the EDP was even stronger than the EDT I had first tried. Two squirts were almost too much and needed to be sprayed well in advance of heading to work. The fragrance needed a little time to "breathe" so as not to overpower my cubicle mates at the office.
In a manner known well to many of us perfumistas, as more and more fragrances came my way, I found myself reaching for it less and less, though it still ranked high enough on my list to make the move from Omaha to Philadelphia with me. Here in Philly it sat largely untouched on the back of the perfume tray, housed in its lovely purple case, until I reached for it again recently to see if it still sparks joy. And the result?
Well, not exactly.
It's rare that I encounter a fragrance that truly stinks. Having tried so many in my lifetime now, I have come to appreciate that sometimes a fragrance is well-crafted, has decent ingredients and an interesting mix of notes, but is just not for me. I also accept that my taste has changed and acknowledge the role that fragrance trends play in shaping my taste. Mauboussin Mauboussin certainly doesn't stink, but it's definitely not in synch with my taste these days. It is that extra not-quite-right peach that gets left in the basket.
Above all, I've grown to appreciate more subtle and more natural-smelling fragrances over the years and Mauboussin Mauboussin is neither of those things. It's a quality and long-lasting fragrance, but it smells neither classic nor modern to my nose anymore. It's loud, with a pronounced powdery aspect that dominates the opening. And I guess I never noticed the big pile of hamster-cage cedar chips in there, enamored as I was of the peach, but now I can't get past them.
However, one of the most important lessons I've learned here on Fragrantica is this: one person's "meh" fragrance may be another person's immortal beloved!
I don't wish to set any kind of expectation that future Shop Your Fragrance Wardrobe installments will include an offer of any kind. Reviewing the other articles in this series, it seems I'm the only one so far who finds some old loves are no longer sparking joy. But as the KonMari method instructs and as I've done with the impulse buy tunic in too-bright colors, the skirt that will someday fit again if I lose those ten pounds that I never seem to lose and the shoes that looked cute but pinched the heck out of my toes, I am ready to thank Mauboussin Mauboussin for its service and send it on to a new home.
Thanks to everyone who expressed interest in my gently-used bottle. Thank you, Mauboussin Mauboussin, for your years of service and for gracing my dressing table with your ethereal beauty. It is time to send you on to your new home at the house of...
Bluepoet15
And now, over to you, friends. What do you do with your items that no longer spark joy? Have you revisited any old loves lately and fallen in love all over again? I'd love to hear about it!
| | |
| --- | --- |
| | Jodi Battershell (NebraskaLovesScent or "NLS") is a lifelong Nebraskan who transplanted herself to Philadelphia after a lifetime on the Great Plains. An appreciator of fine fragrances since childhood, she tried her hand at natural perfumery and fragrance-mixing for a number of years, ultimately concluding she was better suited to appreciating the fragrance creations of others. She is pleased to finally be putting her English degree to use as a writer and editor for Fragrantica.com. |