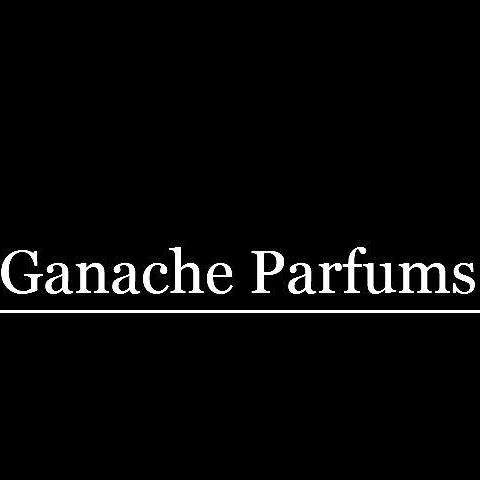 Hold on to your hats, Gourmand Gang! Actually, any lovers of sweet, dessert-like treats in the form of fragrance will want to take note of a new brand dedicated to that most yummy and edible-smelling of perfume categories. Ganache Parfums has just opened its doors and what awaits us inside is pure olfactory delight.
Founder and perfumer Jarekhye Covarrubias, also the man who brought us Haught Parfums (currently on hiatus but returning soon), is a talented perfumer with a wide range of fragrances already under his belt. His skill with gourmand fragrances found expression in scents like Chocolate Wasted, but his newest venture focuses on gourmands in particular.
Like many artists, perfumers are often keen observers of humanity. Some of what Covarrubias learned on his fragrance journey would go on to inspire his next creative endeavor, Ganache Parfums. "In my 20 plus years as a perfumer and fragrance aficionado, I have discovered that nothing can spark fond memories and create powerful connections faster than a good gourmand fragrance," notes Covarrubias. "I am always in awe of how the pleasantly sweet aroma of a gourmand fragrance can create an atmosphere of comfort and instantly become a conversation starter."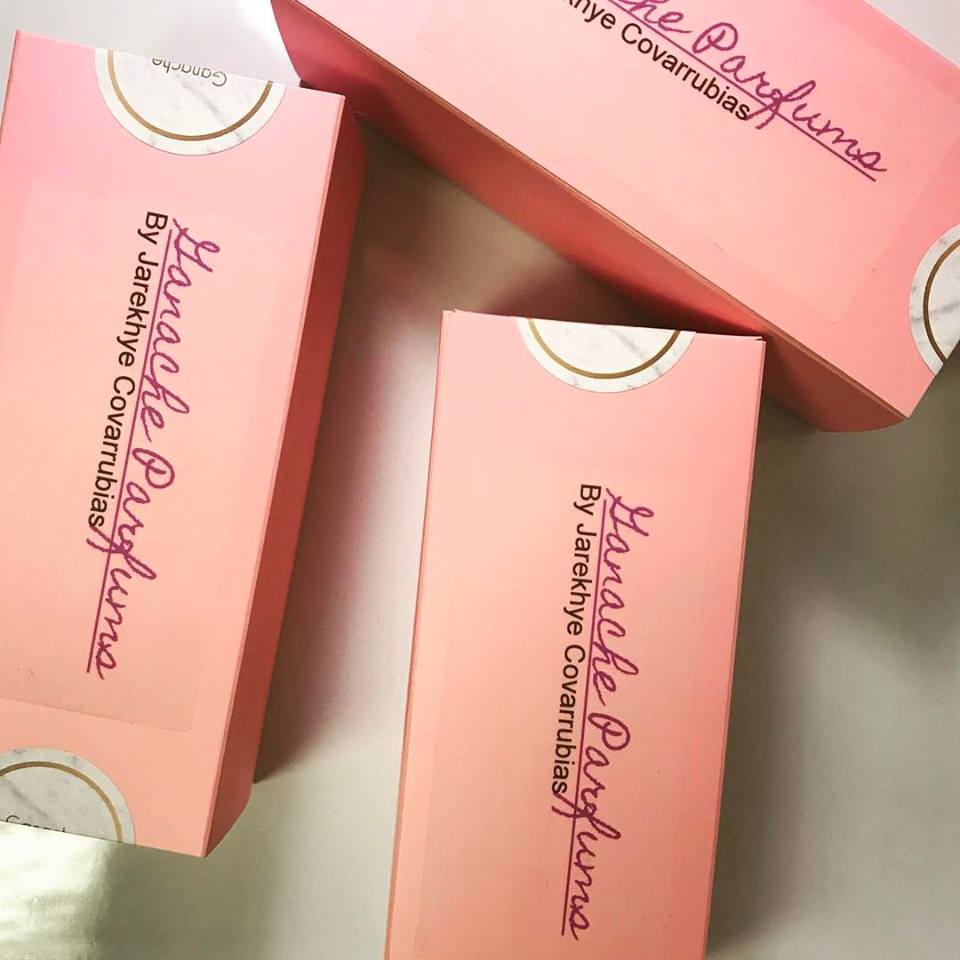 Isn't that the truth? I've found that not everybody chooses to wear gourmand scents, but almost everyone reacts to them and in my experience, most people find them enjoyable to be around. Maybe we can't eat all the decadent, high-calorie desserts we like, but being able to smell their aroma (or something that replicates it) takes the edge off the craving. Getting the surprise package of Ganache Parfums samples in the mail was as good as getting a box of chocolates for me.
This season's launches include Strawberry Panna Cotta, Ice Cream Shoppe, Lemon Eclair and Chocolate Ganache. (The house has a few others in their line-up, too: Arroz Con Leche, Bananas Foster and Coconut Flan.) Ganache Parfums also offers a bath and body line featuring Crème Fraîche Body Lotion and soon, the Guilty Pleasures Bath Collection, in fragrances that match the eaux de parfum. I received a sample pack with this season's scents, each accompanied by a printed "recipe" card featuring a photo of the dessert that inspired the scent, with a description of the fragrance and its notes on the back. All four smelled so realistic as to be mouth-watering. They're very much "what you see is what you get" on the notes, but the fragrances also possessed a complex "perfume-y" quality that places them a level above something like the foody scents from Body Fantasies or Victoria's Secret.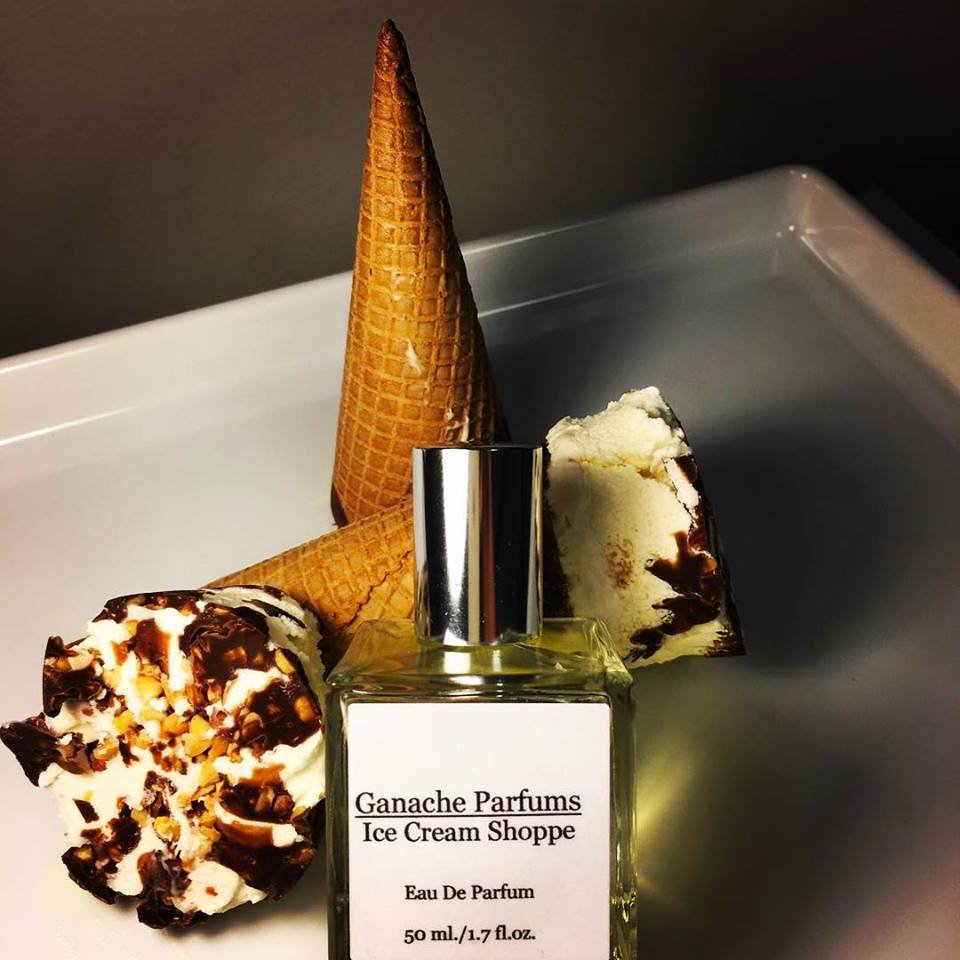 Ganache Parfums' description: "Our interpretation of the magical experience of walking into an old-fashioned Ice cream shoppe and having your senses go into confectionery overload.
Notes: Waffle cone, sweet cream, vanilla beans, caramel, benzoin, labdanum, tonka bean, amber, musk."
If you've ever visited an ice cream parlor that makes its own waffle cones, you'll know this aroma. If you haven't had that experience, imagine a fresh waffle crisping on the iron just as a batch of cookies are pulled from the oven—lots of butter, sugar and vanilla. Ice Cream Shoppe has all of that in spades, plus the sweet milky notes of fresh ice cream topped with hot, gooey caramel. Inedible notes like benzoin, labdanum, and amber complement the sweetness while contributing warmth and depth—that "perfume-y" quality I mentioned above, and a clean musk gives the fragrance additional tenacity. More crispy cone than chilly ice cream, Ice Cream Shoppe is a comforting, sweet vanilla oriental fragrance that goes on loud but settles to arm's-length in 15 minutes or so and lasts through an entire workday. It's not out of place in the warm days of spring, but I think it will be great for fall and winter, too. (After all, don't many of us enjoy ice cream as a year-round treat?)
Ganache Parfums: "Our interpretation of a sumptuously divine and creamy vanilla bean panna cotta topped with fresh strawberries and rum glaze.
Notes: Vanilla custard, sweet cream, crushed vanilla beans, white rum, sun-ripened strawberries."
Finally, we have a true strawberry perfume that's designed for grown-ups instead of teens or tweens. I really love Strawberry Panna Cotta! I've been on a berry kick lately and there is such a great strawberry note in this fragrance. So many strawberry notes smell artificial and sickening, like a cheap cardboard air freshener that hangs in your car. I was tickled pink to find that the strawberry in Strawberry Panna Cotta is ripe, juicy and authentic, and blended beautifully with sweet vanilla cream and a slight boozy note. As a fragrance concept, it's not overly complex, but in execution, it works and it needs nothing else. The sillage is big and beautiful and I get a good ten hours of wear with this one.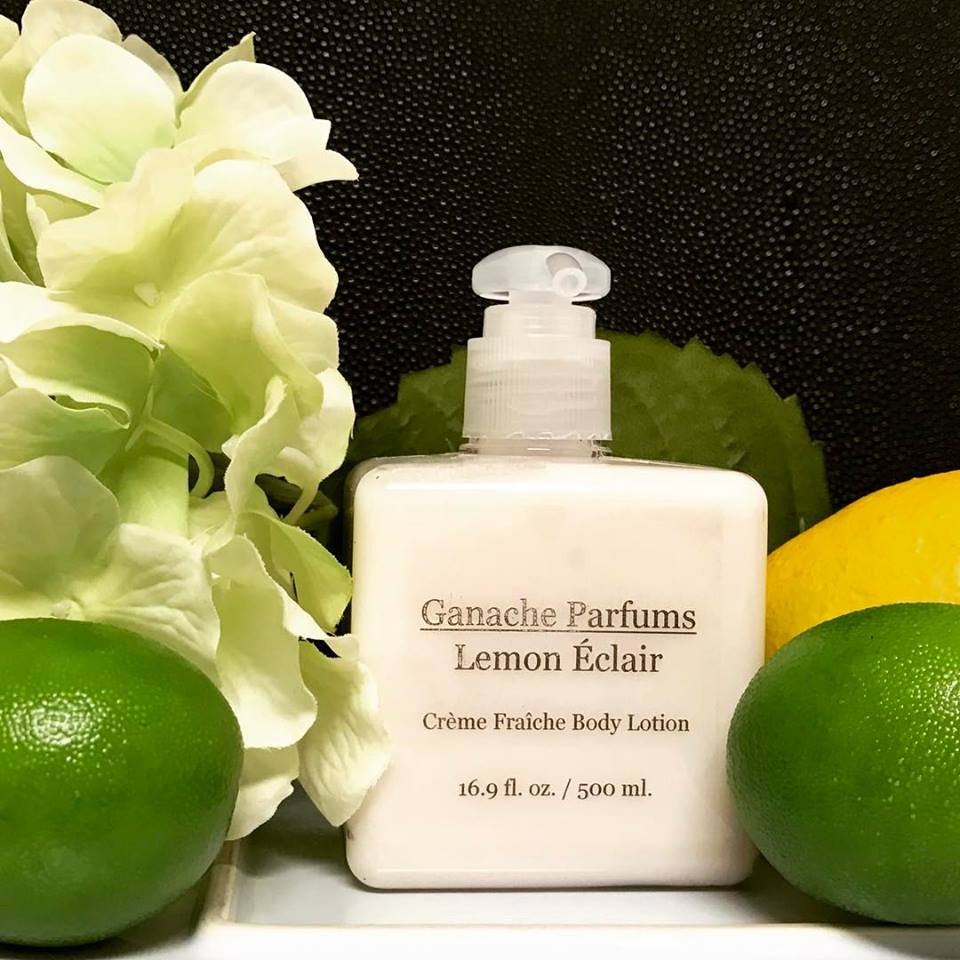 Official description from Ganache: "Our interpretation of temptingly tart and tangy lemon éclair filled with velvety vanilla Bavarian cream and topped with fluffy golden meringue and delicious Meyer lemon glaze.
Notes: Lemon curd, Bavarian cream, Meyer lemon zest, buttery puff pastry, fresh baked lemon meringue, white musk."
I enjoy citrus fragrances and I like Lemon Eclair. It's a truly creative blend of sweet and fresh, sort of a gourmand-meets-traditional-eau-de-cologne scent. The one drawback to lemon is that it's such an ethereal note and even lemon fragrances that make use of synthetic ingredients are often fleeting. Lemon Eclair opened bright and bold, but on my skin, it faded to the soft white musk in less than four hours. That's not a bad performance for a lemon scent, actually, but I felt I had missed out on part of the experience of this fragrance. After a few experiments I discovered that spraying Lemon Eclair on skin, and then on top of the clothing over that skin, punched up the longevity to about six hours and allowed me to fully appreciate the subtle evolution from meringue to lemon curd to pastry that precedes the white musk. I have a hunch this one will do even better when layered with its namesake body lotion. Like most citrus scents, this is a great fragrance for warm spring days and summer.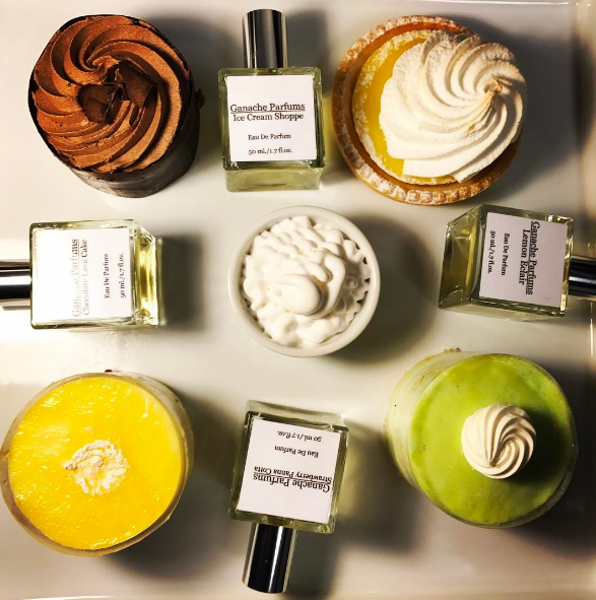 Ganache Parfums: "Our interpretation of a decadently delicious rich chocolate ganache sitting on top of a moist chocolate brownie.
Notes: Chocolate brownie cake, dark chocolate ganache, vanilla vodka, chocolate rum cream, Grand Marnier liqueur."
If this fragrance smelled only of brownies, or only of dark chocolate ganache, that alone would be enough to earn my love. With the addition of chocolate rum cream (another decadent dessert all by itself!), plus chocolate's best pals vanilla (vanilla vodka, in this case, and perhaps we infused it ourselves with real vanilla beans) and orange (glorious Grand Marnier), we now have a "death by chocolate" fragrance. What a way to go! Or to paraphrase: no death is required for chocolate lovers to find heaven in the form of Chocolate Ganache perfume. It's a multi-faceted chocolate fragrance made suitable for those who have reached the age of majority by a few splashes of booze. If you love chocolate scents, this will be a must-try. If you love sexy scents, this will also be a must-try.
STACKING YOUR DESSERTS
Full disclosure: I did not personally try this, but Ganache Parfums' website indicates the fragrances are designed to be "complex enough to be sumptuously and decadently delicious works of art and yet still simple enough to combined with other fragrances in the house to create new and unique confectionery gourmand creations." Feel free to top that Strawberry Panna Cotta with Chocolate Ganache if the spirit moves you. Sometimes more is more!
All fragrances of the Ganache Parfums collection are available on the brand's official website. A 50 ml eau de parfum is $55.00 or try the Gourmand Perfume Flight Set, featuring 2 ml spray samples of Chocolate Ganache, Lemon Eclair, Strawberry Panna Cotta and Ice Cream Shoppe for $20, which also comes with a coupon code good for $20 off a full size fragrance. Ganache Parfums is also running a special through April 23: enter code [email protected] at checkout for $20 off a full size fragrance with free domestic shipping and $20 international shipping.
Thanks to Ganache Parfums for the opportunity to try your new fragrances!
All images: Ganache Parfums.
| | |
| --- | --- |
| | Jodi Battershell (NebraskaLovesScent or "NLS")is a lifelong Nebraskan who transplanted herself to Philadelphia after a lifetime on the Great Plains. An appreciator of fine fragrances since childhood, she tried her hand at natural perfumery and fragrance-mixing for a number of years, ultimately concluding she was better suited to appreciating the fragrance creations of others. She is pleased to finally be putting her English degree to use as a writer and editor for Fragrantica.com. |