Honeysuckle
Group: WHITE FLOWERS
Odor profile: sweet floral note that resembles jasmine somewhat with nectarous, almost fruity honeyed tonalities
Many a scrubland have I wandered and came across a honeysuckle vine and under it alone I sat and cried, tears of honey and wine.
Show me a person who isn't drawn to the creamy white and yellowish trumpet-shaped small blossoms of the honeysuckle and their sweet smell and I will show you one who hasn't lived. This climbing plant shrub-like or vine-cascading adorns many a garden hedgerow or grows wild in woodland. Its charm lies in both scent and sight...
BOTANY
Honeysuckle belongs to the family Caprifoliaceae which comprises more than a hundred species, however the most widely known varieties are Lonicera pericylmenum (European honeysuckle), Lonicera japonica (Japanese honeysuckle) and Lonicera sempervirens (known as coral honeysuckle thanks to the color of its blossoms). Contrary to the pedestrian name which refers to the nectarous qualities of the blossom (to the point that it is literally suckled by children in many cultures), the Latin taxonomy name derives from the Renaissance botanist Adam Lonicer.
Although Japanese honeysuckle is called thus, it's a species sold by American nurseries and its spread into other countries is also common: it has become naturalized in South America, a number of Carribean islands as well as New Zealand and some Pacific islands. Oddly enough for something so fragrant, its rapid spread earned it the badge of "unwanted weed" in several US states as well as on the New Zealand National Pest Plant Accord. Coral honeysuckle, on the other hand, is favored as an attractant for hummingbirds.
The fruit of the honeysuckle is a berry, usually darkish in hue and sweet tasting but mildly poisonous in several species, though a few among them are edible. It's the earliest berry producing bush in the season. The nectar of the flowers nevertheless is edible, hence the common name of the plant.

ETYMOLOGY & DIFFERENT LANGUAGE VERSIONS
It's interesting to see how honeysuckle in English literally translates as the nectar suckled from the flower. Its French equivalent is even more specific: ch
è
vrefeuille refers to the habit of goats (ch
è
vres) munching on the sweet blossoms. The
Provençal name is
caprifuelh
.
The same principle of appellation applies to the Italian name
caprifoglio
, itself deriving from the Latin
caprifolium
; the Latin
folium
means "leaf" and
capri
comes from "caper" (billy-goat). But surely the funniest and at the same time intriguing version happens in the Greek language: Originally αιγόκλημα (the vine of the goat, from the ancient derived word αίγα, "goat") through centuries of common use lapsed into the similarly spelled—but quite different in meaning—αγιόκλημα... "the vine of the Saints..." (from άγιος, "saint").
Which partly explains why monasteries in Greece use the flower to make soaps and scented toiletries even today.

SCENT PROFILE & NOTE RECONSTITUTION
Honeysuckle is a heady, intoxicating, sweet blend of yellow floral and nectarous, honeyed, almost fruity tonality. The scent intensifies with the fall of the night, aided by its complimenting sweet nuance of jasmine vines which throughout the Mediterranean are planted side by side, inviting strollers of the night into their sensual, narcotic embrace.
And yet amidst all this there is a markedly light-hearted and peaceful, serene quality about honeysuckle. Honeysuckle lends itself naturally to la vita bella, the good life; the joy of grasping immediate pleasure and not denying yourself what is there to touch, to feel, to savor....
It's not easy to get a good honeysuckle note into a fragrance; making the scent last is a task for the most experienced. Even though an essence technincally can be rendered, the yield and cost do not justify the effort. Therefore the vast majority of honeysuckle notes in perfumes are lab reconstituted or a mix of other naturals if we're talking about natural perfumers.

Even though honeysuckle isn't miles removed from white florals in its intoxicating languor, its inclusion of aniseed properties (like with other yellow flowers such as mimosa) directs its classification into anise florals. Therefore the inclusion of anisic aldehyde in the aroma-bouquet by the perfumer is a common practice (especially since it also gives a fruity and long-lasting nuance), much like they do with reconstituting lilac and hawthorn. Geranyl anthranilate (with shades of geranium and neroli), jasmine cyclopentanol and orange blossom combine into giving a fresh, green, sweet aroma of living honeysuckle vine. Phenyl acetic acid on the other hand gives the honeyed, somewhat naughty tone we get in some perfumes with a richer facet of honeysuckle.
AROMATHERAPEUTICAL PROPERTIES
Honeysuckle is thought of as an aid in sore throats, coughs and insomnia. The bark of the plant has diuretic properties. However, honeysuckle is among the plants to be used with some discretion, as the berries can highly toxic. The flowers can be used against fevers, especially those affecting people in the summer. They're considered cleansing and are helpful in some types of gastro-intestinal problems. The aerobic parts of the plant contains a wealth of plant gum, salicylic acid, glycosides and imvertin. The latest research even shows that treating light woolen cloth with a honeysuckle coating can augment the anti-UV properties of the item!
FRAGRANCES WITH PERCEPTIBLE HONEYSUCKLE NOTES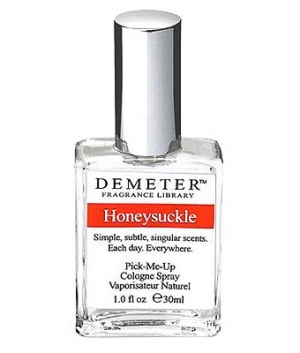 Annick Goutal Eau de Camille
Annick Goutal Le Chevrefeuille (lemony with tomato leaf nuances)
Bath & Body Works Wild Honeysuckle
Borghese Il Bacio
Britney Spears Believe
Burberry London for Women (fresh mix with prominent honeysuckle)
Cacharel Scarlett (very soapy and sharp)
Demeter Honeysuckle (single note, photorealistic but fleeting)
Guerlain Aqua Allegoria Flora Nymphea
Jardin de France Eau de Cologne 1920: Chevrefeuille
Jo Malone Honeysuckle and Jasmine (very fresh and life-like, with its usual ally, jasmine)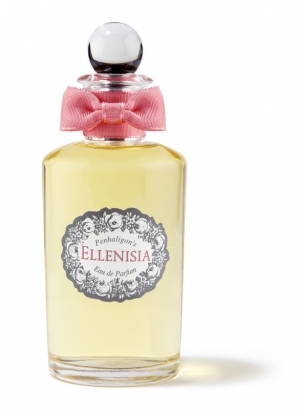 L'Erbolario Caprifoglio (very credible rendition, rich)
Lucy B Royal Egyptian Amber & Honeysuckle (with a honeyed note)
Marc Jacobs Blush (coupled with fresh jasmine)
Penhaligon's Ellenisia (mixed with soft gardenia)
Providence Perfume Co. Hindu Honeysuckle (all natural resting on jasmine sambac, vetiver, rose and botanical musk)
Salvatore Ferragamo Incanto Charms
Tommy Hilfiger Tommy Girl Summer
SMN Caprifoglio
Vera Wang Bouquet
Yves Rocher Fraicheur Vegetale de Cheuvrefeuille (green honeysuckle)
Author:
Elena Vosnaki
is a historian & perfume writer from Greece and a Writer to Fragrantica. She is the founder and editor of
Perfume Shrine
, one of the most respected independent online publications on perfume containing fragrance reviews, industry interviews, essays on raw materials and perfume history,
a winner in Fragrantica Blog Awards
and a finalist in numerous blog awards contests. Her writing was recognised at the
Fifi Awards for Editorial Excellence in 2009
and she has been contributing to publications around the world.
Honeysuckle Perfumes


Honeysuckle Demeter Fragrance

Fraicheur Vegetale de Chevrefeuille Yves Rocher


Caprifoglio L`Erbolario


Drunk On Youth Derek Lam 10 Crosby


Wild Honeysuckle Jovan


Soliflore Honeysuckle Dame Perfumery


Honeysuckle Caswell Massey


Wild Honeysuckle DSH Perfumes


U-Flirt Flirt!


Honeysuckle Vine Olivina Napa Valley

Chevrefeuille Les Petits Plaisirs


Chimera Black Phoenix Alchemy Lab


Creez Moi CIEL Parfum


Acqua Mirable Odorosa di Firenze No. 1 I Profumi di Firenze

Sexy Little Things Heartbreaker Victoria`s Secret


Dad`s Garden Chamomile And Honeysuckle Lush


Belye Notchi EcoParfum


Secret Charm Victoria`s Secret


Fleur à Fleur Eau Jeune


Clementine Melissa Flagg Perfume


Pink Mag & Logan


Viva la Juicy Juicy Couture


Plum Drop Victoria`s Secret


Joli Rêve Yves de Sistelle


Chevrefeuille Jardin de France


Harper DefineMe


Chevrefeuille Yves Rocher


Fahrenheit Christian Dior


Chevrefeuille Le Jardin Retrouve


Desiderata Alkemia Perfumes


Bombshell Temptation Victoria`s Secret


Sparkling Honeysuckle Mary Kay


So Luxurious Daisy Fuentes


Les Creations de Monsieur Dior Diorella Christian Dior


Wonderful American Beauty


Fleurs Sauvages Teone Reinthal Natural Perfume


Attitude for Women Swiss Arabian


Honeysuckle Rose Kuumba Made


Absolute Diplomat Triumph


Happy Moment Estiara


Wild Honeysuckle Bath and Body Works


Moonlight Dream Victoria`s Secret


Honeysuckle Splash Estée Lauder


Wildflower & Fern Library of Flowers


Calycanthus Brumae Acqua di Stresa


Le Chevrefeuille Annick Goutal


Tommy Girl Summer Cologne 2006 Tommy Hilfiger


L`Air Nina Ricci


Eydis Arran Aromatics


Funky Sexy Cool Paul Sebastian


Prowl Neil Morris


Finding Dory Air-Val International

Boss Jour Pour Femme Lumineuse Hugo Boss


Sampaquita Jasmine 40 Notes Perfume


London Burberry


Be Sparkling Gai Mattiolo


Royal Lily Pokrovka Trading House


Secret Charm Honeysuckle And Jasmine Victoria`s Secret


Destiny No 79 Tokyo Milk Parfumarie Curiosite


Vintage Lace American Eagle


Eau Nouvelle Jean Dessès


Perfect Kiss Sarah Horowitz Parfums


Fragonard Fragonard


Sunshine Grace Philosophy


Essence of the Park Carthusia


Satin Rose de Mai Victoria`s Secret


Jasmine Full Montale


Truth or Dare House of Cherry Bomb


No. 44 Sebastian Signs


Dream Angels Heavenly Stardust Victoria`s Secret


Marc Jacobs Gardenia Marc Jacobs


Nude Bouquet Zara


Evasion Bourjois


Lolita Black Phoenix Alchemy Lab


Les Parfums Mythiques - Eau de Givenchy Givenchy


Beauty-to-Wear Bohemian Belle Pout


Amaze Express Express


Darwin Cindy C.

Liking East Nights


Incanto Charms Salvatore Ferragamo


Jitterbug Opus Oils


Mediterranean Honeysuckle Aerin Lauder


Legacy Coach


Honeysuckle Bird Soivohle


Anais Anais Flower Edition Cacharel


Zefiro I Profumi di Firenze


Organza Legere (Eau de Toilette) Givenchy

What Comes From Within: Light Sarah Horowitz Parfums


Sicily Dolce&Gabbana


Temple Tree Jasmine Thymes


Lumiere Aftelier


Flirtatious Flirt!


Royal Egyptian Amber and Honeysuckle Lucy B


Calypso Chevrefeuille Calypso Christiane Celle


Violet Green Tea Honeysuckle House of Cherry Bomb


Boutique Eclectic Collections


Couture Couture Juicy Couture


True Star Tommy Hilfiger


Sexy Rio de Janeiro Michael Kors


White Musk Jovan


Exotic & Spicy Aromachology


Allure Chanel


Gardenia Crabtree & Evelyn

Frolic Origins


Gran Ballo Xerjoff


Snooki Couture Nicole Polizzi

Jasmine, Lotus and Green Tea Nicolai Bergmann


Tommy Girl Tommy Hilfiger


Now & Forever Private Reserve Joan Rivers


No 1 Prudence Paris


Eau de Camille Annick Goutal


Organza First Light Givenchy


Tommy Girl Jeans Tommy Hilfiger


Petals Lili Bermuda


Magic Orchid Pokrovka Trading House


Light Blue Love in Capri Dolce&Gabbana


Hindu Honeysuckle Providence Perfume Co.


Island Michael Kors


UR for Women Usher


LONDON. She knew he was for-ever Anthropologie


Chevrefeuille Creed


First Love Demeter Fragrance

Pure Caribbean Dominican Perfumes


Lily of the Valleys Ein Gedi


Glamstone Coral Dzintars


Organza Givenchy


Viva La Juicy La Fleur Juicy Couture


Pearl Apothia


L'Eau de S.T. Dupont pour Femme S.T. Dupont

Kate Spade Kate Spade


Burberry London Special Edition for Women Burberry


Passerelle Tommi Sooni


Green Tea Honeysuckle Elizabeth Arden


Honey Marc Jacobs


Honeysuckle Fresh


Presence(s) de Bach Les Fleurs De Bach


Caprifoglio (Honeysuckle) Santa Maria Novella


Lurre Signature Fragrances


Harvest 2008: Organza Fleur d` Oranger Givenchy


Bouquet Vera Wang


Zephyr Neil Morris


Ikat Jasmine Aerin Lauder


Love Fury Kiss Nine West


Gardenia Caswell Massey


Police Caribbean Police


Elysees No 5 Isabelle T


Jacadi Mademoiselle Jacadi


Brilliant White Diamonds Elizabeth Taylor


Modern Muse Estée Lauder


Believe Britney Spears
Advertisement